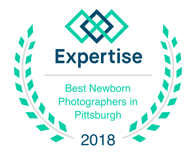 Laura Mares Photography Awarded Best Newborn Photographers in Pittsburgh
Laura Mares Photography was named one of the twenty Best Newborn Photographers in Pittsburgh in 2018 by Expertise. I am so happy to receive this distinction for the third straight year! Expertise shares that their goal is to connect people with the best local experts. Expertise scores newborn photographers on more than 25 variables across five categories, and analyzes the results to give you a hand-picked list of the best newborn photographers in Pittsburgh, PA.
The following criteria is used for the candidate ranking:
Reputation | A history of delighted customers and outstanding service.
Credibility |Building customer confidence with licensing, accreditations, and awards.
Experience | Masters of their craft, based on years of practical experience and education.
Availability | Consistently approachable and responsive, so customers never feel ignored.
Professionalism | Providing service with honesty, reliability and respect.
It has been an amazing journey getting here. Looking back I realize it all started with just a dream and an awesome 35mm camera! (I still have my first professional camera today, although you'll usually find me with my trusty Nikon D850.) Actually, I've been though many cameras since the early days but the dream remains the same. I want to capture beautiful portraits for families to treasure for a lifetime. I now know that it takes more than talent to become a successful photographer, it also takes a lot of heart, dedication and discipline. I'm looking forward to another wonderful year of photographing the beautiful newborn babies (and families) of Pittsburgh!
Looking to book a newborn photo session?