12 Must Haves for Your Bohemian Studio
I redesigned my home photography studio into a bohemian studio last month and let me say, it was quite the undertaking! Months of thinking, planning and researching culminated into a final product I'm ecstatic about! While searching for a helpful blog post for some studio inspo, though, I wasn't able to find anything I loved! So, I decided to create my own blog post to help any other designers.
1. Dried Flowers
Perks of having bohemian in-laws is that I get the inside scoop on interior design tactics. One of my all-time favorite aspects of bohemian homes are their dried flowers. I enjoy the calming aroma of dried lavender, as well as the aesthetic appeal of dried bouquets on windows or doors. You can buy dried blooms from your local plant shop or even grocery stores like Trader Joe's!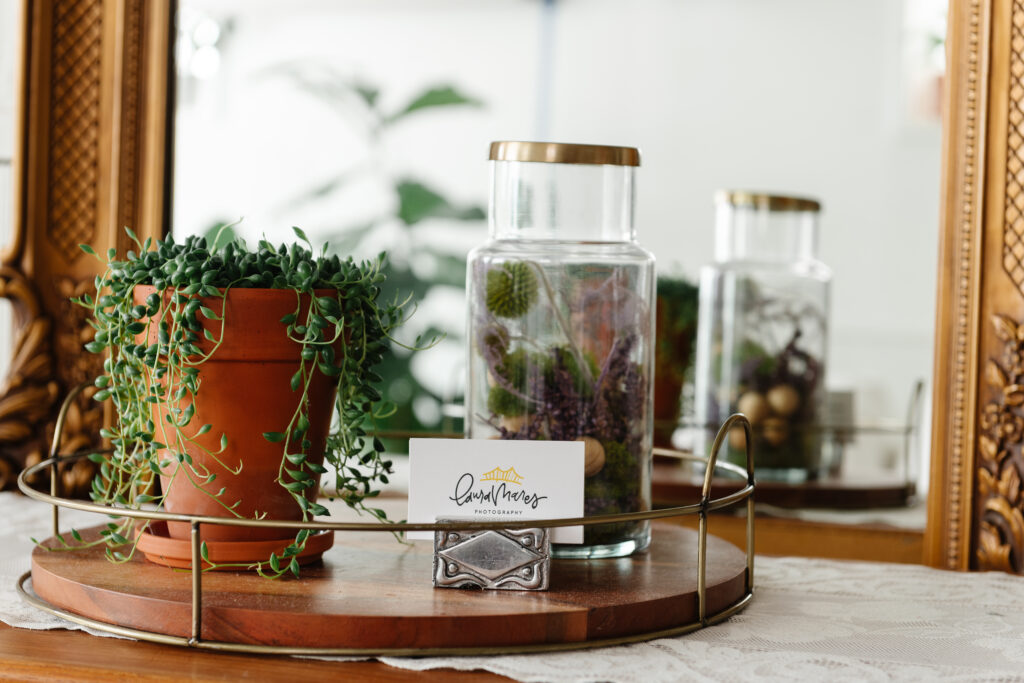 2. Persian Rug
Since my studio is at the bottom floor of my home, I would previously get so cold in the winter! Investing in a gorgeous, hand-made rug was the perfect choice both practically and stylistically. I love Persian rugs because they have so much more character and background than a plain carpet or manufactured rug. I bought mine second-hand from Facebook Market place. It takes a while to find the perfect rug, however, when you do it's definitely worth the search!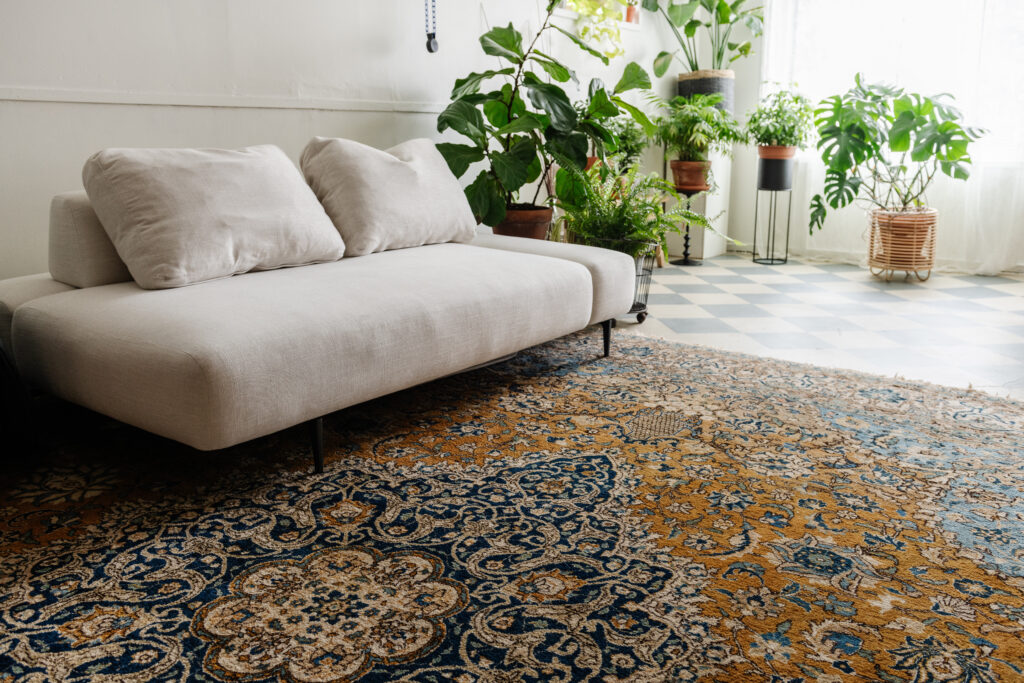 3. Beautiful Sofa / Daybed
My Nordic daybed is from an adorable brand called Article and I'm in love with it! I chose to get a white fabric because I loved how I complimented my rug. It's multipurpose which is definitely something to consider for your studio if you are short of space. It serves as both a couch and bed for family studio sessions with small children.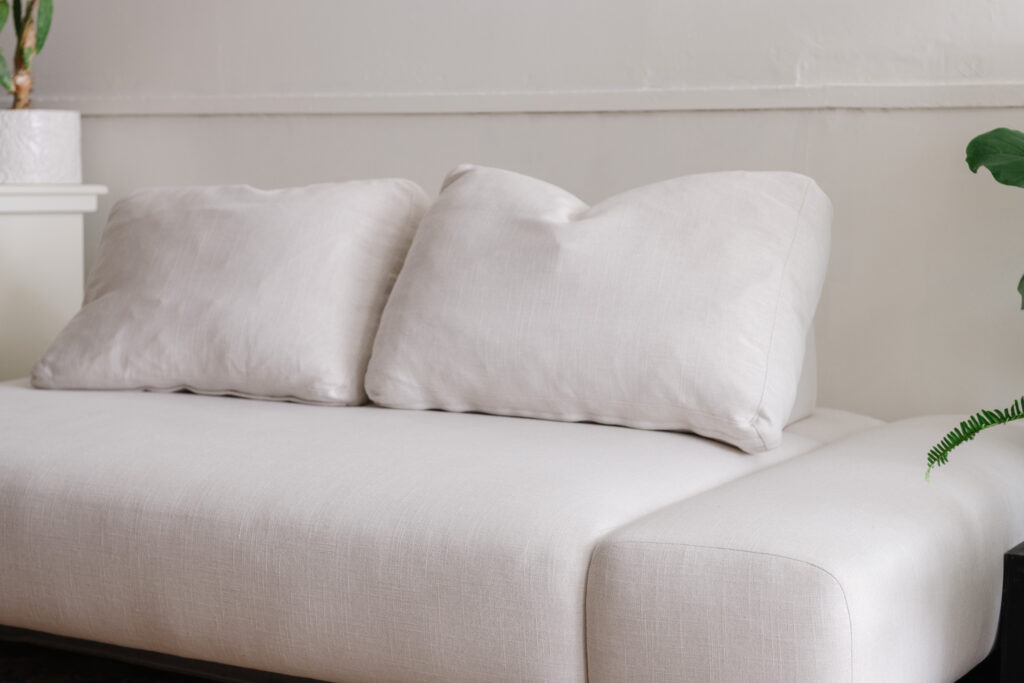 4. Macrame Wall Hanging
When I think boho, the first thing that comes to mind are macrame wall hangings! When I was younger, my mom used to make something similar for our home so I've grown to love them. You can make them yourself or buy them through cute shops like Etsy. My daughter made ours with a large embroidery hoop and macrame rope.
5. Statement Sideboard
I use the sideboard to store my props in a more organized way. I love the clean lines and solid wood, and how it gives the whole studio a more elegant feel. I found mine at a consignment shop, but Anthropologie, IKEA, and Crate and Barrel all have wonderful pieces. For anyone searching for furniture that maximizes studio space for storage while serving as a beautiful accent piece, I absolutely recommend a beautiful sideboard!
6. A Large window with Lace Curtains
This is a must-have for many of my photographer friends, but I also stress the importance of natural lighting for all my fellow artists. Lace curtains are an amazing way to diffuse light, and it fun to search for vintage lace. Natural light improves mental health and helps one feel more grounded. (Especially during these dark winter months!) One of the best perks of natural light it that it also allows for growing houseplants!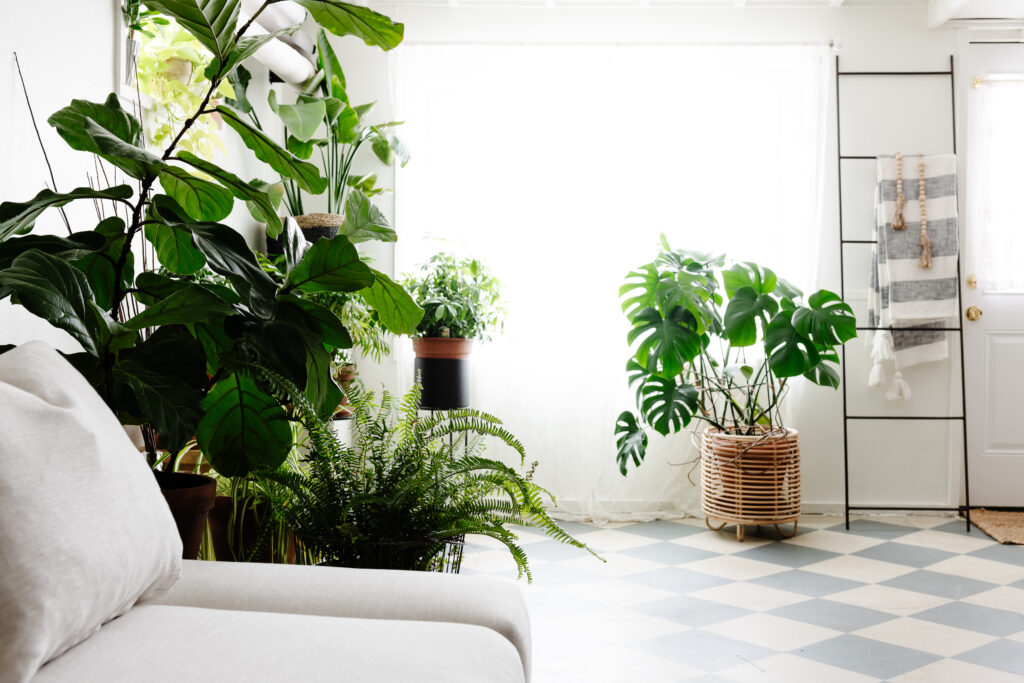 7. House Plants in Unique Pots
Over the past year, my plant collection has EXPLODED! Some of my all-time favorite plants are monsteras, fiddle leaf figs, ferns, and succulents! Plants are a wonderful investment as they not only elevate your space, but clean your air. They absorb toxins, increase humidity, and produce oxygen. Additionally, they are therapeutic to care for! Below, I've linked some of my favorite books for aspiring botanists: Wild at Home and Terrain
Lastly, they serve as a great prop for your studio and make your bohemian space stand out! I use terra-cotta pots and rattan planters as well as a natural wood bench to add layers to my plant display. For those in the Pittsburgh area, I love finding houseplants from the Mt. Lebanon Floral Shop, Toadflax in Shady Side, and Quality Gardens in Mars.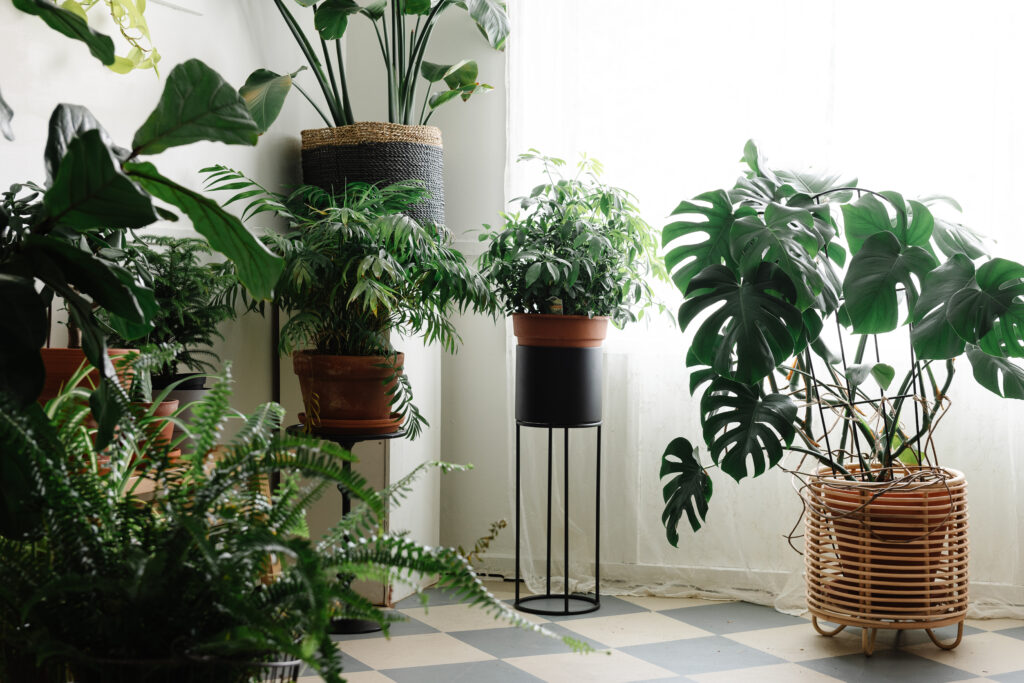 8. Vintage Mirror
It seems like I have been seeing gorgeous mirrors everywhere, and I'm so excited that I took a chance and bought one for my studio. It certainly adds to the atmosphere and it also is a great prop! I loved playing around with reflections and it gave me a chance to be purposeful when creating creative images.
9. Essential Oil Diffuser
My favorite essential oil brand is Doterra. I often turn on my diffuser during photo sessions to promote a calm environment for my clients. Some of my go-to oils are lavender for relaxation, On Guard to support healthy immune sry stems, and Purify for its powerful cleaning properties. I've started using the oils for cleanliness even more recently to make sure my clients and I stay safe in addition to wearing masks. 
10. Coffee Station
Adding a cute little drink station is a kind and considerate way to let your clients know you appreciate them! My favorite coffee maker is a Nespresso machine, but feel free to substitute for your favorite brand. I also keep some milk cartons nearby for either the milk brother or for the younger kids so they don't feel left out from the fun of a make-your-own drink space. 🙂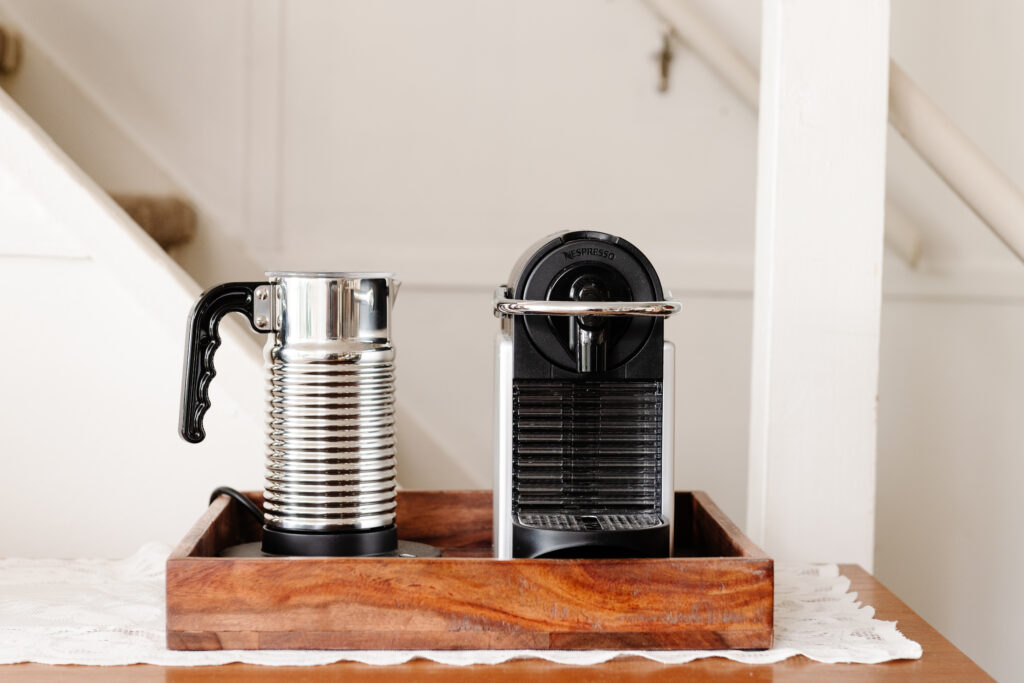 11. A Vintage Collection
I started my vintage camera collection in the 90s, and interestingly enough some of my first cameras are old enough to be a part of my collection! Yard sales, flea markets, and antique shops are some of my go-to spots for collecting. I wanted to keep this first tips broad, as you can collect anything! Vases, pots, cameras, lace, baskets or candles are all potential vintage finds! Having a unique collection that no one else has really sets your studio apart.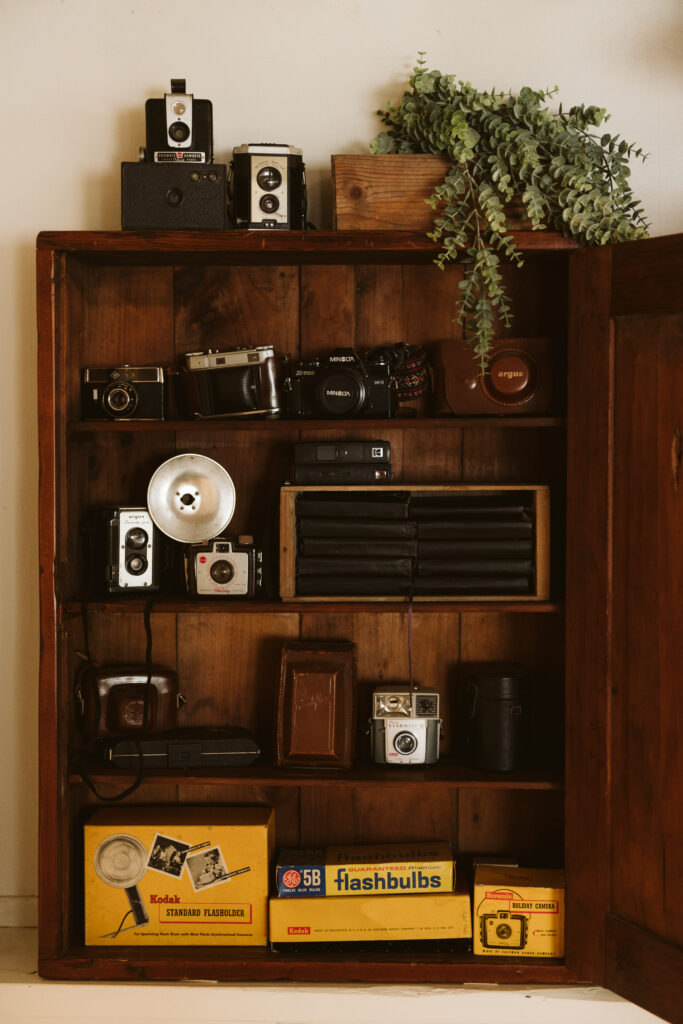 12. Ladder
I picked up at 7 foot ladder to add interesting lines to my studio and have found that it is doubles as the cutest clothing rack! It's a great way to keep coats and outfit changes organized and near by in a cute, boho way!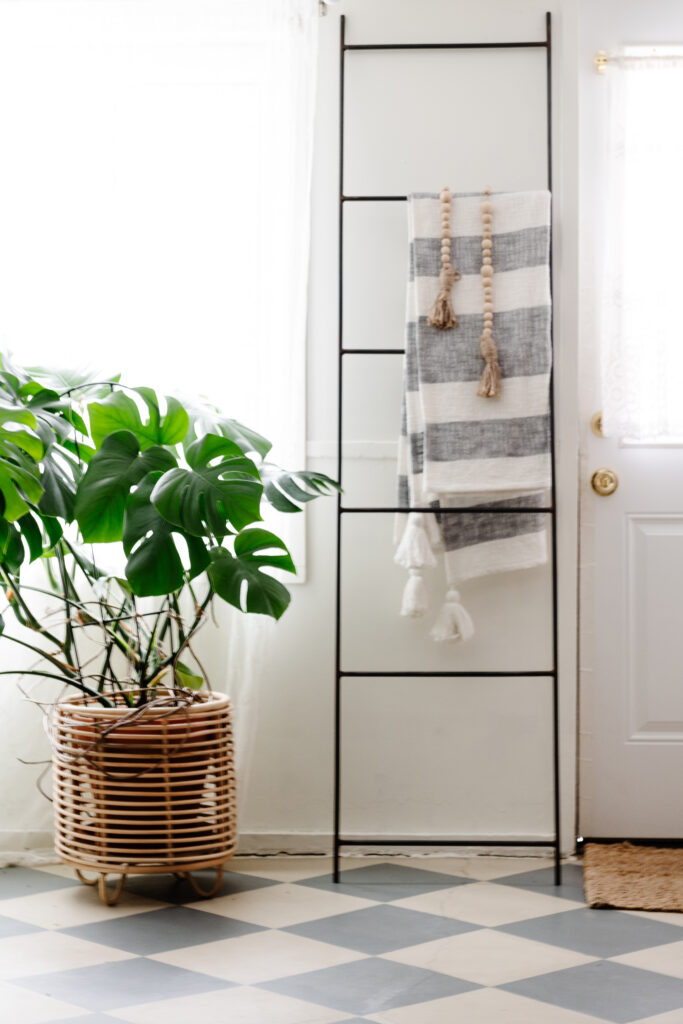 I hope you all enjoy these 12 tips for the perfect bohemian studio! These are some of the things I love most about my home photography studio. Feel free to share any helpful tips you have for those redecorating in the comments below.