I started focusing on newborn lifestyle sessions back in 2017 because it offers a more natural, holistic approach to documenting your new family member. Opposed to the more static, classic portraits that feature your child with a myriad of props, lifestyle newborn sessions focus on portraying a realistic depiction of your family. I think it is truly the best way to capture the love your family has between you right now, and it serves as an authentic time capsule so your little one will know what life was like "way back then."
Since you're reading this blog, you also recognize the importance of heirloom family portraits that authentically capture your family's joy. Whether you've already booked, or are considering taking the next step, I encourage you to read this blog for tips on how to prepare for your newborn lifestyle session. These are all steps that clients have followed in the past, and they truly do make all the difference.
So, as you prepare for your family's upcoming Pittsburgh Newborn Lifestyle session, follow these last minute, night-before tips!
Clothing
Be sure to check on your clothing! Have your family try on their outfits to make sure it still fits great and that no security tags were left on accidentally. I also recommend setting out some extra outfits in case of spills or accidents. Lastly, have the family stand together in front of a mirror to make sure all the colors and fabrics blend.
Plan a Couple Fun Activities
I love newborn lifestyle sessions because they allow your family to feature go-to activities that your little one will remember. For example, you can cuddle up in the master bedroom or on the couch and read a favorite bed-time book, or bird-watch near the front door. It's always great to have a family heirloom blanket, cuddly stuffed animal or cute book nearby when your little one starts to fuss during the shoot.
Tidy Your Favorite Spots
The night before your Newborn Lifestyle shoot, be sure to tidy up spots that you especially want to use in photos, or "red-up" as we say in PIttsburgh. You're busy enough, don't deep clean the entire house! This tip is all about being strategic. Choose 2-4 spots to target and lightly clean based on your ability, or the ability of helpful family members 🙂 Overall, just clean enough so you don't have big plastic playpens in the background of gorgeous, smiling portraits!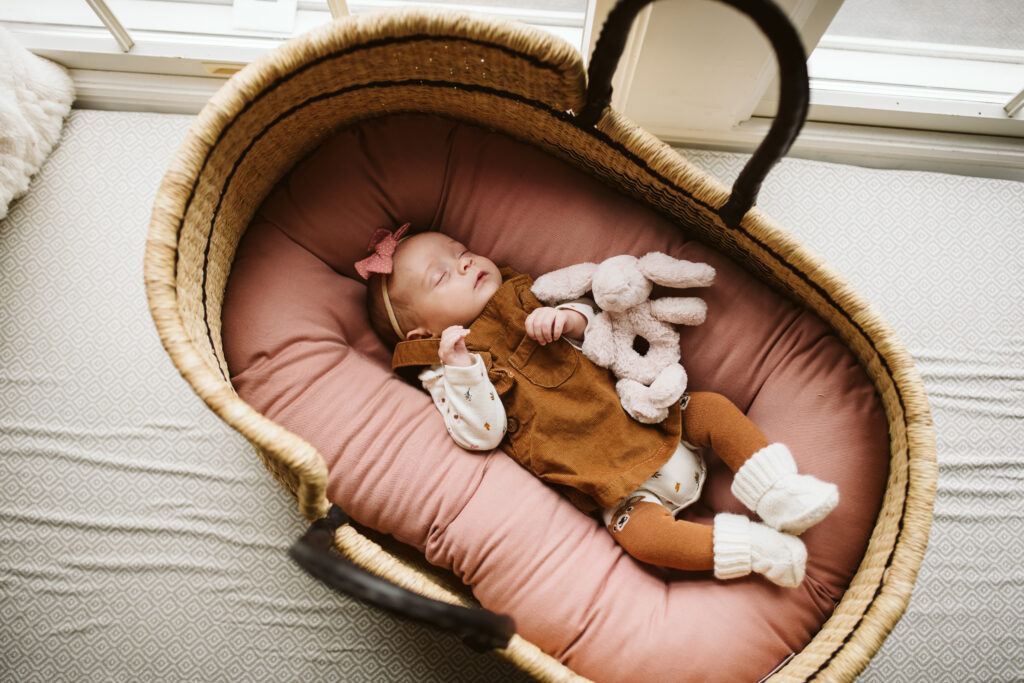 Gather Nursing/Feeding Materials
It's common that around halfway through the session your little newborn will want a quick snack break. If you're breastfeeding, gather up all that you need and have it tucked away nearby so you're ready when the (inevitable) time comes. If you want to feed with a bottle, have a plan so that the milk is ready and within reach.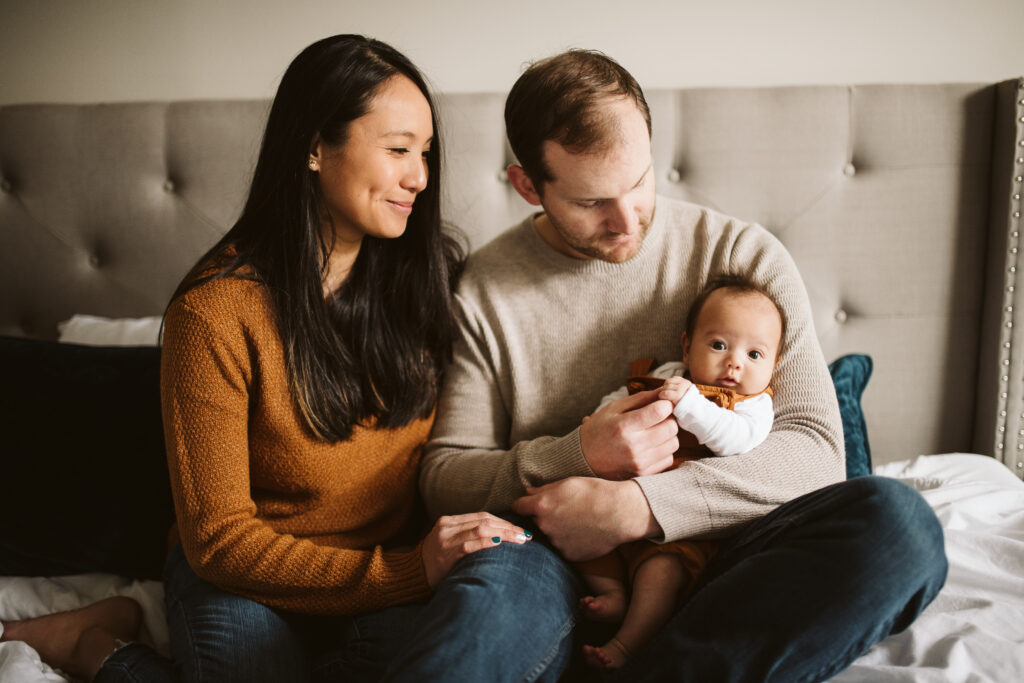 Look for Window Light
Photography, when broken down into its root word, means "drawing with light." Essentially, without ample light, you can't take a photograph! If you want to be part of the creative process, I encourage families to search for the best window lighting in their home before the session. After all, the first thing I do when I arrive at clients' homes is look for the best lighting! Don't be afraid to be creative while searching for window lit nooks in your home. Do you have a gorgeous glass front door? That's perfect! Do you have a stairwell with stained glass windows? Gorgeous! Do you have a brightly lit bedroom? Breath-taking. You don't need a massive alcove window for beautiful shots with great natural lighting, even a hazy Pittsburgh day provides beautiful light from the right window!
Be Flexible!
The biggest tip that you should take away from this blog is to be flexible! Things don't always go as planned, and that's often for the best! Creative shots at the end might be your favorite photo of the collection, and your baby's insistence to go outside might be just the breath of fresh air you and your spouse needed! In addition, it's always wise to have a back-up plan. Somehow the diaper soils and that super cute dress is ruined—have a nearby cute outfit that fits with your color scheme and will work with the photos. I recommend having wipes, water and outfit changes for your newborn nearby, because you don't want to be caught unprepared during the Newborn Lifestyle session.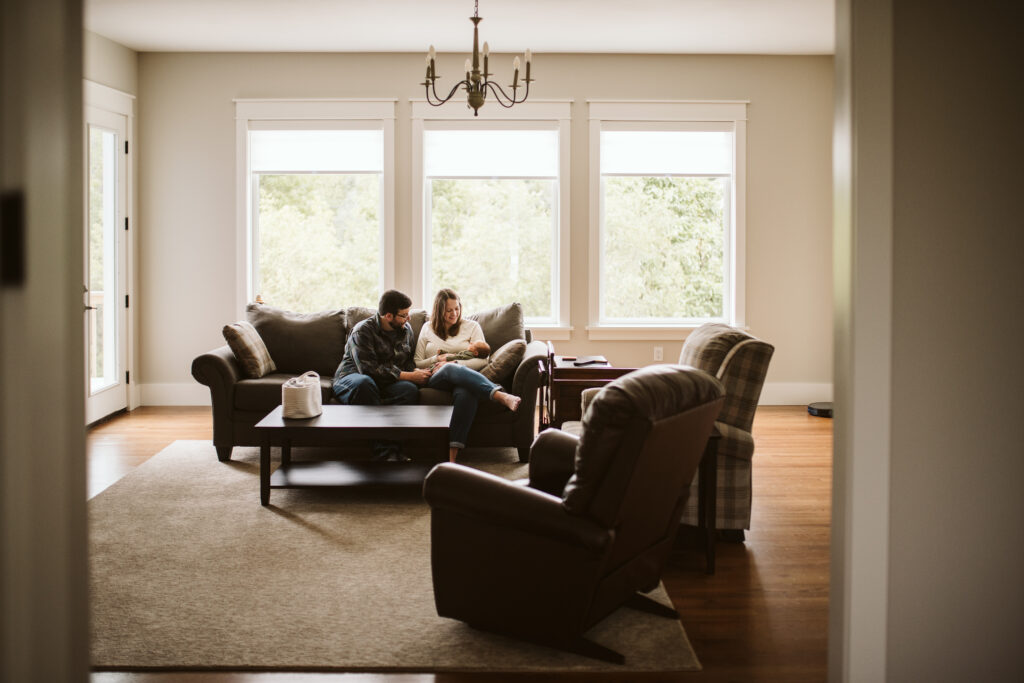 Overall, be sure to rest the night before your Newborn Lifestyle session! Don't stress, and prepare for a couple hours of fun and relaxation as you cherish your little one and the family you've worked so hard to create. Lifestyle sessions are laid back and designed to reflect the beautiful authenticity of every-day life in your home. So, get some rest and get ready for an artful experience that you and your family will love.
GET IN TOUCH
Newborn Lifestyle Session