It's a joy to meet new clients and photograph their growing families! I first met this couple for their maternity portraits at a local greenhouse. We had a great time talking about our families and discussing our upcoming newborn lifestyle shoot. Afterward, I enjoyed watching Amy's stories on Instagram while waiting to see her announce the birth of their beautiful baby girl.
How did you and your spouse meet?
We met in Chicago at a mutual friends house during a pre-concert party. I was living in the city and Nick was living in Pittsburgh and visiting for the weekend. Once the weekend ended, we continued to stay in touch and shortly after, decided to start dating long distance. A little over a year later, I moved to Pittsburgh to be with him and now 9 years later (and almost 5 years of marriage), we have a daughter!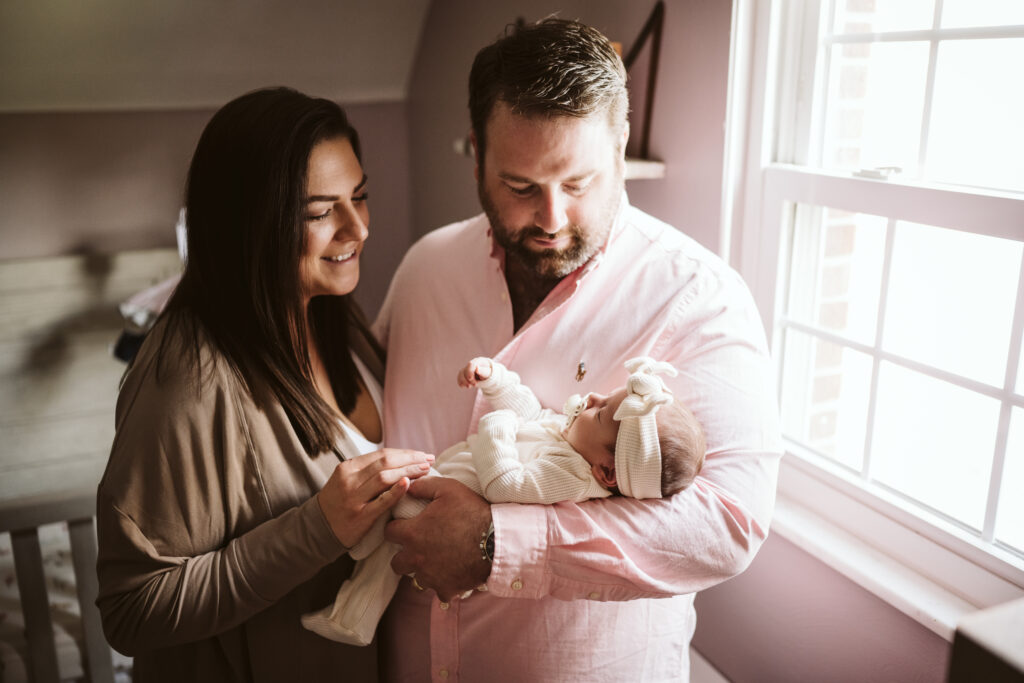 Describe how your life changed once you brought home your newborn baby.
After almost a decade together, we knew it was time to start our little family. We have always been social people, going out to eat and meeting up with friends for happy hours and events on the weekend. The biggest adjustment has been scaling back on getting out and about, but we are also big homebodies, so we don't mind shifting our free time to evenings sharing a glass of wine on our deck once the baby goes to bed. Our life is much quieter and slower now, but we are loving it!
What do you enjoy about living in the Pittsburgh area?
Definitely the small town feel! I am not a Pittsburgh native, and being from a place where it's rare to run into people you know all the time, I have grown to enjoy seeing friends and acquaintances when out and about. Pittsburgh has a strong, close network and it makes it feel homey. And of course, the passion in which Pittsburghers love their town will always be amazing to me; they are very proud and I am slowly following along in their footsteps with each year I live here!
What are your family's favorite things to do in and around Pittsburgh?
We love to take walks together, which includes our dog, Finley. In the summer, we enjoy hanging out at the pool, going to Pirates games and dog-friendly breweries/restaurants. Our little one will soon experience a Steelers tailgate and some of our other favorite fall activities, such as Halloween and our annual trip to Bedford, PA.
Tell us about your home.
We purchased our first home, a cape cod, on Mt. Washington the year before we got married. We had always enjoyed renting in this neighborhood due to its close proximity to nightlife and many of our friends; it's very walkable too, which makes grabbing a happy hour beverage an easy decision! We have spent almost the last 6 years perfecting it with numerous updates and it's just the right size for our small family. We'll be looking for more space as our family grows, so we are enjoying it as much as we can while it lasts!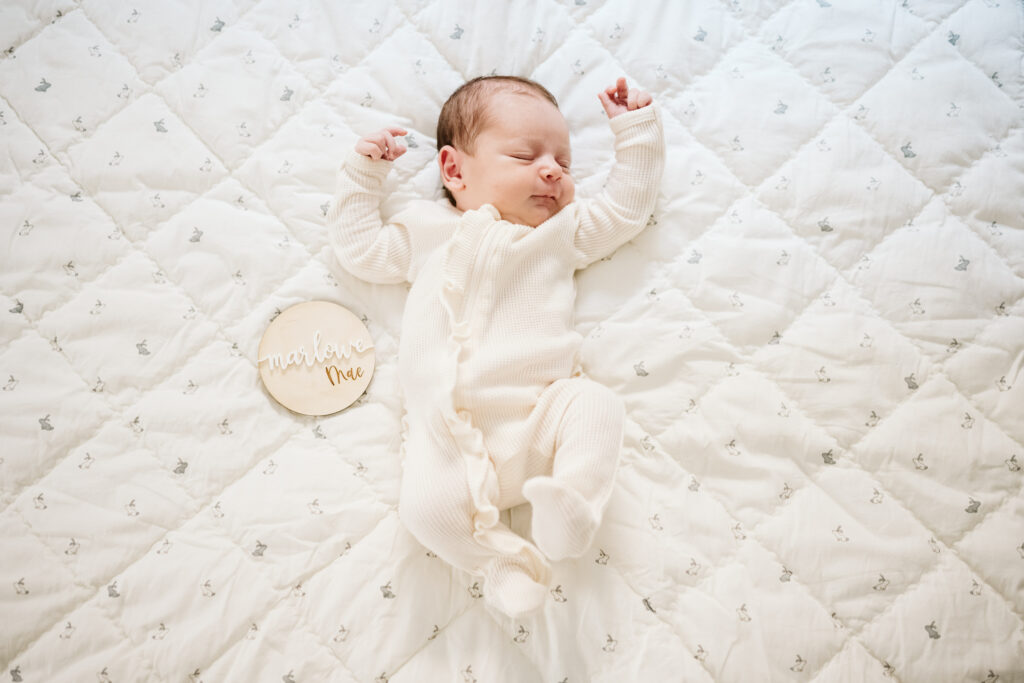 In your opinion, what are the best shops around Pittsburgh to buy decor for your home?
I'll admit, I'm more of an online shopper when it comes to home decor (I'm a Wayfair addict), but I have also learned recently about the Anthropologie furniture outlet north of the city. It's ah-amazing! And then there's Home Goods, of course. I take any excuse to go in there!
Describe a typical day in your life as a new mother with a newborn baby.
Mornings with Marlowe are my absolute favorite time of the day; she is happy to see me and we spend time together nursing and talking softly to each other. She is an active baby and would much rather be held, talked to, and walked, rather than sitting in a bouncer or play mat — we spend a lot of time holding her (for being so little, she LOVES to use her legs to "stand")! Our days end with a bottle fed by Dad and rocking her to sleep in the glider, which is a sweet moment for me to witness (seeing your spouse as a father is one of the greatest feelings). Then, it's time to wind down with a glass of wine!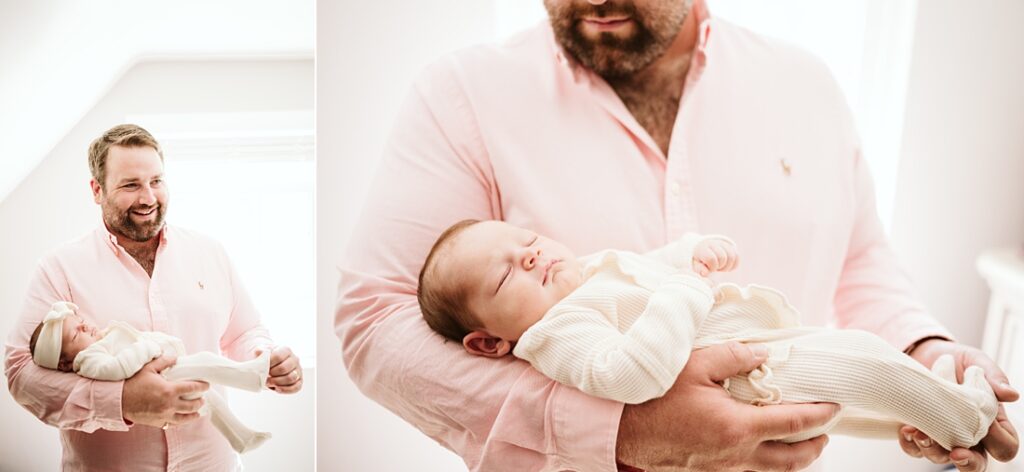 What is your family's favorite meal to cook at home?
We love cooking in general; it's one of our favorite things to do together. There are so many recipes I could choose from! One of our go-to's in the summer is this Greek-inspired dish from one of my regular websites, SkinnyTaste: https://www.skinnytaste.com/chicken-tzatziki-bowls/
What's the best book you've read in the last 12 months?
I'm currently reading A Gentleman In Moscow and I'm loving it!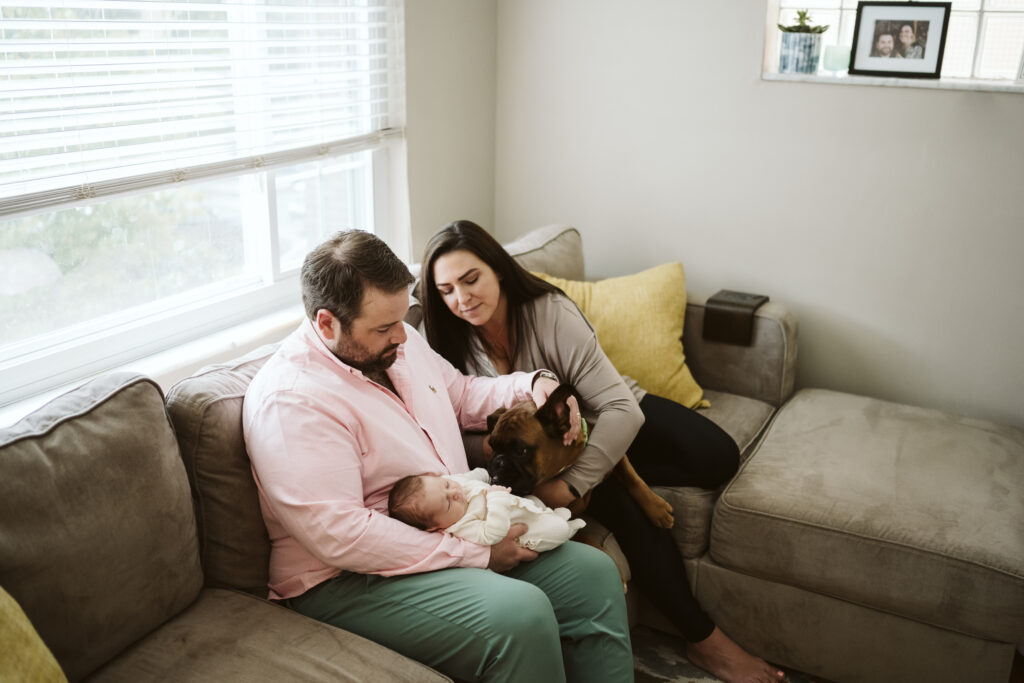 How did you prepare for your newborn lifestyle session?
I had my eye on her outfit from SpearmintLOVE (I couldn't resist the waffle material and ruffles on the butt)! I planned the rest of the family's outfits around the little one's. I read Laura's super helpful tips and resources on her website, which really calmed my nerves — I was worried Marlowe would not cooperate, as she was a very fussy baby that week. I thought about what props I would like (blanket, headband, etc.) as well as which rooms we'd like to use. I knew in the end that Laura would guide us in the best direction, so I let her lead!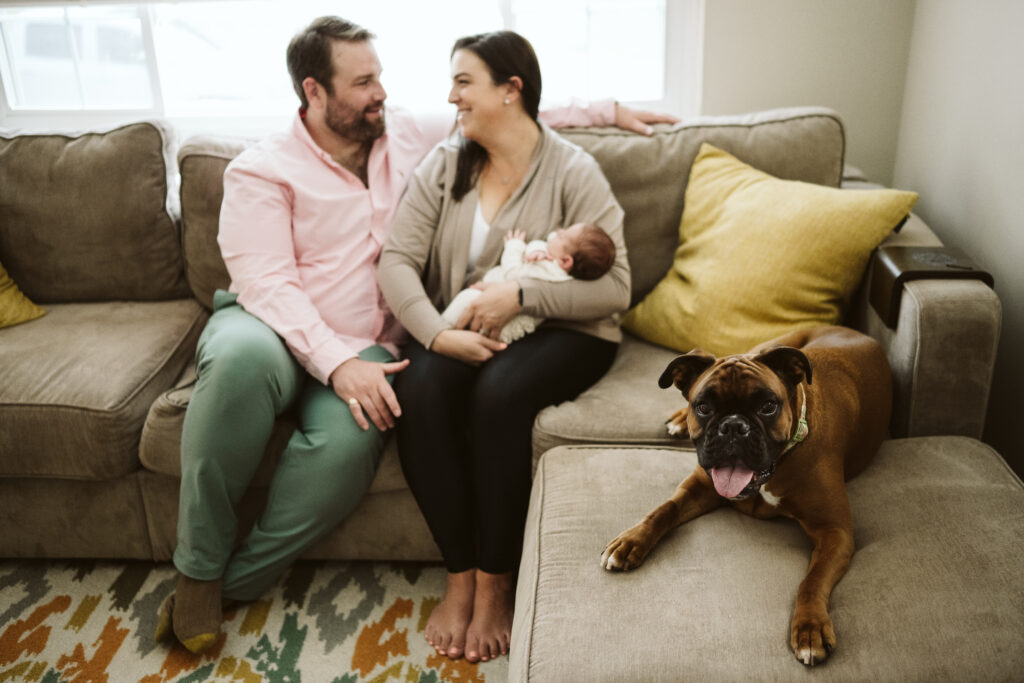 How did you decide what to wear for your in home lifestyle session?
I knew it would be best to have solid colors, so I based everything we wore off of that. I focused on Marlowe's outfit first and then let mine and Nick's follow. I did not want to mess with multiple outfit changes, so I stuck with one look and was very happy with the outcome — it was easy!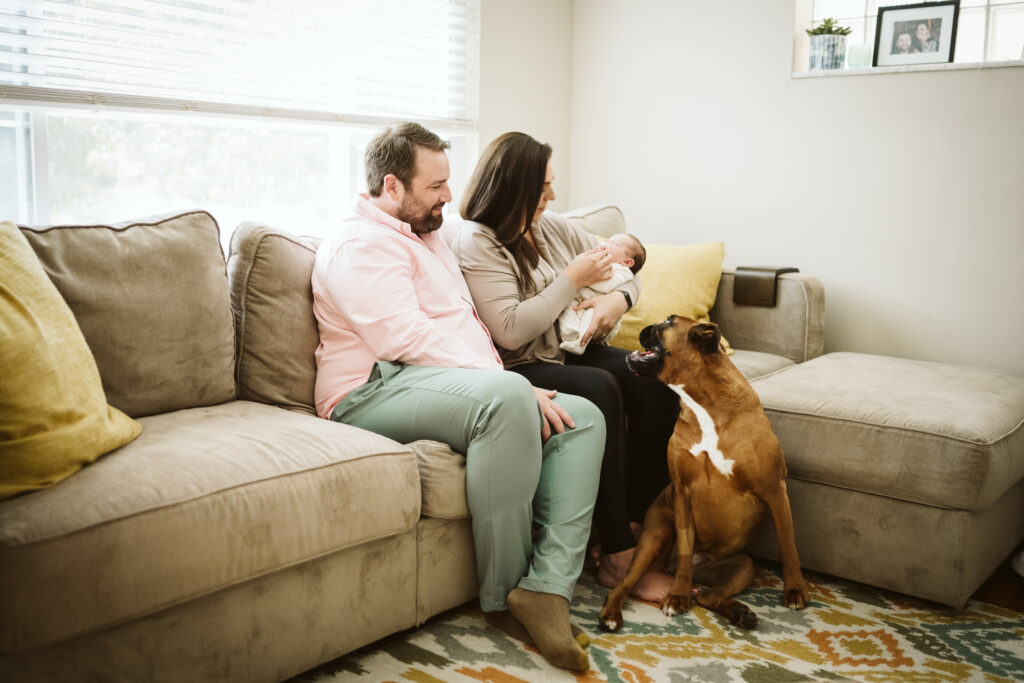 What is your favorite portrait from your lifestyle session?
There are so many favorites but I'd have to say the family portraits in our living room on our couch, which include our "first born", Finley (she's our Boxer and a very loved member of our family)!
How did you decide to schedule a newborn lifestyle session with Laura Mares Photography?
I started with a Google search and came across Laura's website; she has AMAZING reviews, so I poked around on her site and also did a deep dive on her Instagram page. It was a simple decision once I started communicating with her! She is so kind and helpful, I knew we would get along and she would make the process seamless.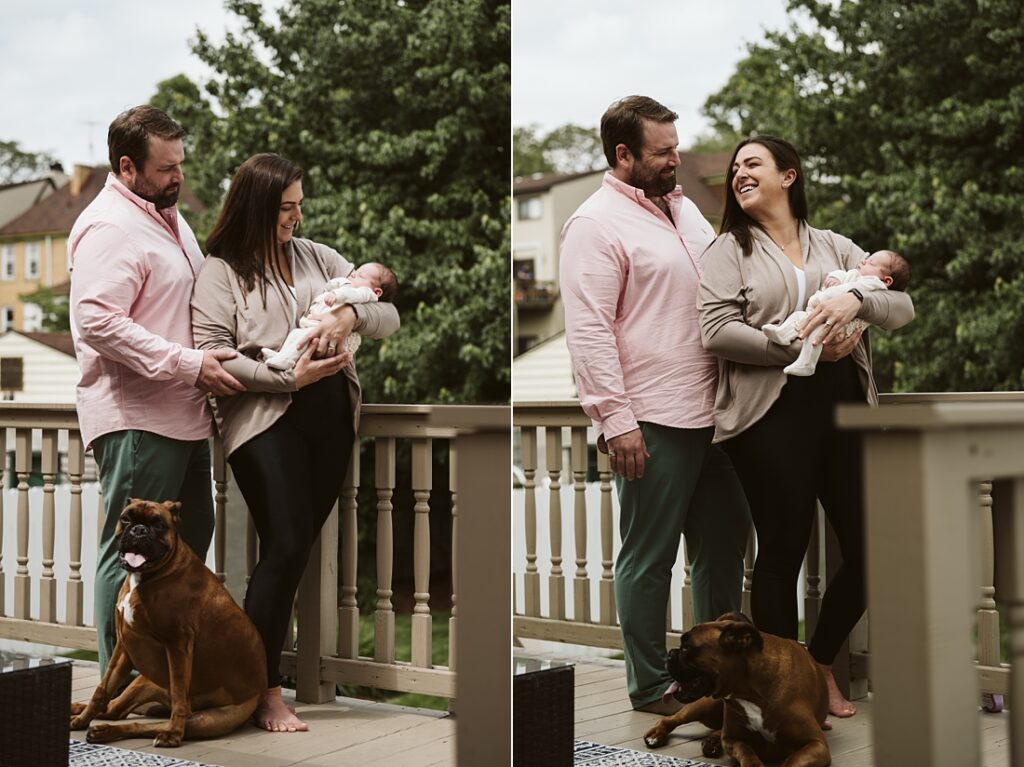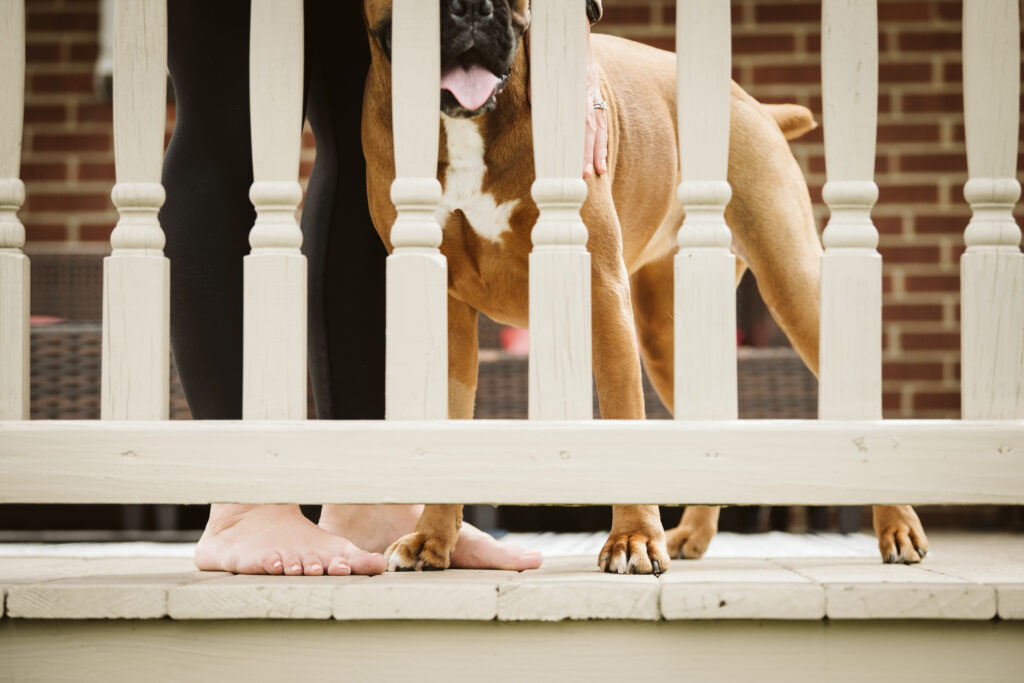 GET IN TOUCH
Newborn Lifestyle Session