"Woooo!" "Oh yeah" "Haha"
In July, two of my kids and I went to Kennywood. We rode my childhood favorite Jack Rabbit, relished the classic Potato Patch fries, and waited in countless lines. We rode nearly everything, but were halted by the Thunderbolt. There were only three of us and we needed an even number to ride, but the short line was so tempting. We walked through hoping for the best and told a Kennywood employee our problem. She responded to our wish, "Any single riders can go up to the front." A man ran up with a smile glowing up his face. That's when we first met him.
Tip One: You can meet interesting people at Kennywood.
This full of joy man is one of the most interesting people I have ever met. While riding the Thunderbolt he told us how it was originally called the Pippin before redone in 1968, and that he's been riding it for 60 years. After the ride we learned more about him. How he's been retired for six years, but if it were not for the heart attack at work he never would have stopped. With his new found freedom and his love for thrills, he discussed riding the rides at Kennywood with his doctor and was given the green light. He discussed the absence of water rides in theme parks and his concern of the Raging Rapids' removal. He casually mentioned his Kennywood stats, for example he has already visited Kennywood over 30 times this year. He has ridden the Phantom, his favorite roller coaster, over 2,000 times in his life. As it got later, we said goodbye. And that was it. But then I realized—I didn't know his name.
Tip Two: First thing to do in Kennywood is to ride the Phantom's Revenge a couple times because the line is typically short.
That takes us to Labor Day weekend when my son and I went back. While in the line for the Phantom, we saw a guy sitting in the back with a glowing smile and cargo shorts.
Now that we know that he's here today, our goal is to learn his name. After our ride on the Phantom, my first time in over 20 years, we ask a worker for the name of a guy who rides the Phantom a lot. He answers, "You must be talking about Bryce. He's leaving now—in the hat." We thank him and go after Bryce, but the only guy in a hat is not the same man. We ask if his name is Bryce and it is.
Josh, pictured on the left below, tells us he has ridden the Phantom 1,300 times and Bryce, right, is predicting to make it a thousand in two days. We learn that they have a friend who has ridden over 10,000 times on the Phantom. We eventually learn that the guy we're looking for must be Tommy. That sounds right.
Tip Three: To travel light and avoid losing track of items, cargo shorts or zipped pockets are excellent.
We go about our day: crush my steps goal, dive into BBQ, and am convinced to ride the Steel Curtain for the first time. Next we enjoyed some funnel cake and head to the Jack Rabbit. In line I spot a familiar face. "Hey." It was "Tommy" the Kennywood Fanatic. "Are you always at Kennywood?" I asked. He jokes, "I live here." He talked to us about John A. Miller, a legendary coaster designer for parks including Kennywood. He shared how he had met some girls on the Phantom that morning who had beaten his record of most times consecutively riding by one – they rode without getting off eight times! He fondly remembered the time he sat next to prom queens from two Pittsburgh area high schools, Pine-Richland and North Hills, on back to back rides on the Phantom. By now, the line has moved right along.
Tip Four: The best seat on wooden roller coasters is the back, while the front is the best for steel rides.
Under the setting sun, we walk to the Sky Rocket together for our last ride of the night. "Tommy" keeps us up to date on Kennywood's future plans. That there is much more land for extra coasters behind the exterminator and behind the Jack Rabbit. Also, that the other day he had met a guy wearing a suit signifying that, "He must be important." So "Tommy" asked the man, who is actually in top management at Kennywood, the future of the Raging Rapids. As it turns out, Kennywood has been waiting for a part that has been held up on the supply line off the coast so it should be back next year. Finally, before we parted, I wanted to double check something. "Hey, what's your name." "It's Randy. If you come back, find me, I'll be here."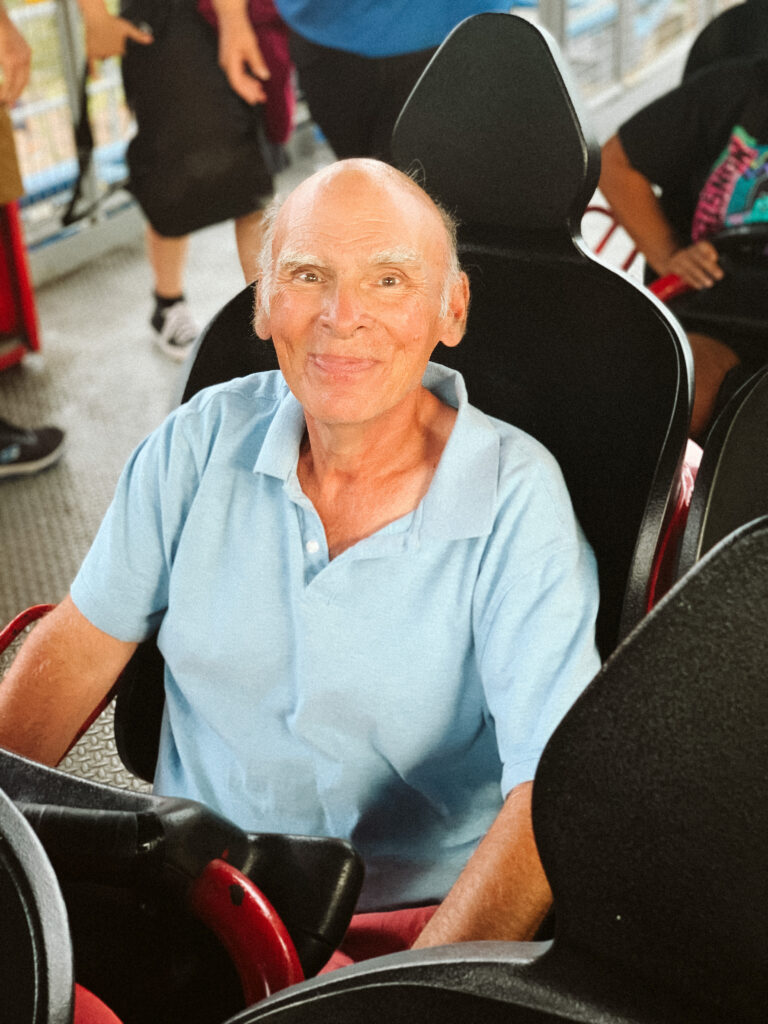 Tip Five: If you are looking for a coaster buddy, check the Phantom.