Comprehensive Anthology of the Best Coffee Shops in Pittsburgh
To the indecisive coffee lover searching for their next favorite coffee shop in Pittsburgh – look no further! We scoured the city and listened to your suggestions, creating a list of all the best coffee shops in Pittsburgh. How do we review each shop? By analyzing their atmosphere, coffee, and food selection. 
We'll start our journey in the South Side of Pittsburgh and explore around the city before branching out to the suburbs.
Atmosphere | The second you walk through Big Dog's funky Victorian entrance, you feel like you've entered the set of Gilmore Girls. With lime green walls, solid wood furniture, vintage chandeliers, and the sound of friendly conversations between the barista and visitors serenading your ears, you'll instantly feel at ease. The atmosphere is conducive for laptop typers trying to pound out a day of work and old friends catching up over some raspberry bars and honey lattes. Last but not least, the calming coffee shop playlist and cacophony of grinding coffee beans make Big Dog Coffee's atmosphere one of the best in Pittsburgh. 
Plenty of seating space

Very friendly staff 

Book exchange "take-one and return when you finish"

One floor 

Small gift shop 

Original artwork decor  

Plants in window sills 

Hardwood floors 

Courtyard seating

Free parking! 
Coffee | We ordered the Honey Latte with oat milk and were not disappointed. With top tier honey, the coffee and honey flavors balanced each other out, delivering a smooth taste. The coffee is a main focus of the shop, and the quality is obvious. They use Intelligentsia fresh roasted coffee and a La Marzocco, a top-tier Italian espresso machine. 
Large tea selection 

Sustainable trade with Intelligentsia Coffee 

Hand pour coffee   
Food | There are lots of options from bagels, to apple cake, to biscotti. What really sets this coffee shop apart, however, is their fresh oatmeal bar and homemade yogurt bars. This is a great spot for working professionals hoping to find a fresh, ready-made breakfast. An original addition, this is something we haven't seen at any other coffee shops in the area. 
Oatmeal bar 

Bagels 

Cakes + cookies 
Atmosphere | Delanie's has an industrial design with a loft area, the high ceilings make this coffee shop really spacious and big-city like. A little less homey than Big Dog Coffee, Delanie's Coffee makes up for it with their second floor that boasts a great work space with lots of books available to read. Their New Yorker collection hangs in the loft space as well, and the whole shop has an academic, scholarly aesthetic. 
Two floors

Industrial

Party lights

Large book collection for guests 

Food/brunch menu 

Plants 
Coffee | We ordered a Cappuccino and loved the mellow coffee taste with incredible flavor. With lots of syrups to choose from, Delanie's Coffee shop has a large variety of choices and quality certainly isn't sacrificed. 
Rum and cocktail menu

Loose leaf teas 

La Marzocco expresso machine 
Food | Breakfast pies, quiche of the days, and a Fiesty Bird sandwich all grace the brunch menu and make this a great spot to spend the afternoon. We weren't able to order from the menu, however, because they were mostly sold out of all their food by 11:30 a.m.
Atmosphere | De Fer believes that cafés should play a role in sustaining and curating happy communities. For that reason, they emphasize creating a calm, inspirational space in all their shops. Their funky, chill, and industrial aesthetic is sure to make your day when you visit any of their six locations.
Coffee | All coffee is roasted in house, and their creative blends are incredibly original. 
Food | Elegant and simple, De Fer serves conservas (preserved seafood), chocolates, and cocktails. With some additional lightfare, the focus remains on high end food that serves as garnish for your at-home concoctions.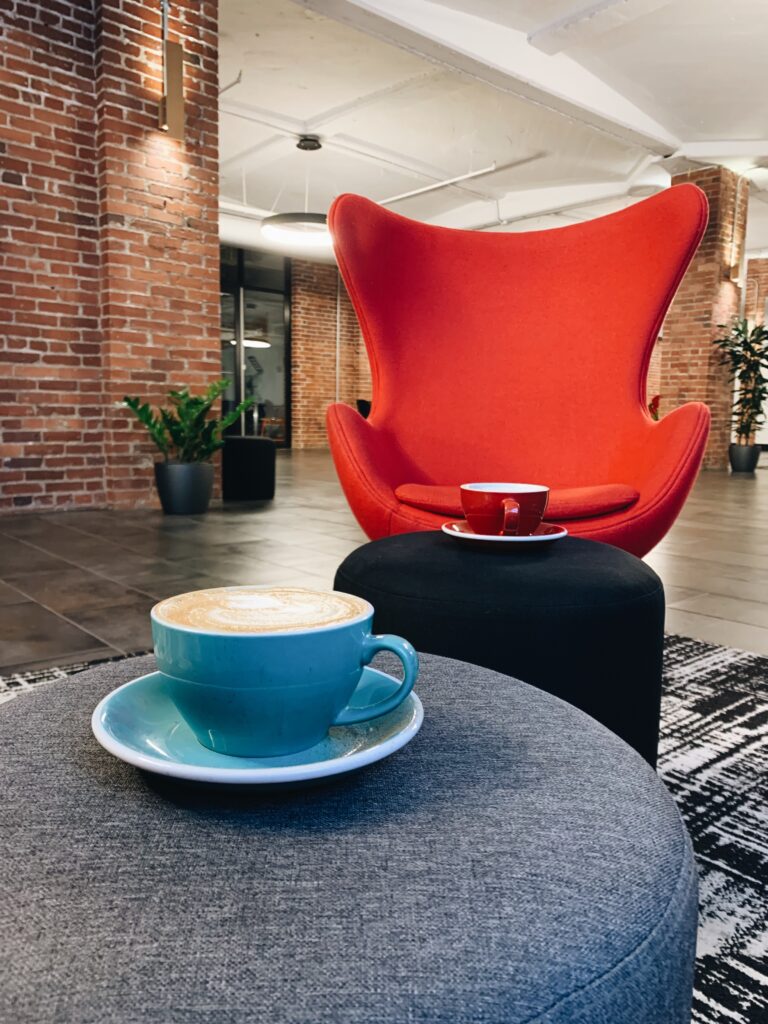 Atmosphere | With a welcoming, bohemian design, our favorite Commonplace Coffee location is the one nestled within the Mexican War Streets. WIth the door propped open, it's clear that all are welcome. Perfect for a rainy day, the white designs painted on the front windows, hanging greenery, hard wood floors, and exposed brick walls make this spot a calm nook within the Northside. 
The name, Commonplace, is inspired by Walt Whitman's poem, "The Commonplace." 
The commonplace I sing;
How cheap is health! how cheap nobility!
Abstinence, no falsehood, no gluttony, lust;
The open air I sing, freedom, toleration,
(Take here the mainest lesson—less from books—less from the schools,)
The common day and night—the common earth and waters,
Your farm—your work, trade, occupation,
The democratic wisdom underneath, like solid ground for all.
It's safe to say they've encapsulated the wonder of Whitman's poem in this little coffee shop's simple, boho design. 
Open doors
Boho decor
Hanging greens + fresh plants
Small and cozy
Corner of Mexican War Streets 
Coffee | Committed to their craft, Commonplace founders Julie and TJ Fairchild care about the fusion between art and science when brewing their coffee. "We use the artistic side to decide where we want to take our coffee, and the science behind the process to make the idea replicable and the best it can be." 
Devoted to craft of coffee making 
Local brewing partners 
Delicious, creamy chai 
Food | A small selection of pastries and fresh squeezed juices are available, but the focus of the coffee shop is predominantly, well … coffee.
Atmosphere | It hit 12:30 and we were hungry, so we tried the Everything Bagel with provolone, spinach, and tomato and it was delicious and expertly seasoned. The whole vibe is very "pit-stop" with people stopping in for a quick bite to eat or coffee to go. The vintage touches, complete with a massive Gulf oil sign, hanging bikes, and a phone booth make this one of the most uniquely decorated coffee shops. 
Hard rock music
Gas station themed decor
Eclectic, antique touches
Hard to find parking + expensive parking garage is pretty much your only option 
Coffee | With a large variety of signature drinks, Gasoline Street prides herself with creative names and drinks that fit the "gas station" aesthetic. Car-a-van latte is a fun twist, with cardamom, vanilla syrup, espresso, and milk. Another funky drink is the Bio-Diesel: matcha with honey or vanilla syrup. 
Large variety of drinks with fun names
Simple coffee approach "back to basics" 
Food | Certainly a far cry from gas station food, Gasoline Street Coffee has great warm sandwiches and smoothies for an on-the-go meal. 
Toasted bagels
Protein + fruit smoothies 
Five Points Artisan Bakeshop
Atmosphere | Five Points is located in Squirrel Hill. This bakeshop feels like you turned a corner and ended up in a small French alleyway's patisserie. With beautiful tile floors, racks and racks of freshly baked baguettes, cute pastries, and a back with open seating, this is a great spot to meet up with a long-time-no-see friend. 
Coffee | While the emphasis is on the baked goods, they make delicious chai and simple coffee orders. 
Food | Each of their breads is started 20 or more hours before it is baked so as to acquire more flavor. In addition, every loaf of bread sold was baked the day-of. This incredible dedication to their craft makes the food simply phenomenal. 
Atmosphere | Arriviste is a minimalistic, modern coffeehouse located in Shadyside with a friendly and knowledgeable staff. Featuring sleek interior design and beautiful artwork hung on the walls.
Surprisingly relaxing and cozy
Seasonal outdoor seating
Coffee | Serving the highest quality specialty coffee with in house roasting with extremely unique seasonal flavors, including "The Thrilla from Manilla," "Desert Rose" and "Amortentia."
Food | Limited food selection featuring delectable pastries.
Atmosphere | KLVN is a distinctive location that is loosely separated into a coffee shop and commercial roasting space. The large windows, natural wooden tables and stools give the industrial space an open, fresh, wabi-sabi feel. It almost feels as if you are in Scandinavia with functional beauty of the space, the abundance of plants and natural light.
Beautiful aesthetics
Ideal space to embrace creativity
Coffee | Featuring in-house roasted coffee that simultaneously rich, elegant and simple.
Food | Although food isn't available, there is a nice selection of merchandise.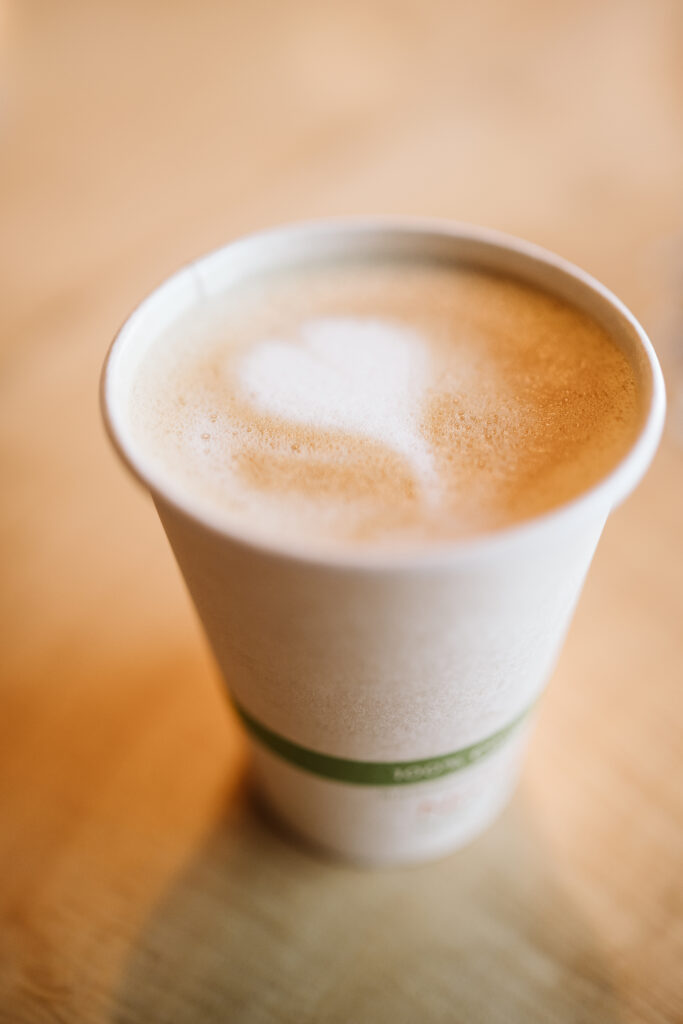 Atmosphere | Located in the Strip District, Soluna is a modern and calm coffee shop rooted in Latin American culture. From the foreign currency framed on the wall to horchata on the menu, this shop offers a unique twist on an industrial aesthetic. With painted murals and paintings hanging on the ceiling, the decor is cohesive and fun. 
Industrial yet cozy
Plants 
Paintings + a mural 
Previously name "Cafetano"
Coffee | Soluna boasts coffee experts and beans sourced from Dynamic Coffee Group which specializes in direct trade Honduran coffee. Their sustainable approach and connection to the lands where their beans are sourced from makes this a must-stop when you visit the Strip District. 
Sustainably + ethically sourced 
Food | They have amazing, original pastries! From Eggnog Danishes to a Chocolate Orange Tart, Soluna is great for those with a serious sweet tooth. We sampled the Waffle Flight which has fig and honey, lemon and blueberry, hazelnut, and fresh fruit waffles. 
Top-tier pastries
Lots of food options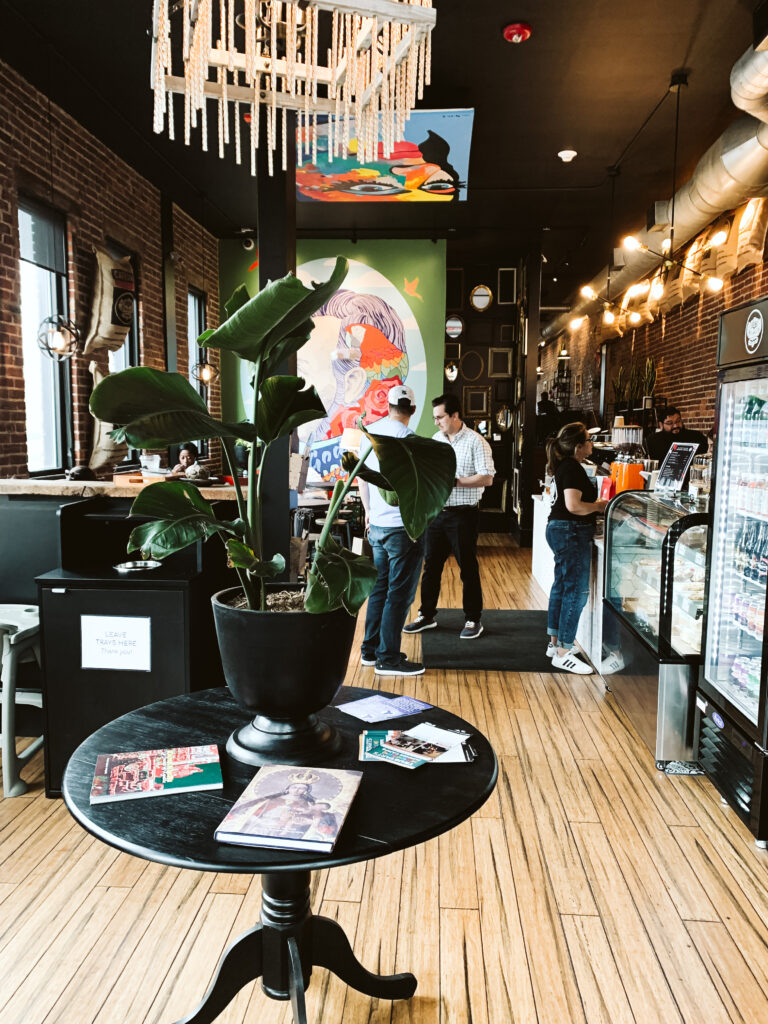 South Hills of Pittsburgh
Atmosphere | Located in the heart of uptown Mt. Lebanon, this coffee shop is always bustling with old friends catching up over Tiramisu lattes and high school students collaborating on a school project. The electric energy, cozy couches, and multiple lamps strewn across the shop make Uptown Coffee a cute spot and a community favorite. Uptown Coffee has been a favorite of mine since high school.
One floor
Lots of 2 person tables
Couches
Cozy, relaxed environment
Coffee | The drinks are pretty simple, and while they are part of the mix, in my opinion the stars of the show are the homemade baked goods. This coffee shop offers standard, staple drinks.
Food | As soon as you enter the coffee shop you're hit with the smell of fresh baked blueberry muffins and the sight of trays and trays of sugar cookies. This is a great spot to pick up catered desserts for any upcoming events.
Cakes
Brownies
Pies
Cheesecakes
Muffins
Cookies
Atmosphere | After recently undergoing a renovation, Orbis has added an emphasis on alcoholic drinks, with a beautiful large bar on the right side of the shop. Their trivia nights are a community favorite, and their mixed drinks certainly don't disappoint. The clean European design, complete with a camel leather sofa and lots of plants, make Orbis an aesthetic coffee shop and a must-stop shop in Pittsburgh. 
Sleek, european design
New bar added, plus trivia nights! 
Coffee | Featuring ONYX coffee lab, Orbis places an immense focus on the quality of their coffee. In addition, they change their coffees weekly so that customers can "explore the world, one cup at a time." 
Food | During normal cafe hours, Orbis offers bagels, wraps, and pastries. During their night hours, they expand the menu to include cheese boards and different "nibbles" such as mushroom pate. 
Wraps and bagels by day, fancy finger food by night 
Atmosphere | Located in a historical building of Bethel Park, Reginald's is a smiley, happy spot with a caring staff that loves to start their day with you. My favorite part of the shop is their gorgeous gallery wall that features lots of paintings of dogs! (Reginald's is named after the owners' dog)  🙂  
Coffee | Drip coffee, cold brew, and pour over, oh my! Reginald's also has some creative seasonal drinks, such as a Rosemary and Fig latte and a Cinnamon Orange Roll latte! 
Food | Now this is something to get excited about. Reginald's partners with various bakeries across Pittsburgh, including Oram's Donuts, Pandaria Jazmin, and Madeline's Bakery. 
Partner with local bakeries (always something yummy!) 
Atmosphere | Nestled in Castle Shannon, Anthos is a cute, modern spot with a beautiful layout. Whispers of Greek escape the kitchen and float toward the dining area, as senior citizens dine on their delicious pastries. 
Coffee | The best way to describe their coffee is, "made with incredible care." When I ordered a cappuccino, it took about 10 minutes for the owner to froth the drink until he deemed it perfect. And this is done for EVERY single drink. Want to feel like a welcome visitor and be treated to some amazing coffee? Look no further than Anthos. 
Food | Made with love in Pittsburgh while using the Greek owners' family recipes, Anthos incorporates premium quality ingredients and authentic Greek imports. 
There are lots of great treats and breads to choose from, including Anthos Kourabiedes which are butter and almond cookies. 
Atmosphere | Very eclectic and bookish, this coffee shop has two levels and lots of seating space – so you'll never have to worry about finding a spot to enjoy your coffee. Boasting a gorgeous window with a window sill full of plants, this shop is full of beautiful decor and picture-perfect nooks. Carnegie, PA's revamped old post office, the coffee shop is full of nostalgic mementos and post-office statement pieces. 
Spacious
Fun design + decor
Revamped old post office 
Coffee | Serving Lavazza straight from Italy, Carnegie Coffee keeps their drinks simple yet good.  
Food | With a daily breakfast and lunch menu, you're sure to never go hungry.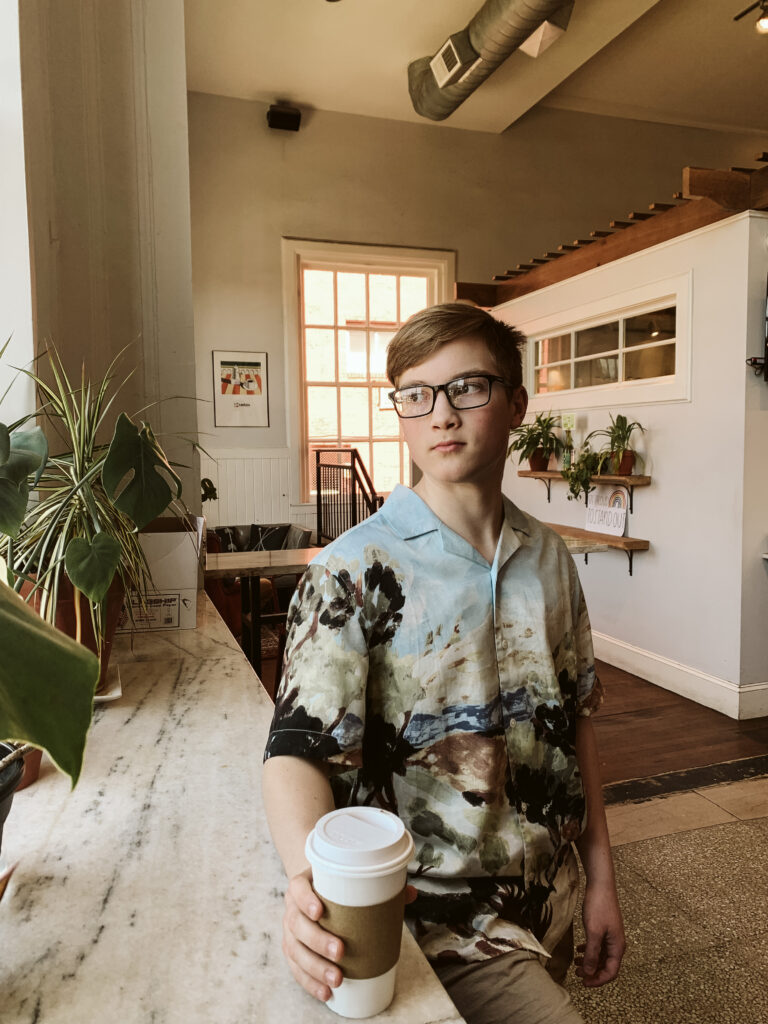 Atmosphere | An add-on to V&V scratch kitchen, this cafecito is bright, vibrant, and cheerful. Their funky patterns make this a fun cozy spot to catch up with friends. 
Coffee | With drinks as crazy as an Iced Reece's cup, you're sure to find an iced latte that will bring a smile to your face. An added perk is that all syrups are made in-house.
Food | From salads, to sandwiches, to pastries, V&V Cafecito has it all! My personal favorite is the Tiramisu Danish! 
Muffins + scones 
Fresh juices 
North Hills of Pittsburgh
Atmosphere | The atmosphere is EVERYTHING at Cafe Conmigo. With what feels like hundreds of plants and a wicker swing in the main room, this cafe is a trip to a jungle-coffee paradise. Super spacious, this cafe is a great spot to stay at for a whole day of productive work. With fresh plants, cozy lighting, and lots of great drinks to choose from, this all makes Cafe Conmigo a favorite. 
Coffee | Their drinks are creative and high quality, with options such as a Raspberry Thyme Latte and Almond Pear Pomegranate Matcha. Their chai is the best in Pittsburgh, as they take the time to make the spicy drink by hand as opposed to a syrup. If you're a chai fan, definitely stop by Cafe Conmigo! 
Food | Mostly serving sweets and pastries, the selection is simple and limited, but still delicious. 
The Bloom Cafe at Quality Gardens
Atmosphere | A café inside a greenhouse—what more could the world want? After ordering your food and drink from the cute little farmhouse coffee shop, they deliver their order to you while you sit in the warmth of the greenhouse and enjoy the plants! 
Coffee | With lots of seasonal specials, Bloom Cafe has tons of creative, and fun drinks. Their Spring selection has some great finds, including a Lavender Vanilla Latte which is made with their house Lavender syrup! 
Food | Their paninis are delicious, and my personal favorites are the Cactus Panini (House smoked turkey, pepperjack, tomato, avocado, and spicy chipotle aioli on pressed sourdough) and the Pub Turkey Panini (House honey sage brined turkey breast, bacon, gouda, garlic aioli, arugula, on pressed sourdough.) The soups and salads are also a great buy.