Our Epic Pittsburgh Photoshoot
So I don't know if you all have noticed, but I am a Pittsburgh photographer and I love photographing my kids. They are the easiest models. They are experienced, enjoy being photographed, and love helping to come up with original and creative ideas and poses. The kids and I recently came up with a crazy idea… we went on an eight hour, eight location photoshoot!
Over the course of a couple days each of my kids asked if I could take a couple photos for them, at their favorite Pittsburgh location. I said yes to each of them, but become concerned how I would find the time to photograph each of them at each of their favorite locations. We came up with an idea. We should all go together to each of their favorite places. The four of us dedicated one entire day to traveling to our favorite Pittsburgh locations and photographing our adventure along the way.
First stop on our Pittsburgh Photoshoot | Our favorite rural location
So to start off our day-long Pittsburgh-wide photo palooza, we started off in the woods in the South Hills. This location is near our home, so it was the perfect way to start our day. My son wanted to have his pictures taken of him in his new kilt that we purchased during our travels this summer in Scotland. For his favorite portion of our photoshoot, he climbed some trees and of course…did a couple of the best Fortnite dances!
What really made this first location special was that we were there during the sunrise. We got up early to be able to have pictures with the interesting and colorful lighting.


Second stop on our Pittsburgh Photoshoot | Mt. Washington
We love the beautiful hills and rivers of Western Pennsylvania. Because of the hills and rivers, Pittsburgh has A LOT of bridges! It is known that our city of Pittsburgh houses the second largest number of brides in the world, right behind Venice, Italy. Each one has a different design, and many of them sport the iconic gold/yellow color of Pittsburgh. However, there are three yellow bridges that are exactly the same; The Roberto Clemente Bridge, the Rachel Carson Bridge, and the Andy Warhol Bridge. They are tenderly called the "sister bridges." They are easily spotted from Mount Washington, one of our favorite spots in Pittsburgh. All three of us had pictures taken at this breathtaking destination.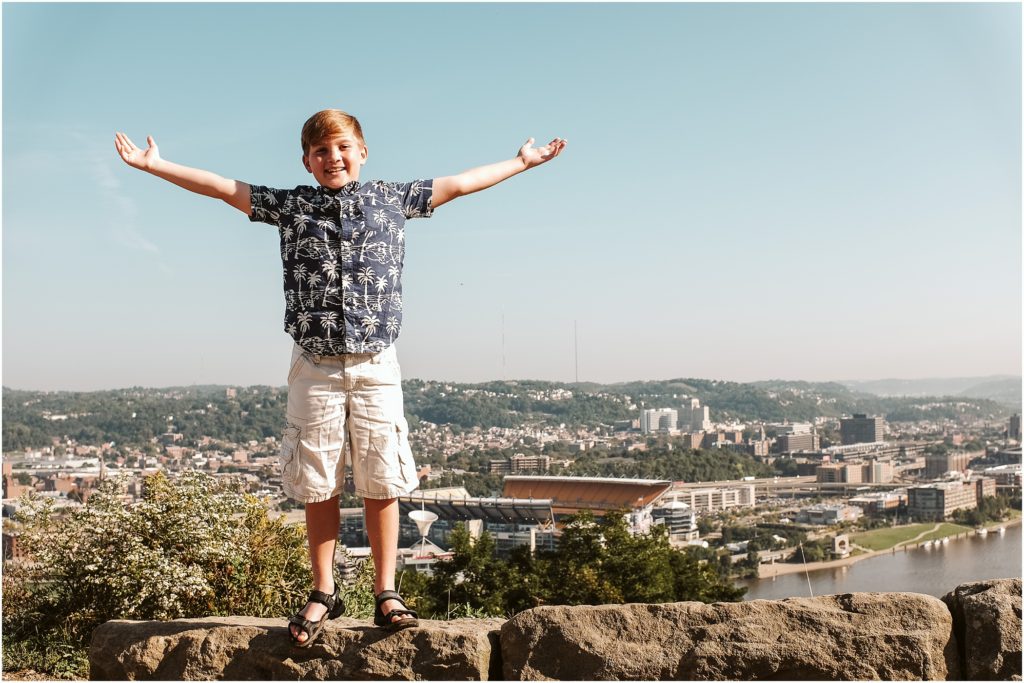 Third stop on our Pittsburgh Photoshoot | Station Square
Well, we love Station Square especially. They have the best food. Some of our favorite restaurants in that area would be the Grand Concourse, Bucca di Bepppo, the Hard Rock Cafe, and the Melting Pot. Plus, there is a gorgeous fountain and the great view of Pittsburgh… perfect for a photo shoot. And of course, one of the most well known restaurants would be Primanti Brothers. Their signature sandwich has fries and coleslaw on it. It is the best! This traces back to their history of making sandwiches for the steelworkers. This ingenious idea allowed them to eat with one hand and continue to work. (Station Square)
Forth and fifth stops on our Pittsburgh Photoshoot | North Shore and North Side
Honestly, we all recommend to make time to head down to the rivers. Pittsburgh is truly a unique city in that there are three rivers: the Monongahela, the Allegheny, and the Ohio. Our favorite location to admire the rivers is…Point State Park. There's a fountain near the Golden Triangle where all the rivers converge. Boats, kayaks, and paddle boards speckle the water, a great reflection on the active personality of Pittsburgers. Over the summer, the Point hosts the Three Rivers Arts Festival and the EQT Three Rivers Regatta. Both events are so much fun and bring thousands of people together to celebrate.

Sixth stop on our Pittsburgh Photoshoot | The Strip District
Well, as a matter of fact, our family loves the Strip District. So, we decided to include it in our day of adventure. First, we started at Uncle Joe's candy store. We all, even Tutu, ordered our favorite ice cream flavors. We love the many small and local establishments in the Strip District. Hot Haute hot, The Pittsburgh Rug Company, and La Prima Espresso Company would be some of our favorite locations. This district adds a sense of culture and artistic identity for all who visit, and we would definitely recommend stopping by. 
Second stop on our Pittsburgh Photoshoot | Mellon Park
Mellon Park, established in 1942, was the largest mansion in Pittsburgh. After Andrew Mellon's sixty-room home was brought down during World War 2, most of the garden still remained and was transformed into a city park known now as Mellon Park. The gorgeous gardens in this park are perfect for a photo shoot or even just a mid-afternoon brunch. Now this spot is one of the most lush and historical parts of Pittsburgh and houses a great, European feel.
Our final location: The columns at Carnegie Mellon University
Now, in reflection of our day of extreme adventure, I would have to say that along with being exhausting, it was exciting. I think that it is always important to do things out of the ordinary, and break up the schedule once in a while. As a photographer, it was nice to turn our day off into a time of creativity and rediscovering the freedom photography and really having no plan and turning that into art. We all still reflect on the "best day ever," so I recommend to let loose once in awhile and see where it takes YOU!!
Click here to view portraits from our family portrait session in Scotland.