When my mom, daughter and I had an unexpected free weekend in March, we decided to visit the four Frank Lloyd Wright houses in the Laurel Highlands. We visited Polymath Park, featuring the Duncan and Mäntylä Houses, Fallingwater, built for the Kaufmann family in 1939, and Kentuck Knob, built for the Hagan's in 1956. In addition to exploring the homes we also had time to grab a delicious bite to eat at Treetops in Polymath Park. At the time of our visit, it was possible to tour each of the houses with the exception of Fallingwater due to COVID restrictions. At Fallingwater it was only possible to explore the grounds and around the outside of the home.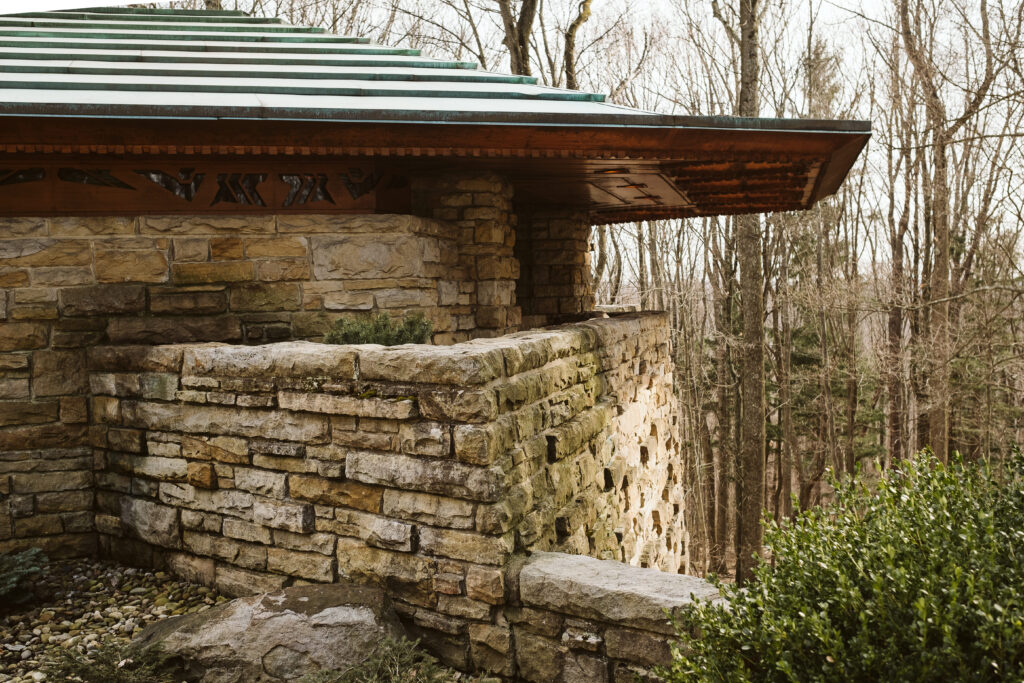 1. Usonian
Usonian comes from USONA or United States of North America. Usonian homes are sophisticated yet simple. These houses typically feature native materials, flat roofs, large overhangs, natural cooling, natural lighting, heated floors, and car ports. The front of the house is kept private in contrast to the back that opens to the outdoors. These homes were designed without garages, attics, basements, to limit clutter. With the focus on natural light, Wright avoided overhead lighting, preferring lights above and below cabinets and wall shelving units. Many of these features were to retain the natural beauty of the location.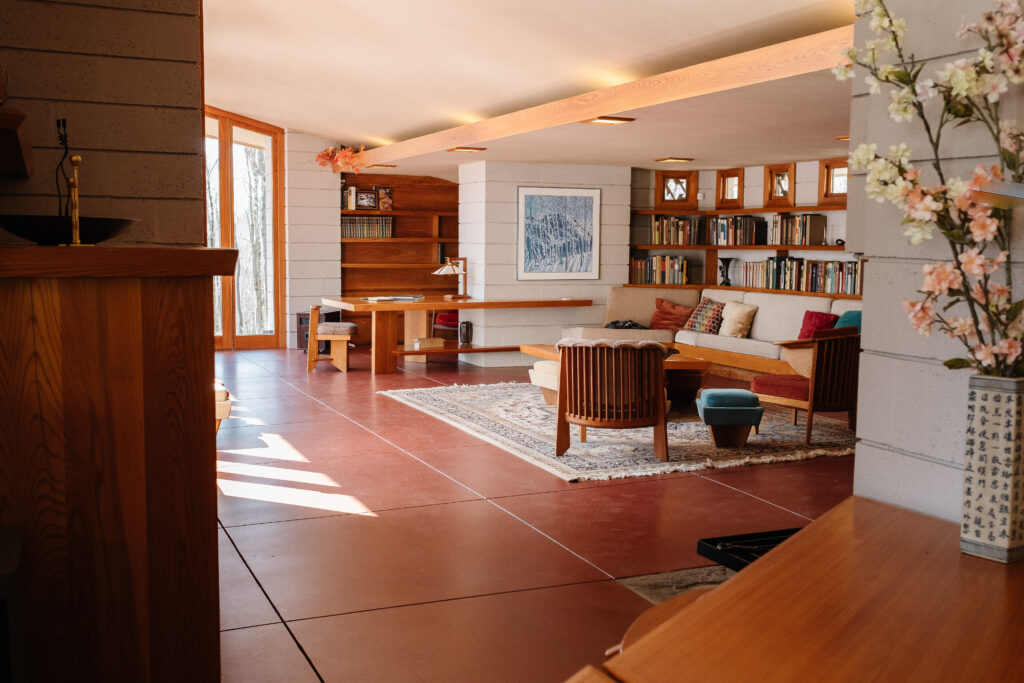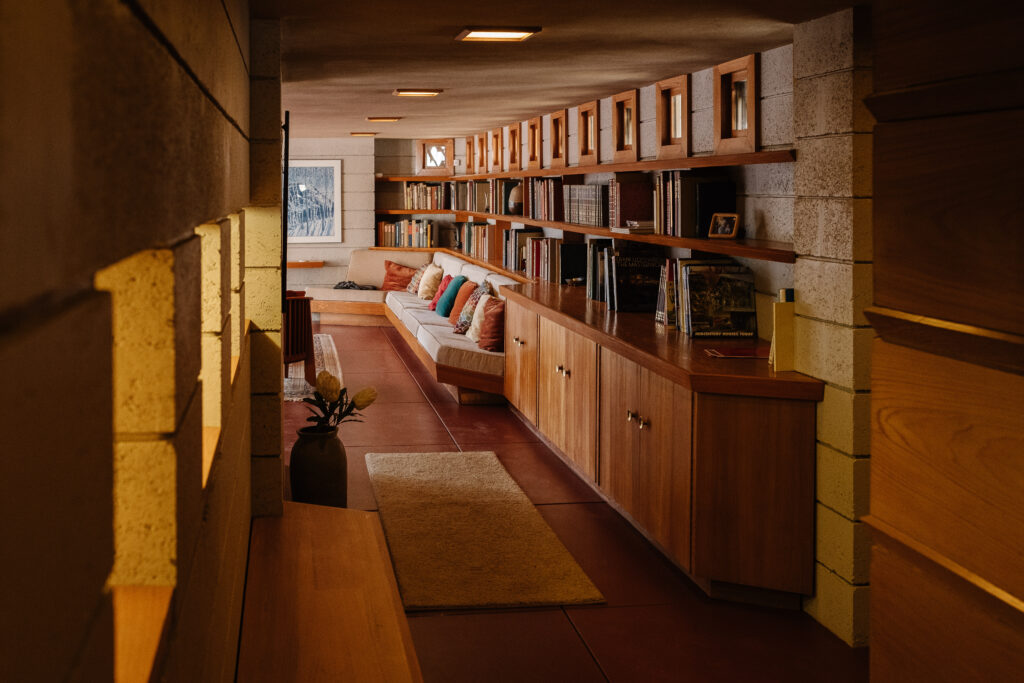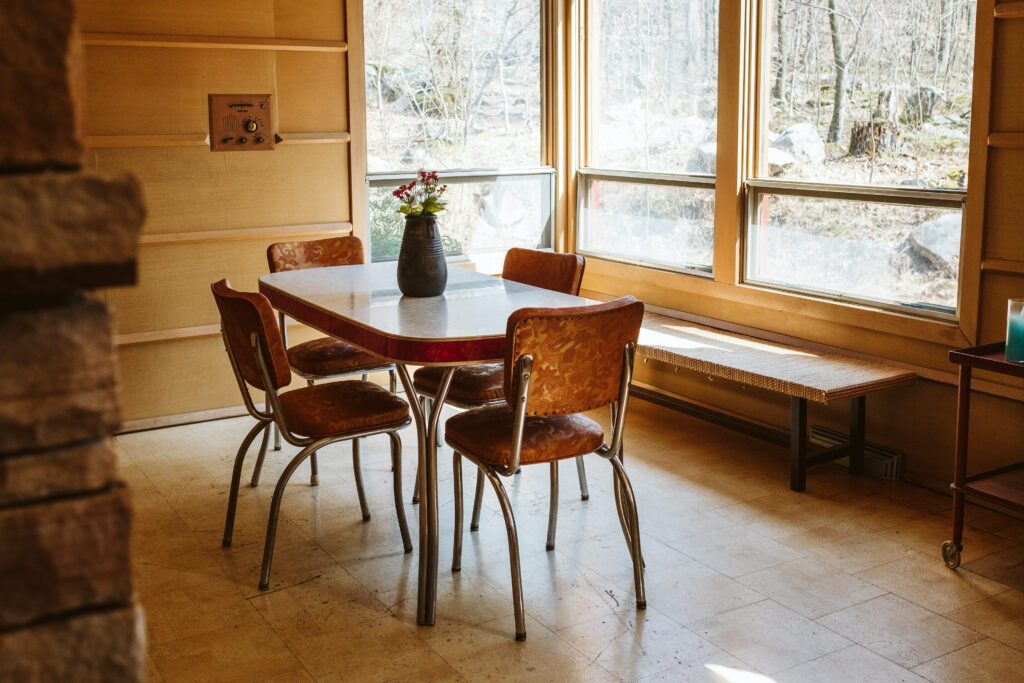 2. Organic Architecture
Wright once described the goal of an architect is "to help people understand how to make life more beautiful, the world a better one for living in, and to give reason, rhyme, and meaning to life" in other words he wanted to effortlessly combine philosophy, building materials, and nature. In each of the homes we visited we could experience how he designed the homes around bringing the outdoors in, with long window walls, in door and outdoor planters separated only by frameless windows. I loved how the environment and humanity effortless merge together.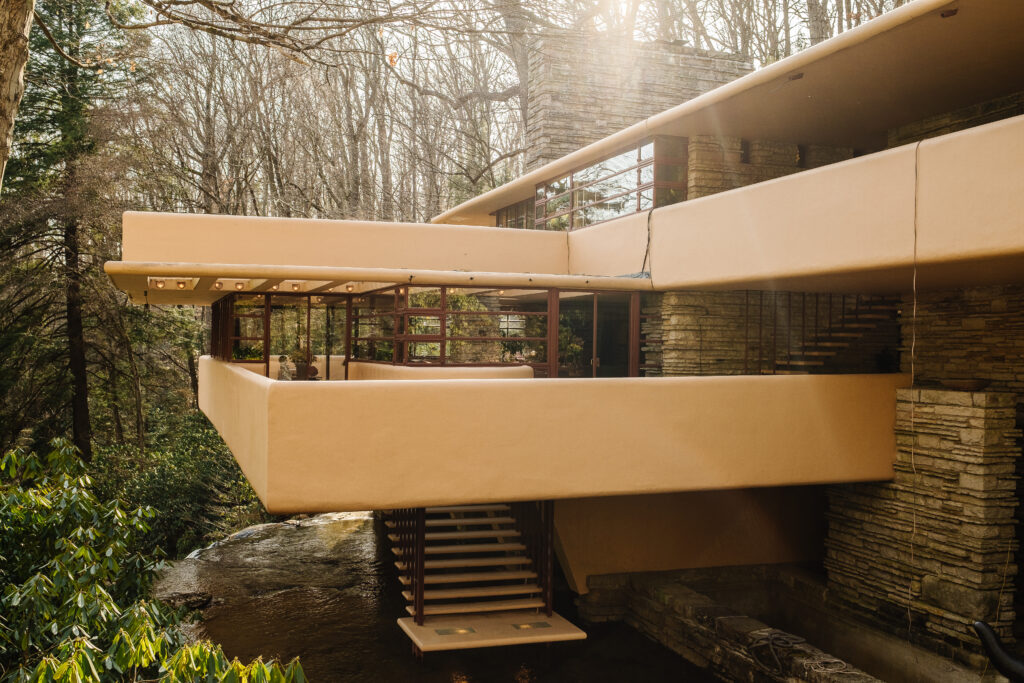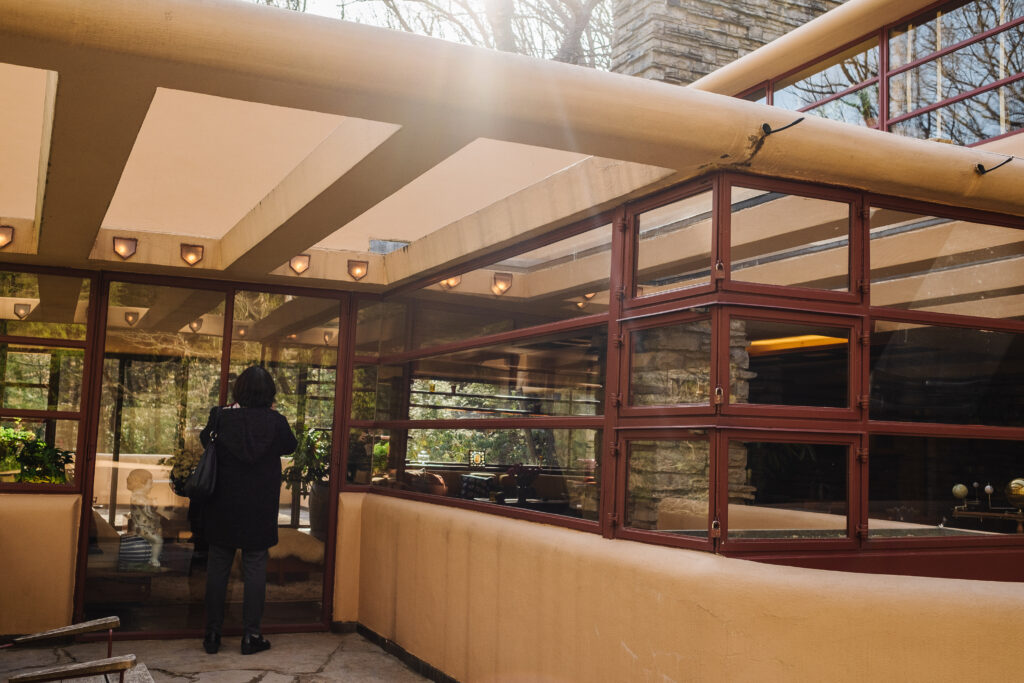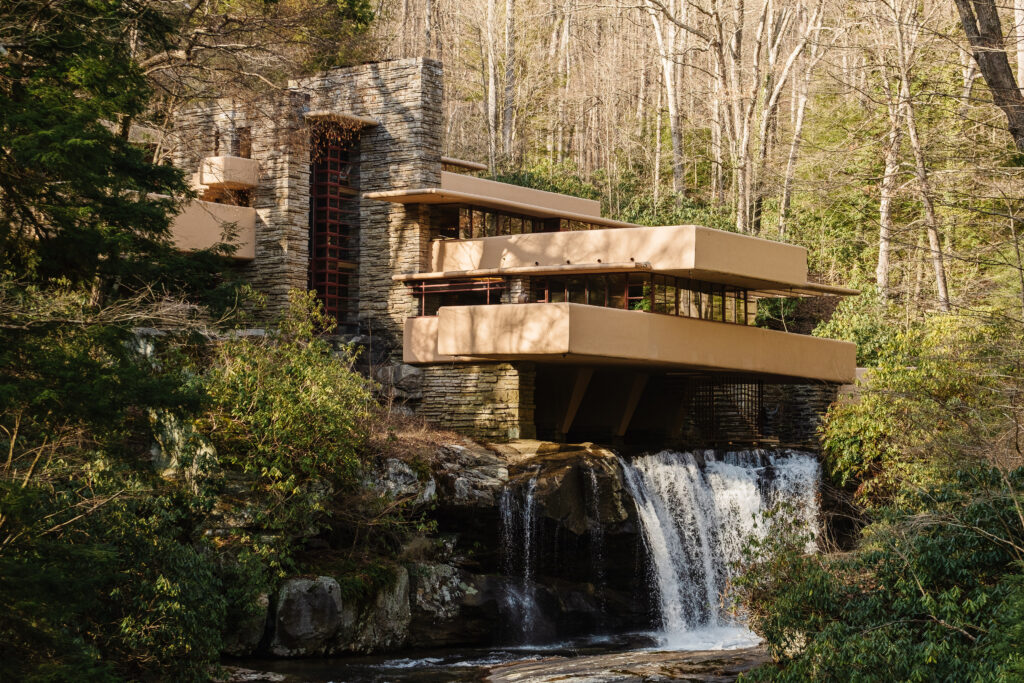 3. Space
The use of space is felt when you in a Frank Lloyd Wright home. He created positive and negative spaces. He wanted the people inside the homes to move through negative spaces to dwell in positive spaces. The negative spaces felt cramped and encouraged movement while the positive spaces encouraged lingering and social interaction. Not only could Wright determine the physical dimensions of the space, he would also manipulate the illusion of space. For example he could lower the height of tables and chairs to make the open spaces appear even greater.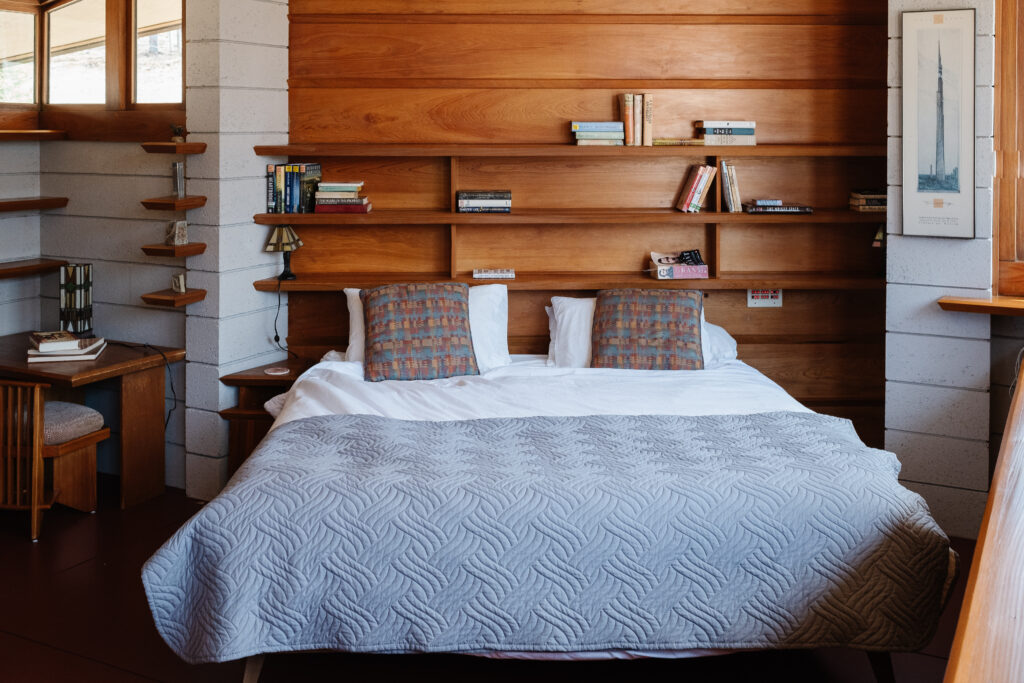 4. Common Elements
On the tours at Polymath Park and Kentuck Knob we learned about common elements of Frank Lloyd Wright's house making his style easily recognizable while the designs were unique. Common elements in Frank Lloyd Wright homes include warm tones like: Red concrete square floors, copper roofs, and Cypress wood.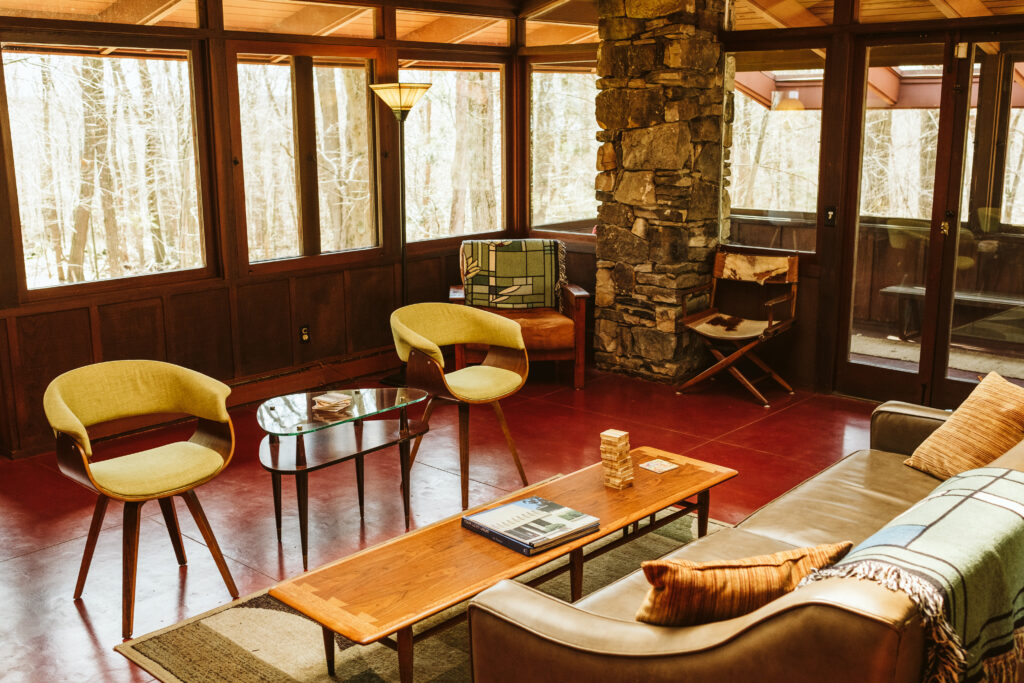 5. Design
Frank Lloyd Wright's design style is rather minimalistic. The furniture he designed resembles art more than traditional functional pieces. He often features long built in wooden sofas under built in bookshelves opposite a long widow wall. I enjoyed the interesting angles and lines as well as the open concept living areas with statement fireplaces.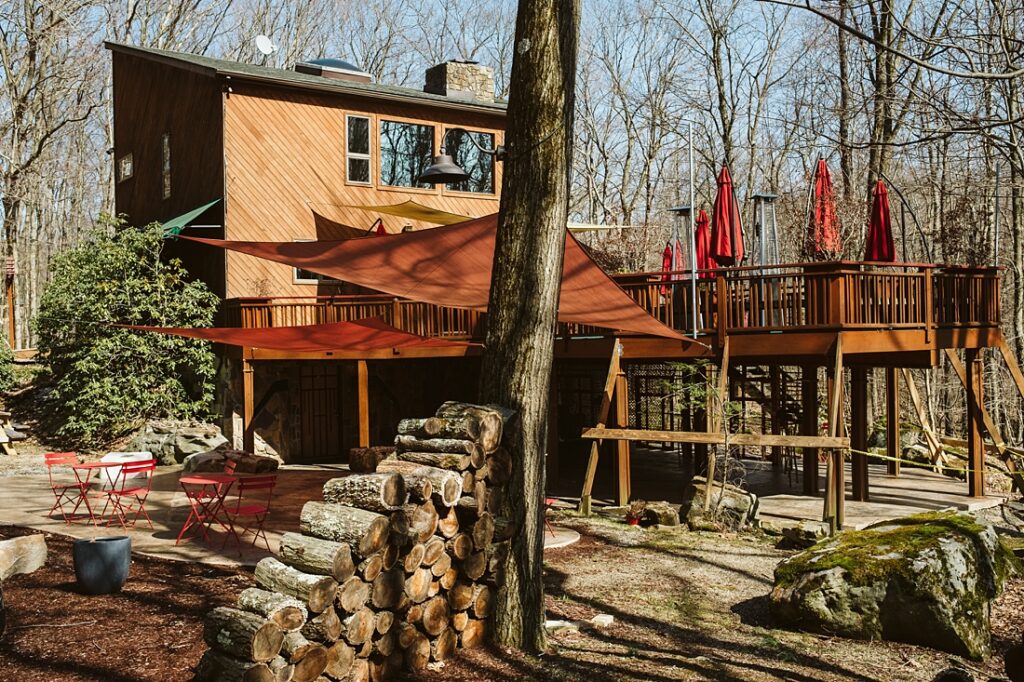 Since Frank Lloyd Wright is the only architect that I have heard of since I was a child, I probably should have realized that he is generally considered the greatest American architect of all time. In one of his famous quotes he said, "The longer I live, the more beautiful life becomes." Life is beautiful. I have always wanted to capture the beauty I see in the portraits I take. One of my favorite things about Wright is that he seemed to prioritize design over all else. Although I do as well, it seems that most prefer function to design. Let me know in the comments below what you prioritize, design or function?
Visiting any or all of these Frank Lloyd Wright houses is a fantastic family activity that is close enough for a day trip from Pittsburgh. Although if you want to extend your stay, you can spend the night in any of the four houses in Polymath Park, including the Duncan, Mäntylä, Blum, or Balter Houses. By the way, Peter Berndtson, an apprentice of Wright, designed the Blum and Balter Houses.
If you are looking to hire a photographer, please contact me. 🙂