Let's talk about college shirts and cap + gown pictures
It is time to turn a tassel for all you have accomplished with a college shirt + cap and gown senior picture session. Cap and gown + college shirt sessions are the newest trend in senior pictures. Cue the confetti because it is time to celebrate your senior year milestone in style. In addition to being fun, cap and gown sessions add variety and personality to your senior pictures!
We're celebrating the Class of 2023 high school graduates with college shirt + cap and gown session photos this spring! Let's capture you celebrating in both your cap and gown + a shirt that announces your future plans after high school. Congrats grads!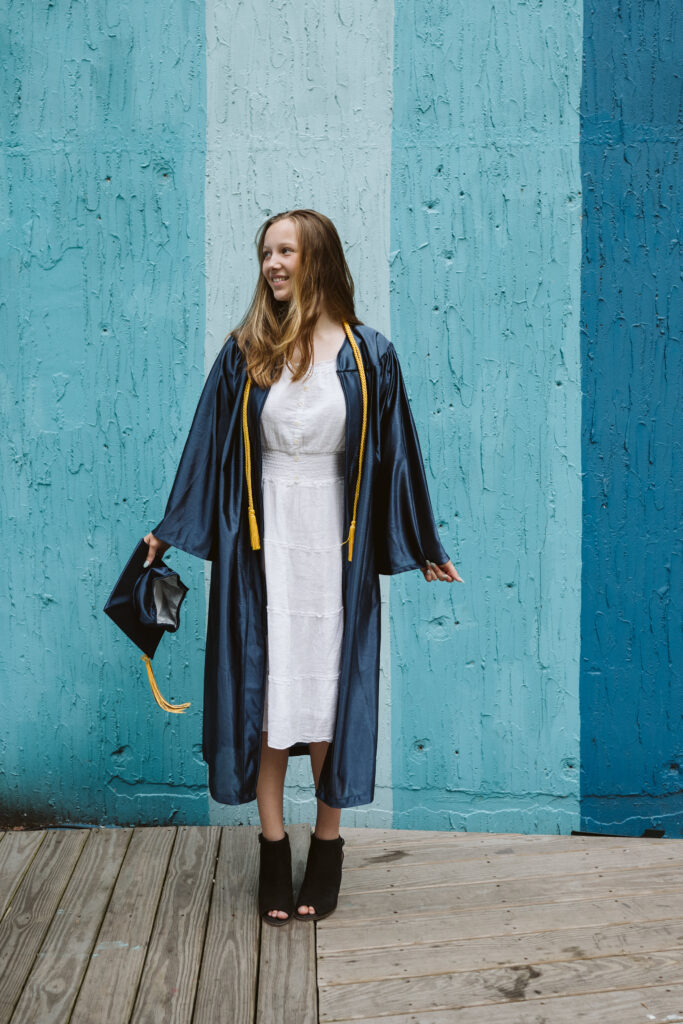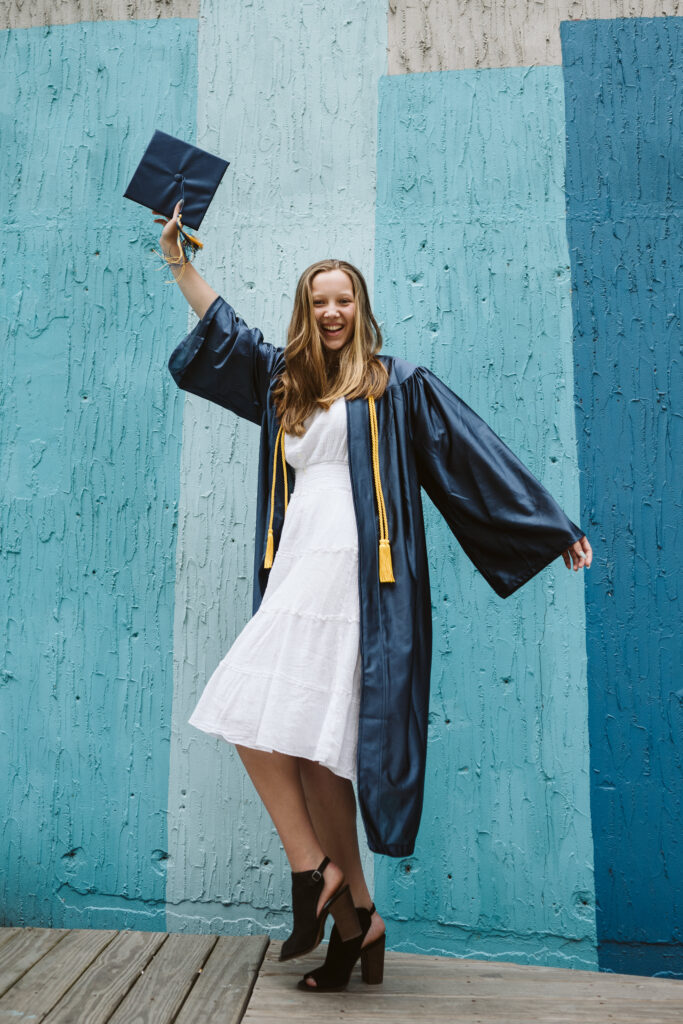 Allow plenty of time to enjoy a stress free process. Session times are limited so give yourself plenty of time to get on the schedule and prepare for your shoot. April through May is the best time for all college shirt + cap and gown sessions to give yourself time to select your favorites, have them edited, share for graduation posts, graduation invitations, and even grad party decor.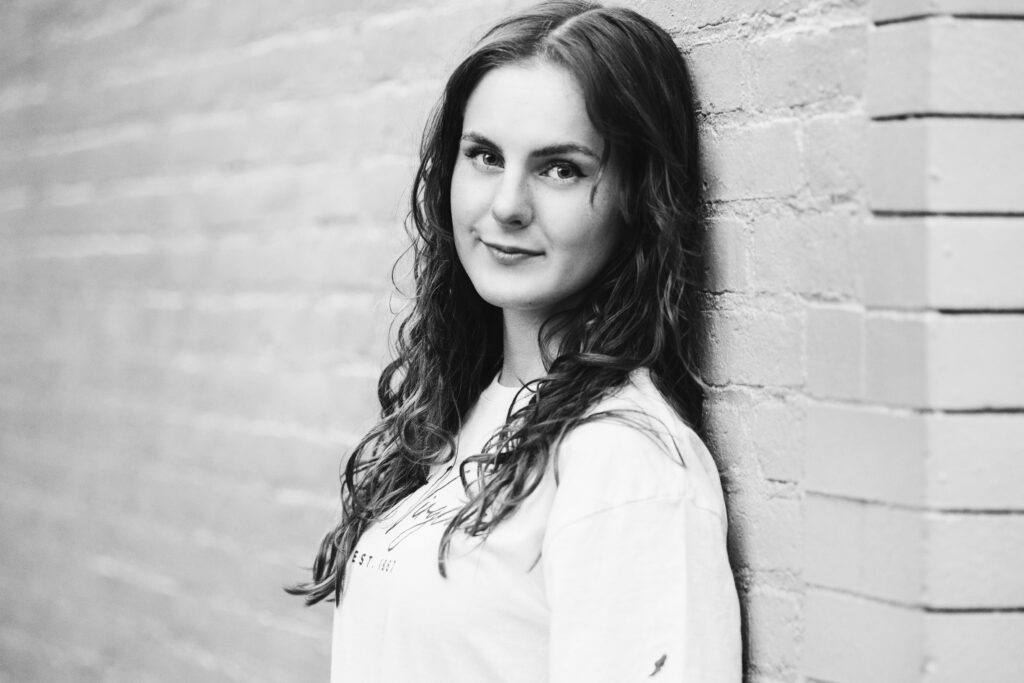 A black and white dress or suit is the timeless choice, or you may want to wear your school colors. It's important that your outfit doesn't clash with your robe! Also bring along your favorite pair of jeans and a college shirt. This casual outfit adds an element of fun and surprise to your session! Be sure to bring dress shoes and casual shoes, plus any jewelry or accessories.
3. Bring a favorite thing
Maybe it's a soccer ball, paint brush, clarinet, pompoms, class ring, or letterman jacket. Let's personalize your pictures with your favorite activity during your photo session!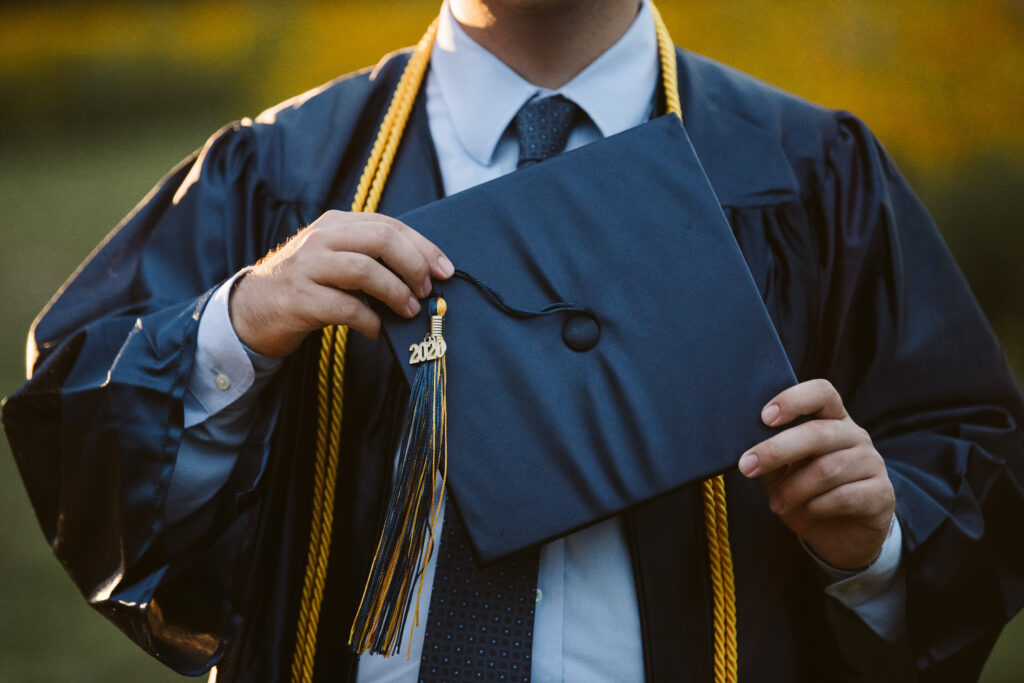 Pay attention to your hair, nails, makeup, shave, etc – because you will notice the details in the photos.
5. Celebrations with your bestie!
 If you are thinking celebrating together is even more fun, cheers to friends at cap and gown sessions! 
Relax and enjoy. This is a celebration of all you have accomplished this far. Plus, if you are having a good time your pictures will look all the better!
This is the final chapter of your high school journey and I wholeheartedly believe that this milestone is worth celebrating. It's a privilege for work with you to capture your journey. I am excited to see where you go from here and cheer you on!
Ready to document your story?
Let's work together to create beautiful images that you can treasure for a lifetime!