Graduating from high school is a huge milestone in your life. In addition to capturing you during your senior photo shoot, consider also featuring your amazing dog(s) while still focusing on your unique personality in beautiful locations around Pittsburgh. It's possible that you will move away soon for school or work, and wouldn't it be wonderful to have senior portraits including your dog to take with you? You can reminisce of your good times together and show off how cute your dog is to your new friends!
We could meet at your home
Perhaps your dog prefers to stay home. Another perk about staying at your home is that there shouldn't be other distractions, like other dogs or people. Maybe you would like portraits captured inside your home near a window or in your yard. 
We could meet at a dog friendly park
Let's meet at a dog friendly park if your dog is social or you simply prefer a park. I found out the hard way that not all parks welcome dogs! Mellon Park is a beautiful park that allows dogs. There are also spots in South Park that are beautiful and dog friendly.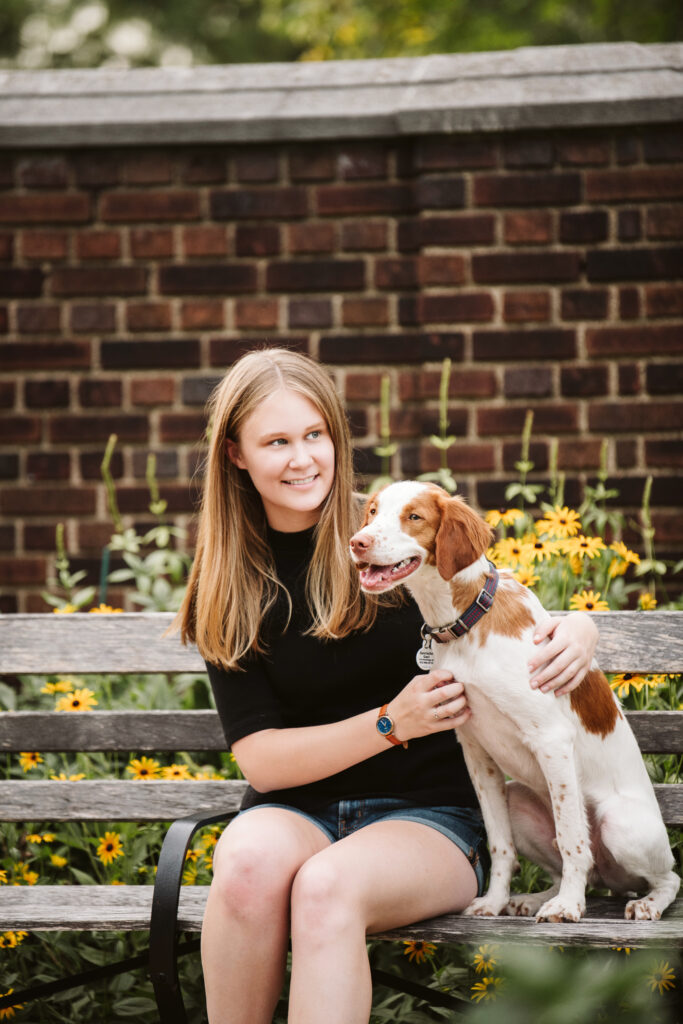 In addition to preparing for your senior photos, it's helpful to prep your dog for your photoshoot too! 
Grooming: Of course, all dogs are different. If you have a breed of dog that is shaggy around the face, consider getting your dog a trim around the eyes a week or two before your session. If possible, I recommend a nail trim at the same time.
Bathing: A bath is essential for your dog to look his best in front of the camera. With active dogs, you may need to wait until the day before to bathe to ensure your dog is as clean and shiny as possible.
Practice Tricks: While not a requirement, a little brush up on basic commands is a great idea! Before you senior session, prepare your dog to be a model! Work on a handful of tricks like SIT and reward him for doing it, then extend the period of time he holds the sit. Bonus: Consider working on STAY, LAY DOWN, and/or SHAKE!
Dogs are photogenic and fun
A dog's loving nature creates a sweet sense of connection between the two of you. Dogs almost always look cute! Dogs are full of expression and love.
Dogs are part of your story
Think back on your childhood. Maybe your dog a huge part of your childhood memories. Maybe your dog does a cute thing with their face. Capturing you together will document your relationship.
Sadly, our furred friends don't live as long as we would like. Documenting their place in your life is a great way to keep the memories with you. In my opinion, you can never have enough pictures of your dog!
If being in front of a camera makes you a little nervous, then your dog is going to help you relax! Dogs require a bit of attention, which also means you will be thinking about them instead of my camera. When I start taking pictures, you may be laughing at the way she tilts her head with every click of the camera, rather than worrying about where to put your hands. This is great to get you warmed up and to realize that your photoshoot isn't a scary experience, it is actually an enjoyable one!
Bring more than you think you will need of different types of high-value treats
A single bold colored new toy
Collar and leash
Dog Brush
Water and water bowl
Waste bags
Tell me what you love about your dog in the comments below!
Ready to document your story?
Let's work together to create beautiful images that you can treasure for a lifetime!