Family Adventure Awaits in Norway
In August, our family flew to Bergen, in western Norway. Our first two days were rainy so we rested, went grocery shopping, and hung around our AirBnB. We also went shopping for traditional wool sweaters at the Dale of Norway Outlet. 
We stayed in a beautiful home in Stanghelle. I loved the modern white and light gray home and its rustic accents.
We had a couple meals on the porch and enjoyed the beautiful view. We would have loved to have had more picnics on our porch but it was often cold and drizzly.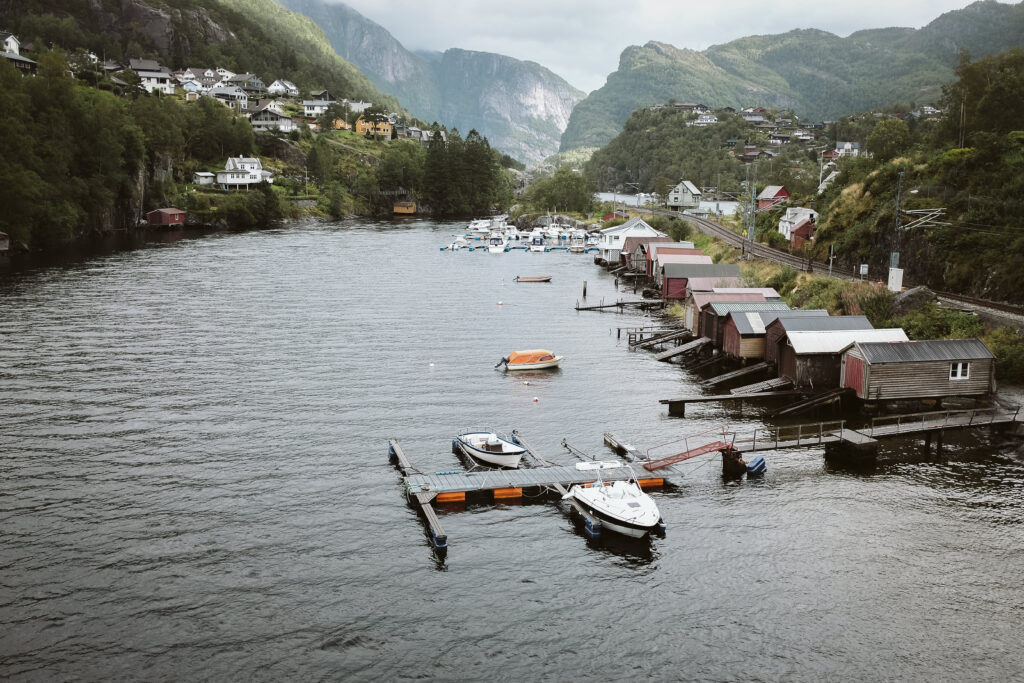 When in Norway, one must try new food! We tried vanilla sauce, brown cheese (gzdrandsdalsost), Freia chocolate and bread that we could bake at home to enjoy fresh from the oven. Everything was delicious! The kids didn't enjoy the brown cheese but I did! I wish it was available here in Pittsburgh.
In the Dale of Norway Outlet, we saw the sweaters that the Norwegian Olympic team wore at each Olympic games.
We enjoyed touring Dale, visiting the church and relaxing at the general store.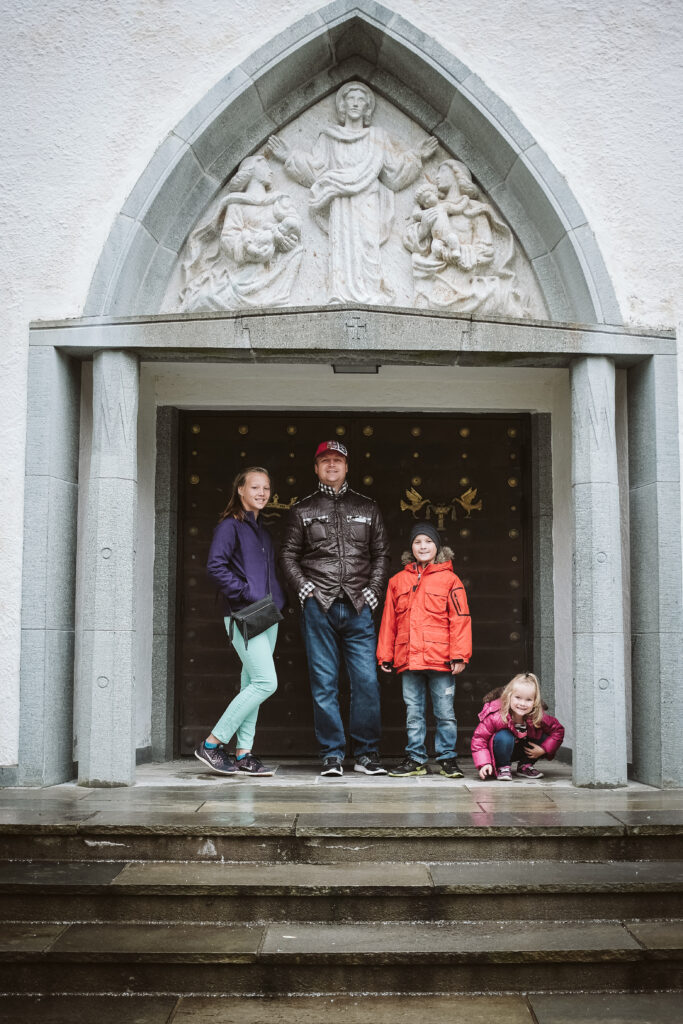 By our third day we were ready for adventure! We chose our daily itinerary based on the weather. Weather in western Norway can be cold and rainy, even in August. We wanted to spend the warm sunny days kayaking and hiking. We quickly realized that the weather can be different from one mountain to another so our destination made a difference as well as the day. Since our youngest child is a preschooler, we had to accommodate her limitations into our schedule. While we considered visiting Preikestolen and/or Trolltunga, we decided that it wouldn't be practical for our family at this point. This fact alone provides us with a reason to return when our youngest child is a little older. I learned from a dear German friend that it's important to leave somethings unfinished so that you'll need to return someday!
My husband enjoys planning family vacations. This year, he planned five separate day trips for our one week visit in Norway. He chose where to visit by googling the top 10 sites of the country and also consulting our trusty, old European atlas that places stars on points of interest, including places of natural and cultural interest. 
Each of our five day trips is color coded so you can locate highlights from the trips on the Wanderlog map on the bottom of this post.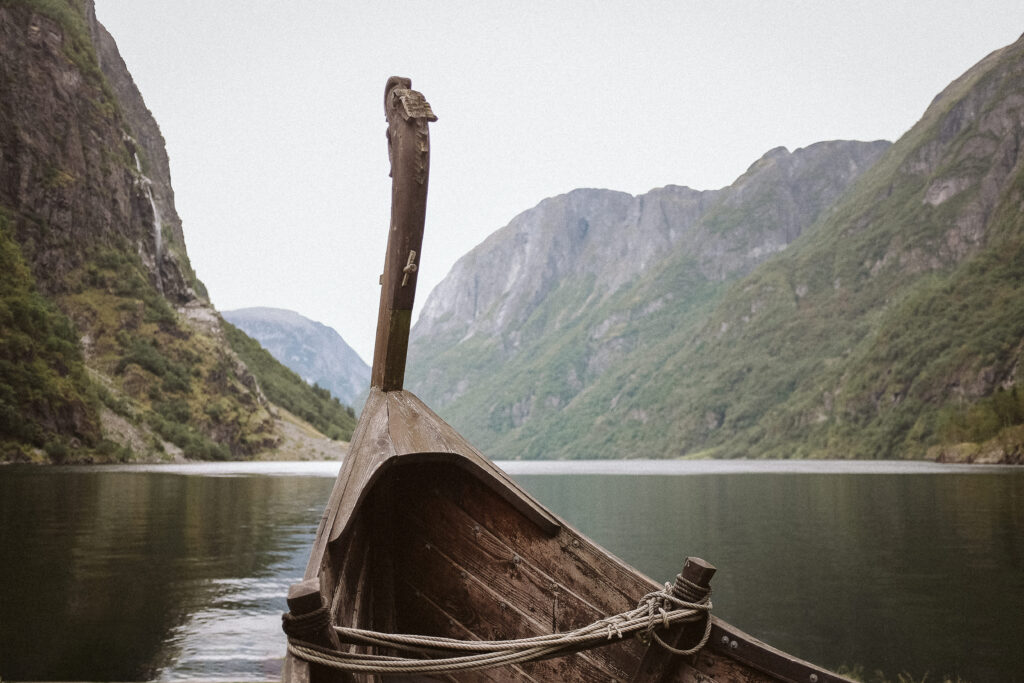 Our first day trip was full of picturesque stops along the fjords. Our first stop was Tvindefossen, a waterfall that introduced us to the natural beauty of Norway.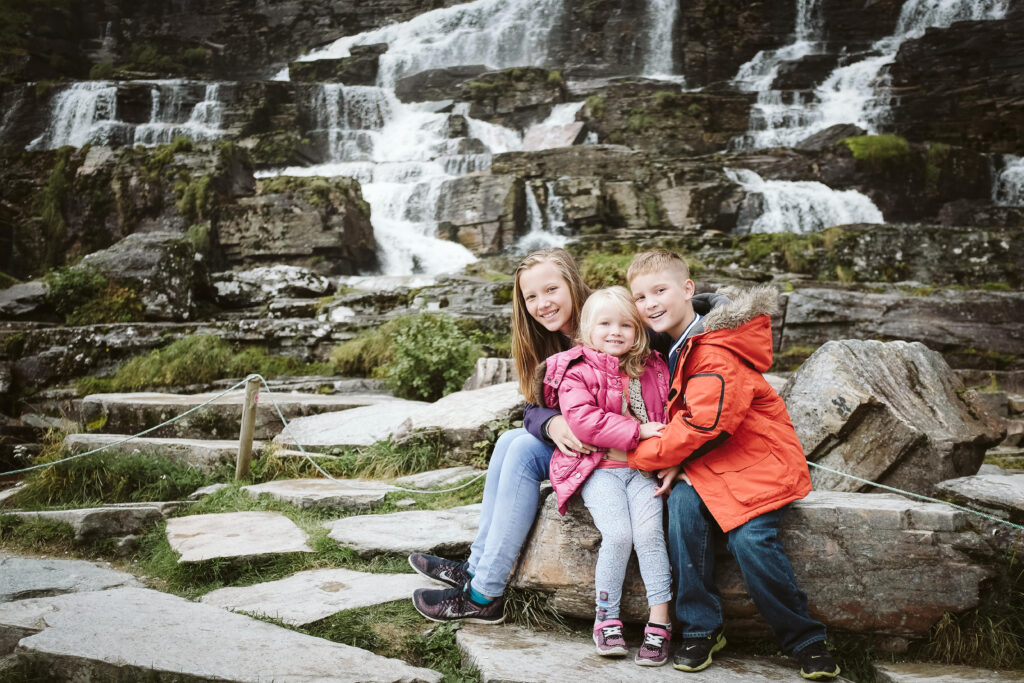 Borgund Stave (sta-vay) church was built around 1200 AD and is the best preserved of the remaining 28 Norwegian Stave churches.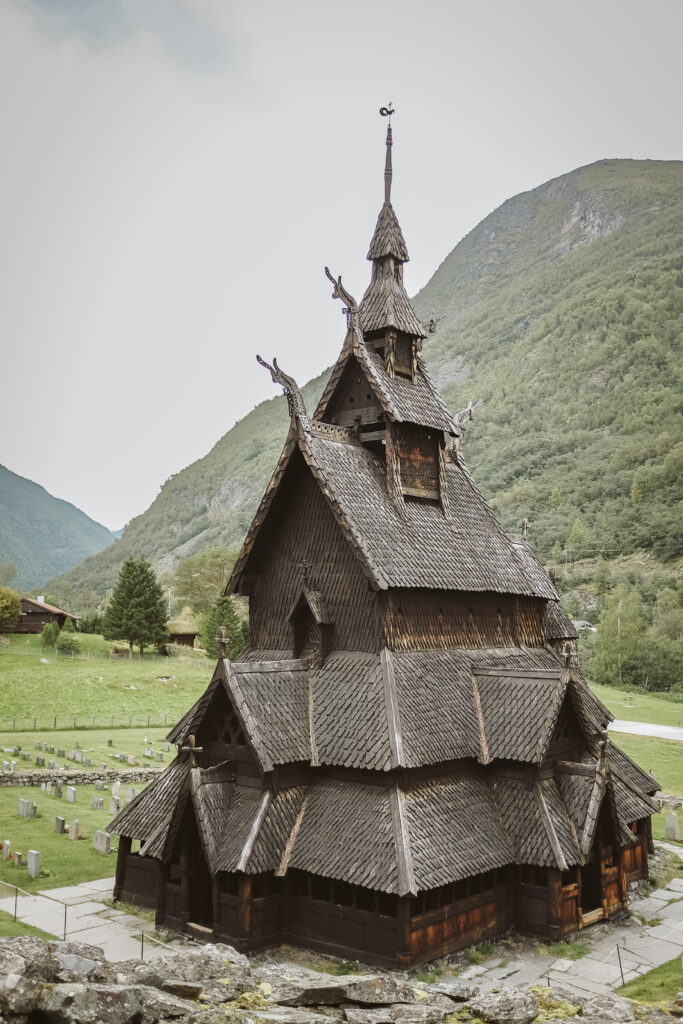 This trip included a drive through the longest tunnel in the world.
Rick Steeves mentions Snow Raod being a favorite drive of his. I was expecting a great view, but I found it to be a moving experience, due to the rugged, barren landscape, utter silence and an absence of people. While on Snow Road I realized that it is powerful to simply experience something exactly as it is, nothing more, nothing less.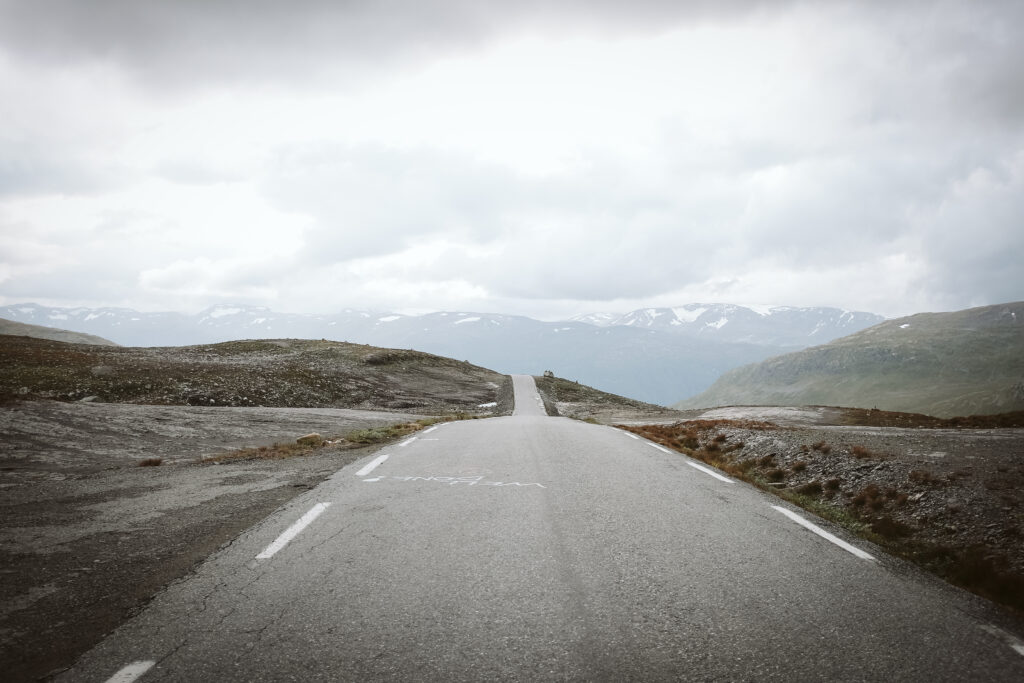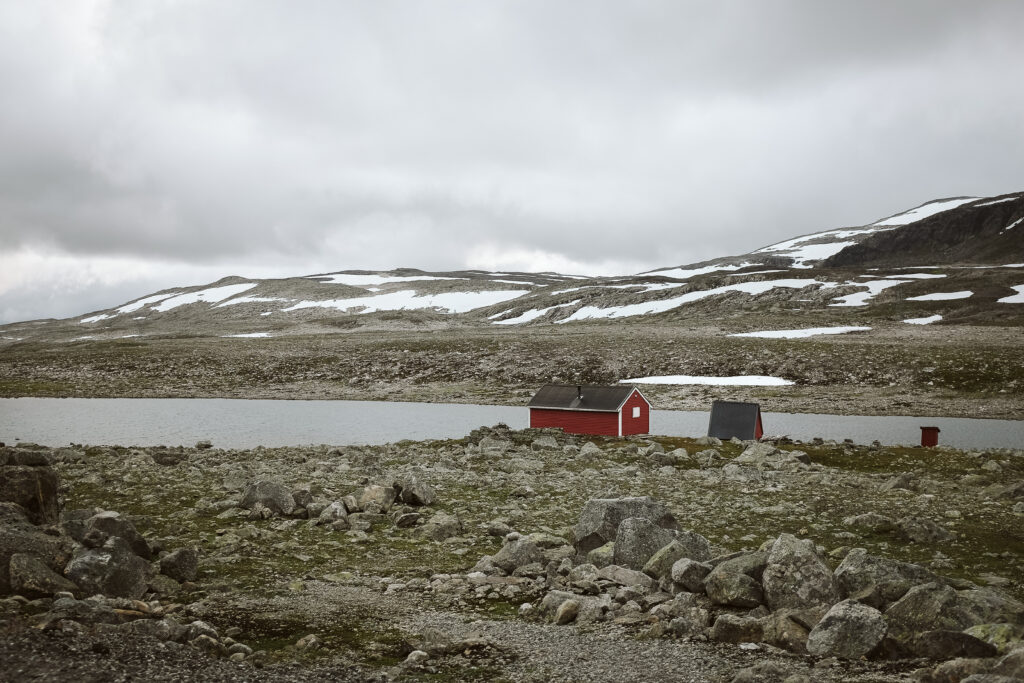 On our way to Gudvangen, we stopped in Voss to see the grass planted on the roofs of the lodges at the ski resort. We hopped out of the car to take some photographs, it was completely silent, until we noticed the sound of bells, which gradually increased as sheep that were wandering the mountain side got closer to us. I wish we had mountain side sheep with bells here in Pittsburgh!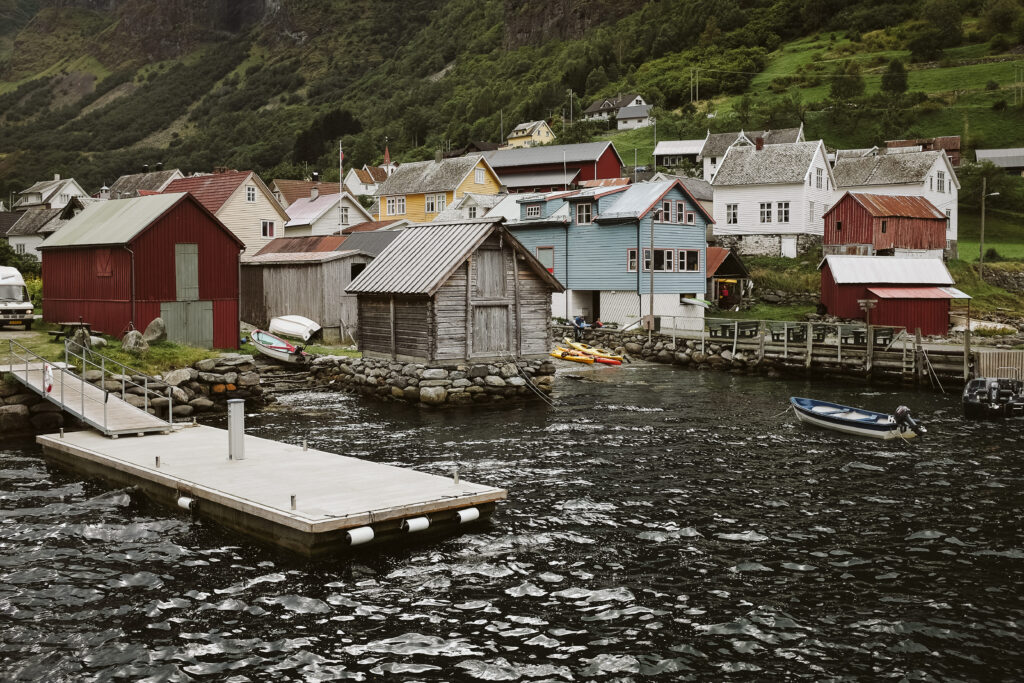 The Nærøyfjord, a UNESCO site, is the narrowest arm of the Sognefjord. My family was awestruck by the steep mountainsides, sharp peaks, narrow valleys, snowy fields and numerous waterfalls. I heard somewhere that Naeroyfjord is perhaps the most outstanding natural attraction in Norway. Our boat trip dropped us off in Flam, a cute town nestled in the fjords with souvenir shops. While the kids and I were admiring the sites in the shops, my husband spotted and pointed out to us, Evgeni Plushenko, the four time Olympic medalist figure skater. My husband was impressed that you could reach this small town by boat, cruise ship, train, bus or car!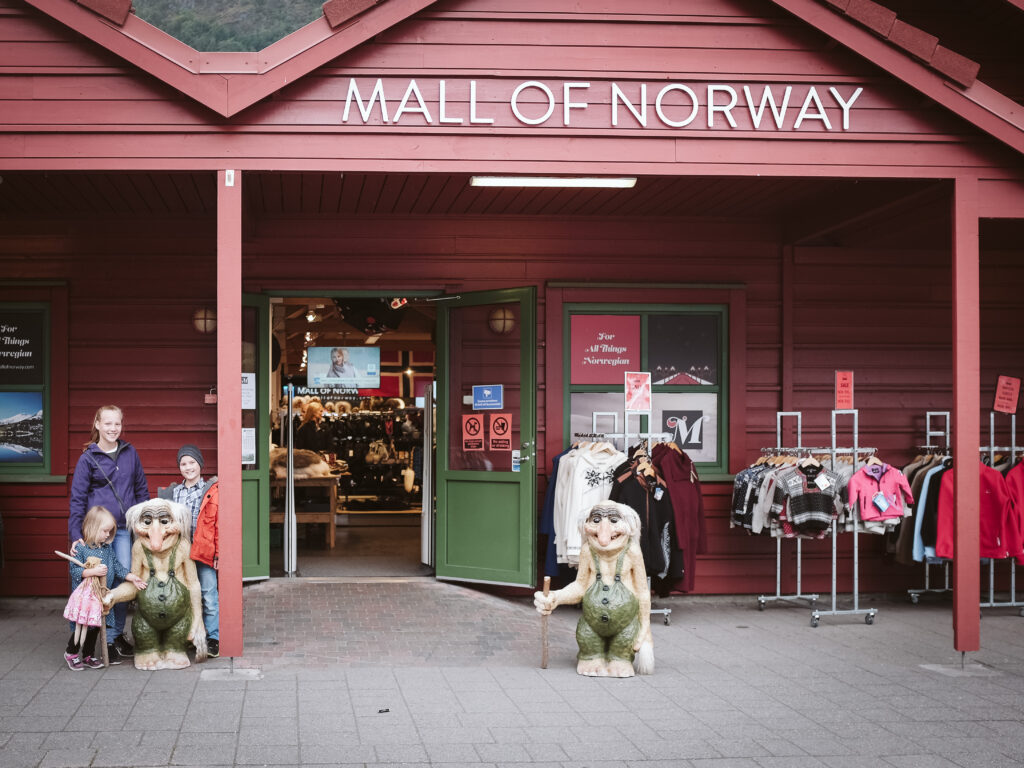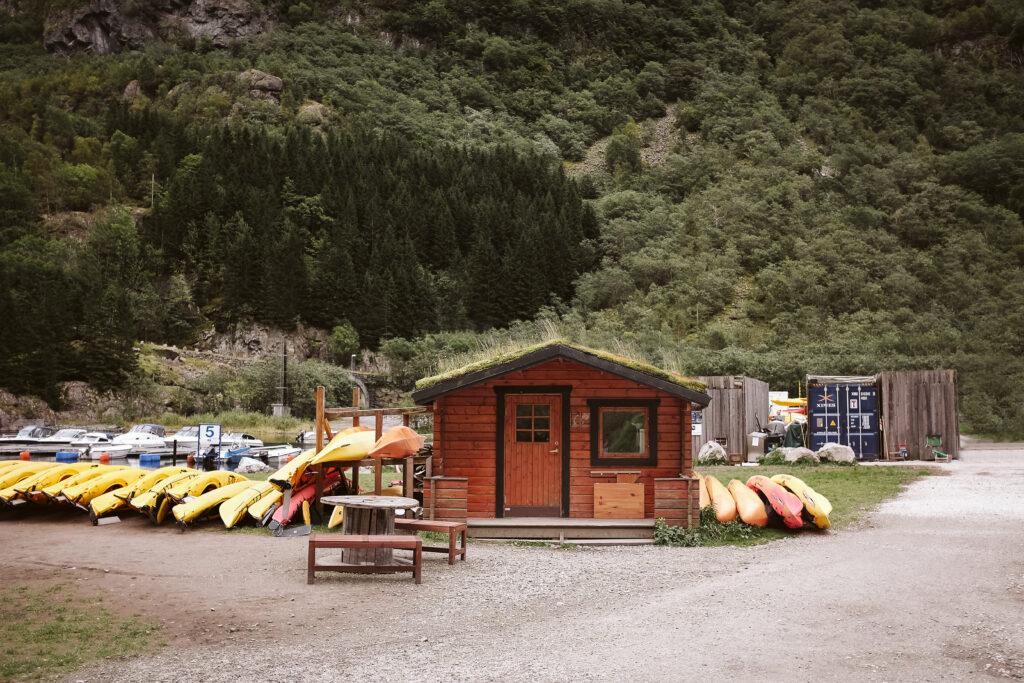 Bergen is the second largest city in Norway, located on the western coast. It's often called the gateway to the fjords. Bergen is a beautiful port city dominated by mountains and water. It's the perfect location for cultivating a love for the sea!
An American/Norwegian photographer recommended we try reindeer hot dogs at Trekroneren for lunch while in Bergen. We enjoyed eating our hot dogs and ordering from the stand that is conveniently located near the Fish Market. We experienced the highlights of Bergen with Pia Rothmann, a portrait photographer from the Bergen area. She showed us Bryggen, a UNESECO site, Floibanen funicular(or incline in Pittsburgh), Mount Floyen, the Fish Market and the beautiful back streets. She also pointed out an adorable coffee shop for us to return to after our family portrait session. 
Later in the evening, we saw and later drove on Vetrlidsallmenningen Road, it is the steepest, most crooked road I've ever seen – even more extreme than San Francisco's Lombard Street. We couldn't make the turns without backing up – sometimes repeatedly, in a car smaller than a VW Golf. One of the funniest moments of our trip was when we realized that it was actually a two way street!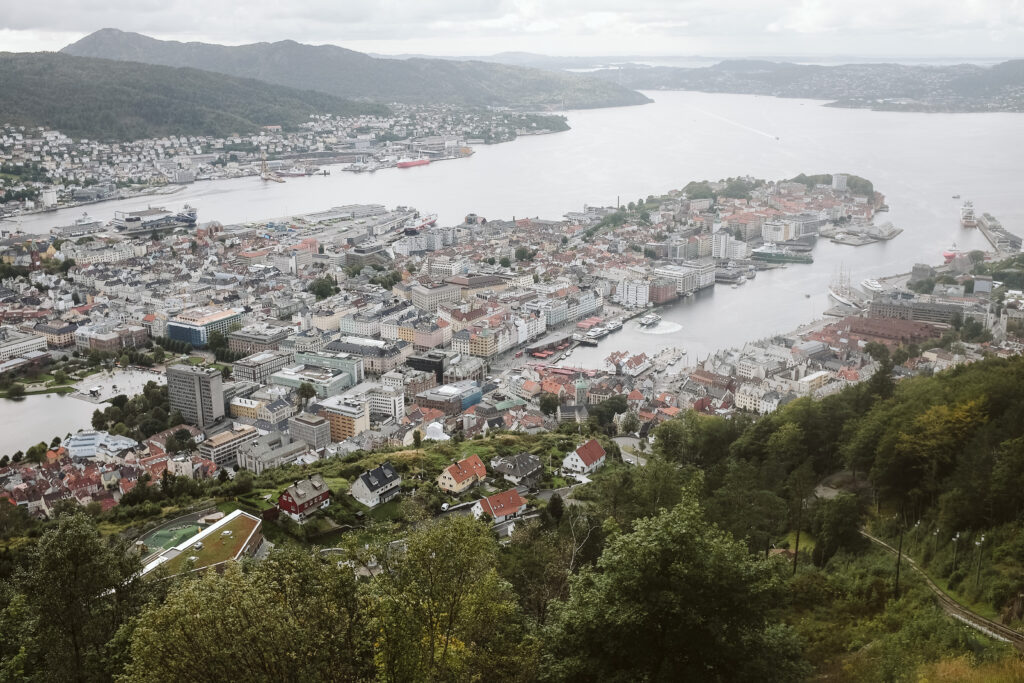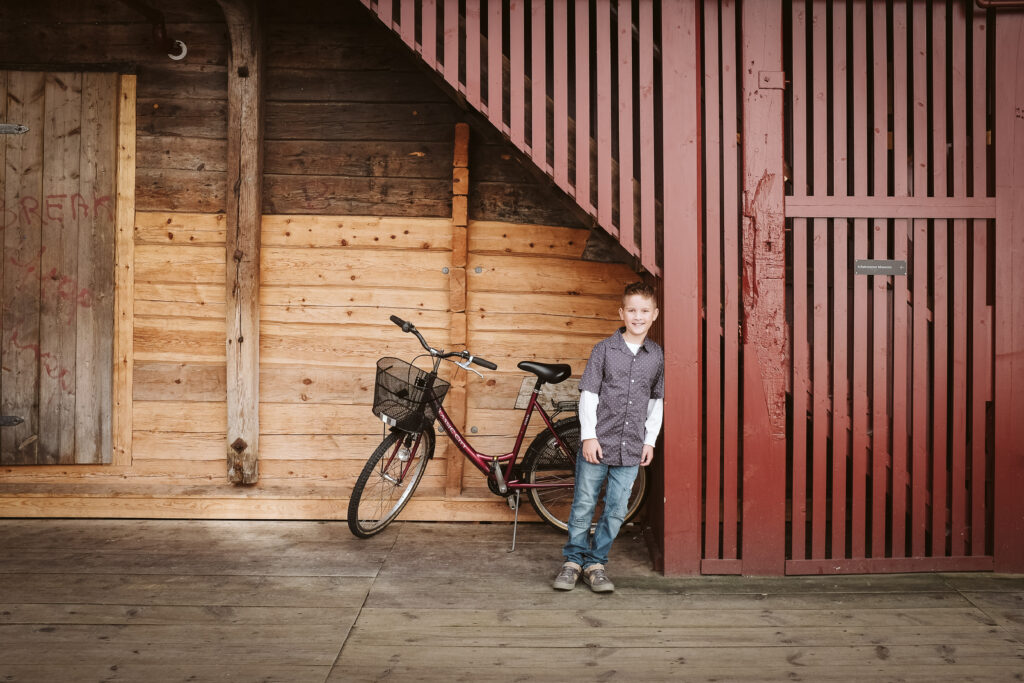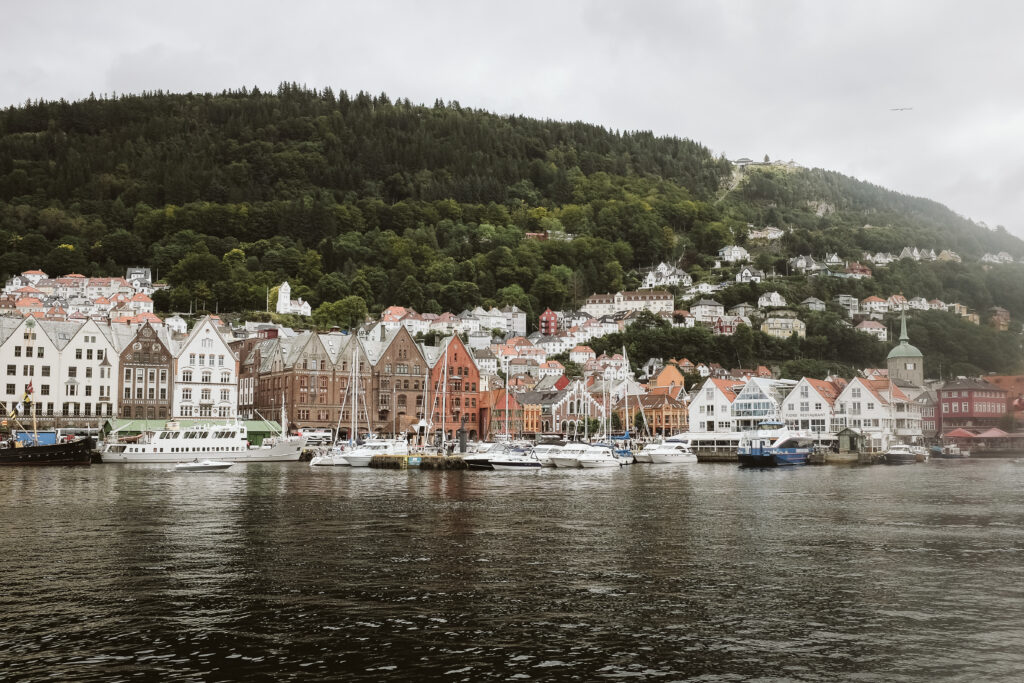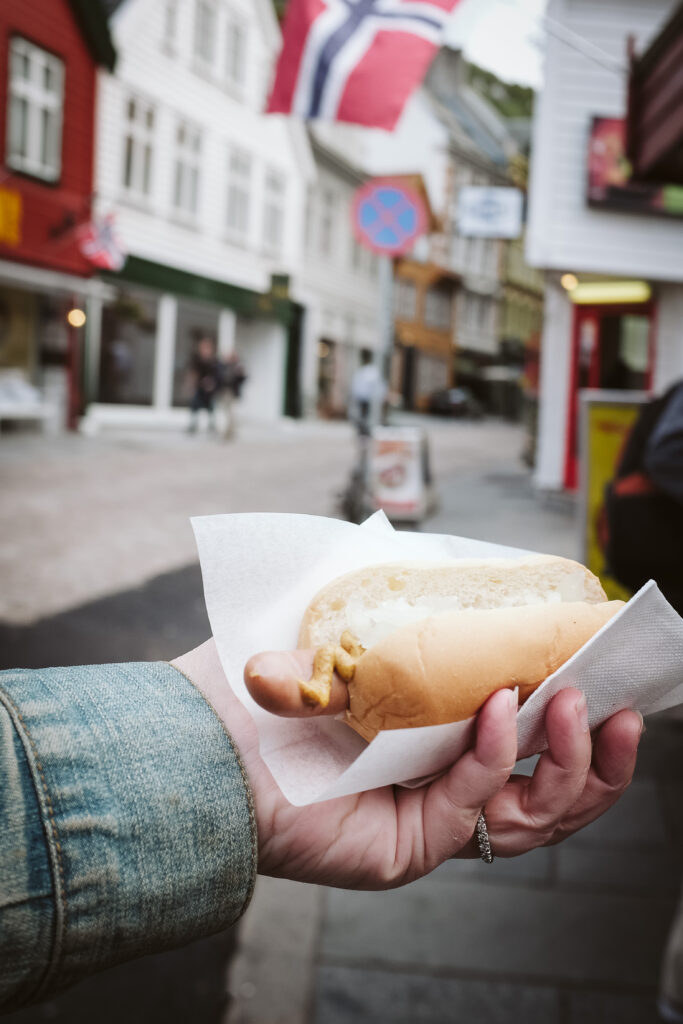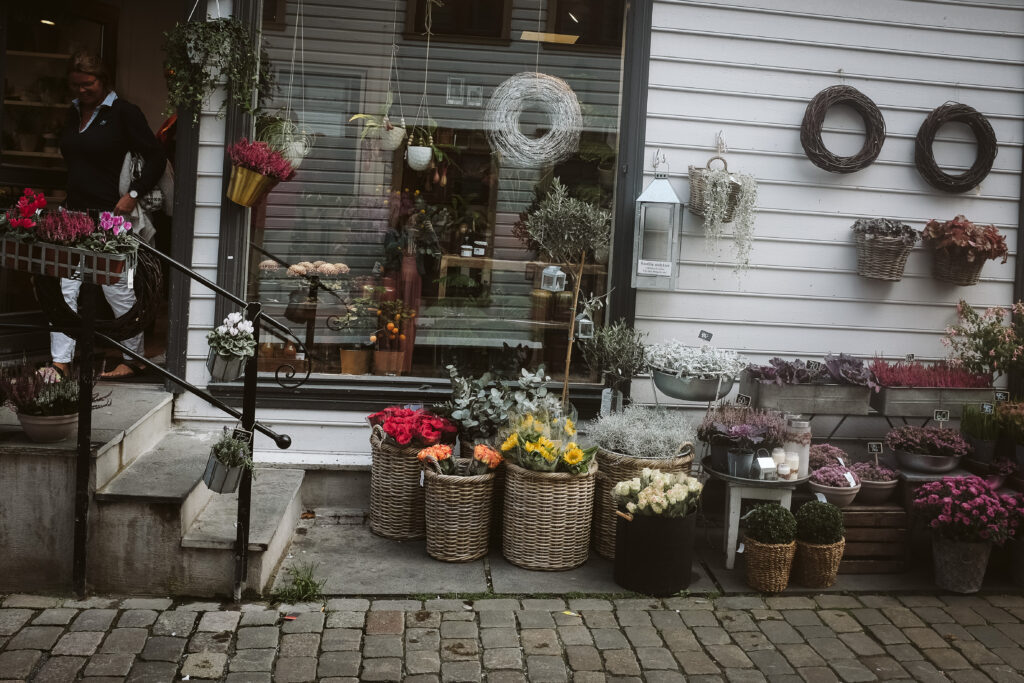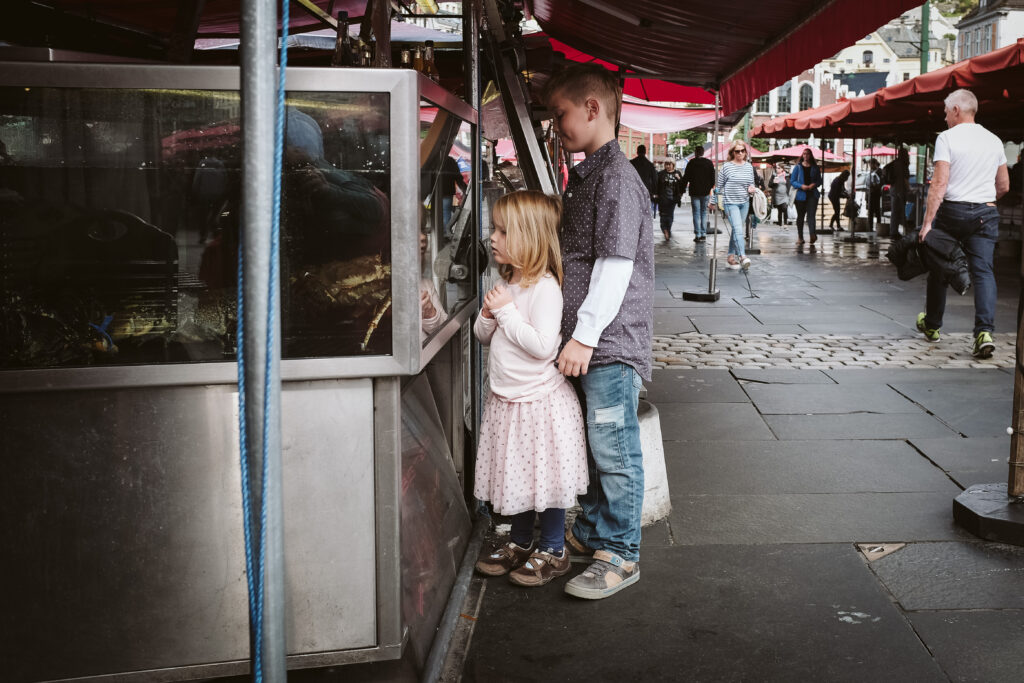 On our second day in Bergen we visited open air Gamle (Old) Bergen Museum. Old Bergen is an open air museum filled with buildings from the 1700s and 1800s. We toured the school, newspaper shop, homes, mill, church and played games that were typical to the time.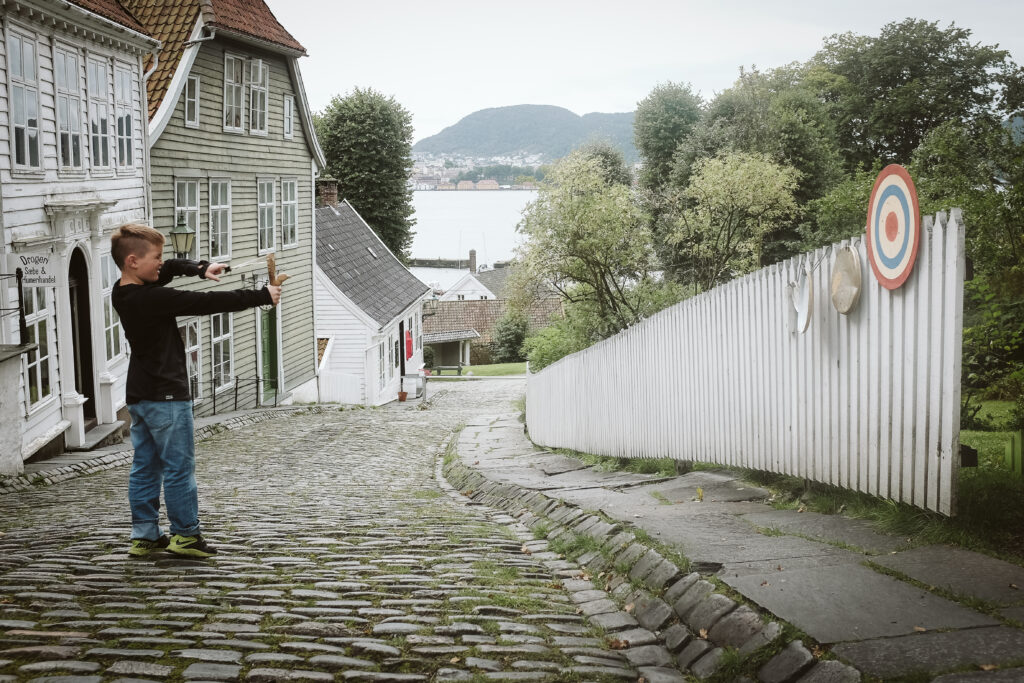 One highlight of our trip was kayaking in Veafjorden near Stanghelle, with our AirBnB hostess, Rebecca. I tasted the water and was surprised that it wasn't as salty as I expected. The views from the kayak on the fjord were breathtakingly beautiful. This once in a lifetime experience was incredible. While I took video with our GoPro, my husband took shots on his iPhone.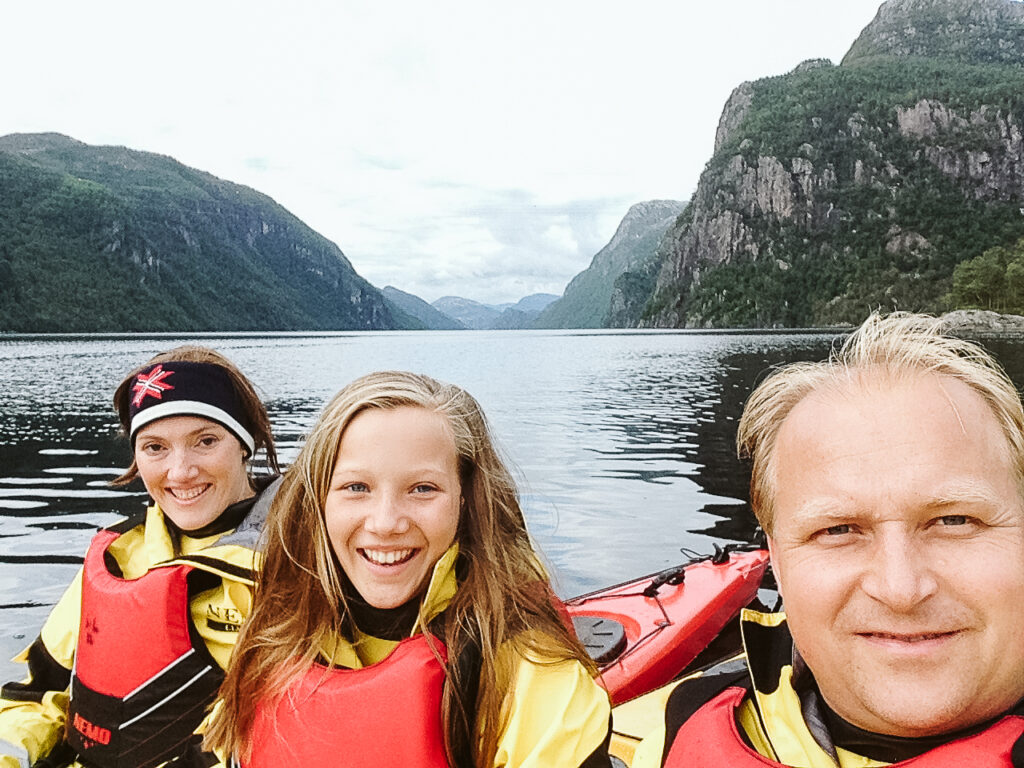 Eidfjord: Skjervsfossen, Ulvik, Hardanger, Vøringsfossen
We packed a picnic lunch to enjoy at the crest of Skjervsfossen Waterfall. It's possible to drive to the bottom and take a short hike to the base of the falls. We enjoyed feeling the mist on our faces, seeing both ends of a waterfall and photographing everything.
Ulvik is a beautiful town at the end of Hardanger Fjord. We walked around Ulvik and stopped at a cafe to enjoy ice cream and coffee. After leaving Ulvik, we stopped numerous times to photograph the fjord.
Hardanger Fjord 
We got lost because we have a 2016 world GPS that wanted us to take ferry across the fjord, however the ferry was permanently closed! A new bridge had opened but we had trouble finding the entrance to the bridge. 
A perfect place to get out and stretch while trying to find our way to the bridge.
We eventually found the entrance, inside a mountain! We had to enter a tunnel, go through a round a bout to access bridge! The toll for the bridge was around $35.
Voringsfossenis the most-known waterfall in Norway and one of the most visited tourist attractions in the country. We loved the view of the majestic falls from the newly built platforms near the Fossili Hotel. A reoccurring problem I had on the trip was that my camera couldn't record everything I wanted to capture! I wanted to record everything I saw, but my camera could only capture a fraction of the landscape even with a wide angle lens.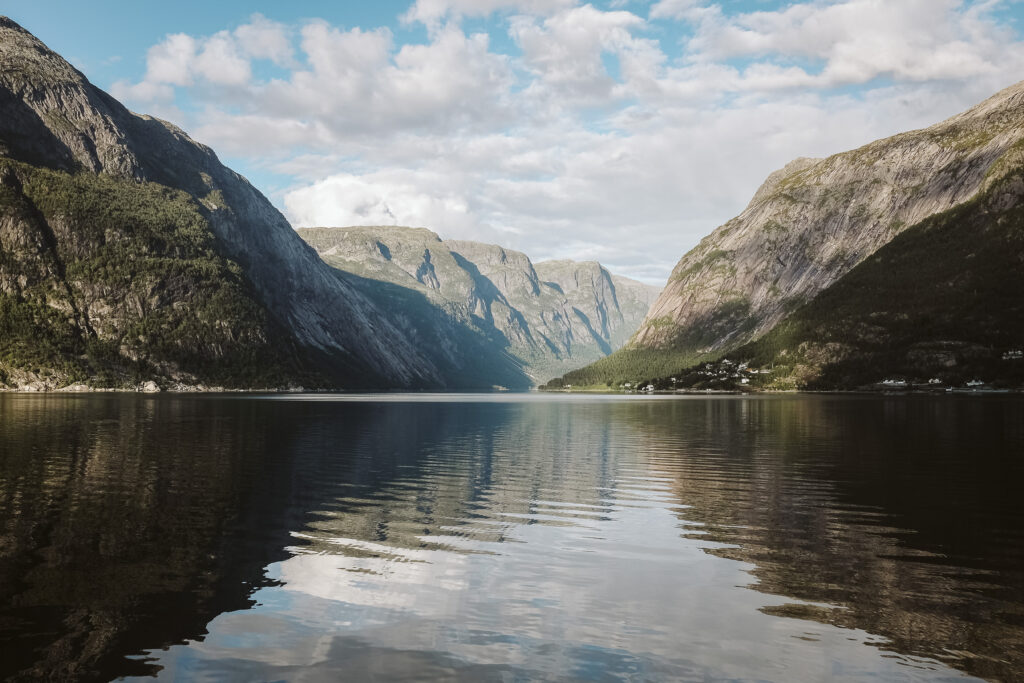 It seemed like everywhere we visited in Norway was a majestic natural wonder! The viewing points were breathtaking and thought provoking. Western Norway is such a romantic place, a place to experience fjords, mountains, waterfalls, glaciers and even orchard filled valleys.
Here's a map of each of our five day trips in and around Bergen to help you plan your own family adventure in Norway!
Map Key
Aurlandsfjord – Blue
Boat ride to Flam – Red
Bergen Day 1 – Purple
Bergen Day 2 – Orange
Eidfjord – Green