Today I want to introduce you to the 20 year old version of me. I live in an old, but stunning apartment building with my host family in Beausoleil, France. In this apartment we share stories and make each other laugh. Whenever possible, we keep the windows open allowing the breeze from the sea to freshen our space. We have the best view in the world that includes all of Monaco, the nearby mountains and the Mediterranean Sea. From our front door we can walk to Monaco in seconds or catch a train headed anywhere in Europe in just minutes. On my most exceptional day in Monaco, I simply head down to the port, with a cappuccino in one hand and a croissant in the other. This is where I run into the most interesting tall blonde guy, that a few years later would become my husband. 
He is Czech, has just finished law school and is on vacation in Southern France. He tells me about growing up in Communism, his love of travel and his recent solo trip riding a bike from LA to San Francisco. After spending a day exploring Monaco together we exchanged addresses to keep in touch. A few years later, I found myself teaching English in Prague.
Prague has a special place in each of our hearts. Maybe it's the cobblestone streets, the spectacular views, the talented street musicians, the red tile roofs, the river filled with bridges, the comfort food, or the gothic architecture. Actually, it's all of it! I love Prague. I think it is the most romantic city in the world.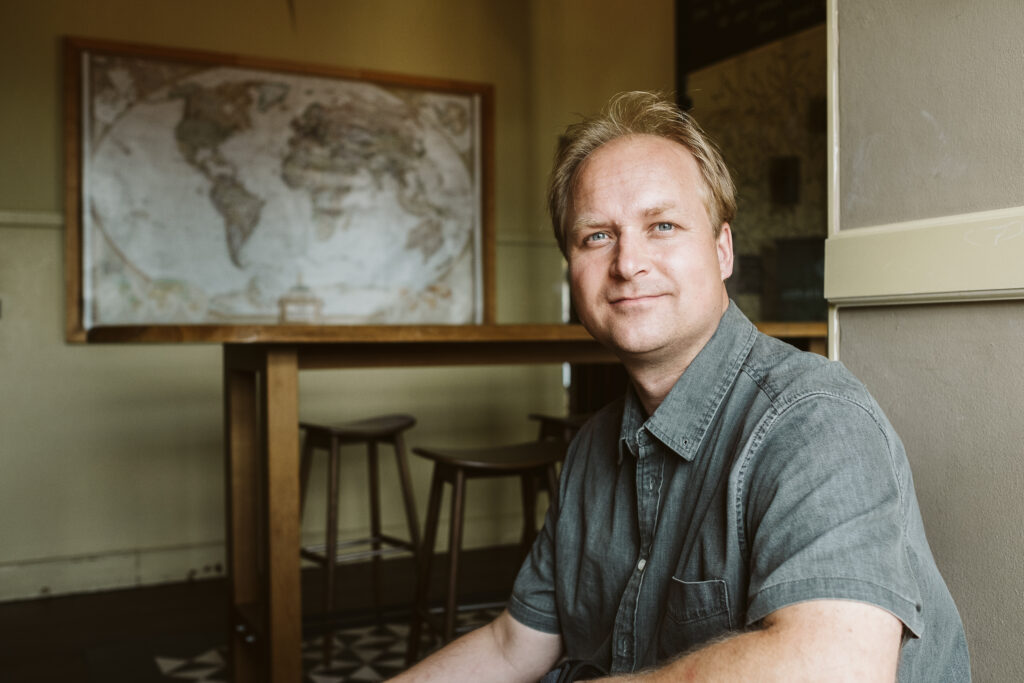 Since before we met, my husband enjoyed daily walks through Divoká Šárka and introduced us to this beautiful park outside the center. As a teacher in Prague, my idea of an ideal evening was walking through Šárka, taking a bus to the center, enjoying a lazy stroll across the Charles Bridge and going for a drink at Restaurace Certovka. I specially love this restaurant because of it's prime location at the end of Prague's narrowest street with a lovely view of the river and Charles Bridge. In the summers, our children enjoyed playing in Czech playgrounds, paddle boating on the Vltava River, shopping at Havelský Market and getting lost in back streets of Old Town.
This is my favorite place in Prague. It is probably my favorite place in the world! Prague's most stunning bridge is named after King Charles IV who commissioned the bridge in 1357. Enjoy a leisurely walk across the cobblestone bridge any time of day for very different experiences. Arrive at dawn to fully appreciate the 30 Baroque statues, a relatively empty cobbled path and watch the sunrise. I often find myself daydreaming of what life must have been like in times past. In the afternoons the bridge is packed with tourists, painters, musicians and various other vendors. Not exactly peaceful but definitely exciting! Evenings on the bridge are chill, you'll see lots of couples holding hands from the flickering light of the picturesque street lights illuminating the way. Another way to enjoy the bridge is to climb Old Town Bridge Tower. It is a gothic tower originally built to guard Old Town, but today offers another beautiful prospective of Prague and Charles Bridge.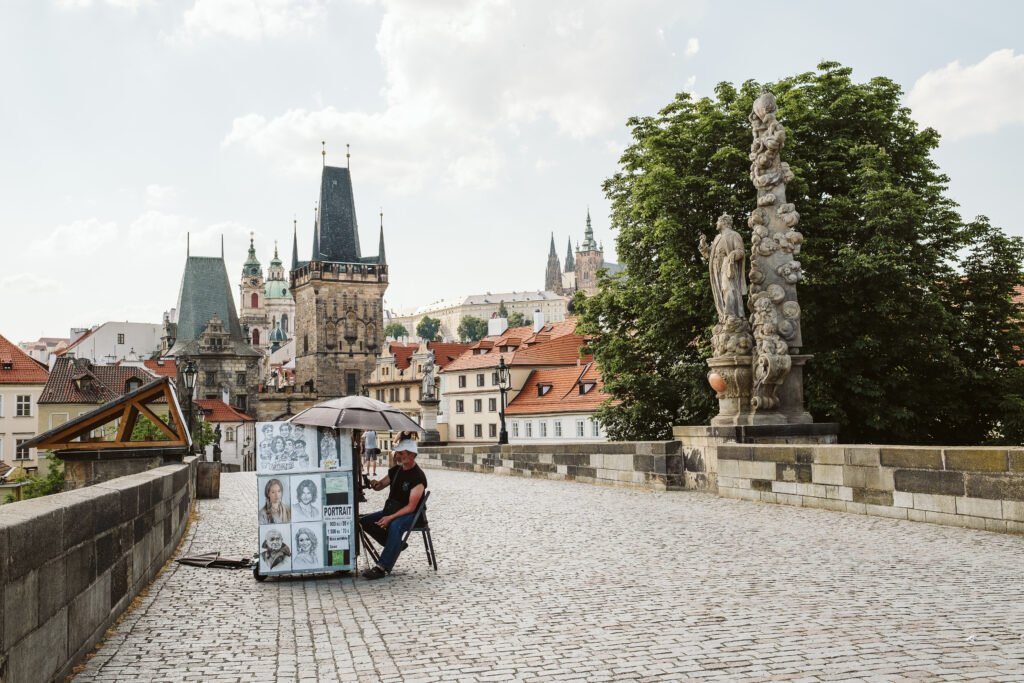 Old Town and Old Town Square
The historic center of Prague is filled with beautiful architecture. You will see the medieval  astronomical clock, which was built in 1410. It is the world's oldest, working astrological clock. Be sure to see it any hour on the hour. It's a must see, even if it's not the most impressive show, remember it was built in 1410 and still works!! Other must sees include climbing to the top of Old Town Hall, the gothic Tyn Cathedral, a statue of Jan Hus. In addition to the must see sights, I challenge you to set aside time to simply explore the back streets of Old Town. Use this intentional time to meet a native Czech, try food you have never tried before, or enter local specialty shops. Whatever you decide, I'm curious if it will become a highlight from your time in Prague.
The square is named for Saint Wenceslas, the patron saint of Bohemia. The square, which actually looks more like a boulevard than a square, has a notable history. It was built in 1348 as part of New Town by King Charles. Sadly, a student set himself on fire in Wenceslas Square to protest the invasion of Czechoslovakia by the Soviet Union in 1968. It was also the central meeting for demonstrations during the Velvet Revolution in 1989. Czechoslovakia was formed after WWI in 1918 when Czechs and Slovaks were allowed to become independent from the Austria-Hungry Empire. Czechoslovakia divided into the two smaller nations of Czech Republic and Slovakia in 1992, in what has been called the velvet divorce.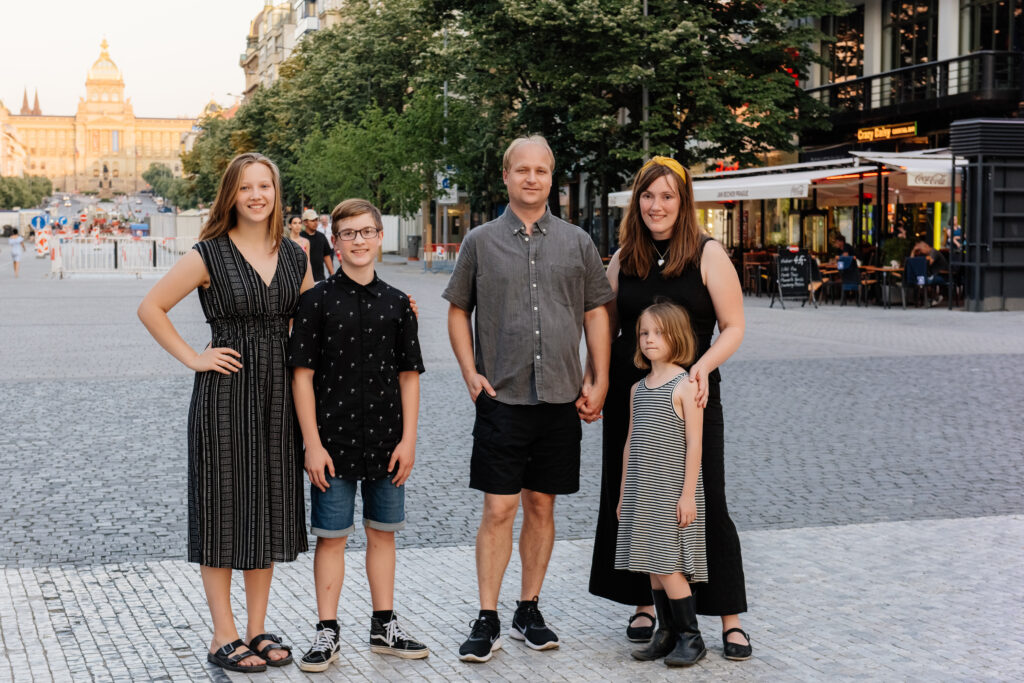 Although I don't typically enjoy visiting cemeteries, the Jewish Cemetery near Old Town is surprisingly interesting. Due to a lack of space the grave stones could not continue to sprawl outward, so the people of the town had no where to go but up by filling the cemetery with more soil. The oldest gravestone dates back to 1438, 54 years before Columbus sailed to the new World. The cemetery was used for over three centuries.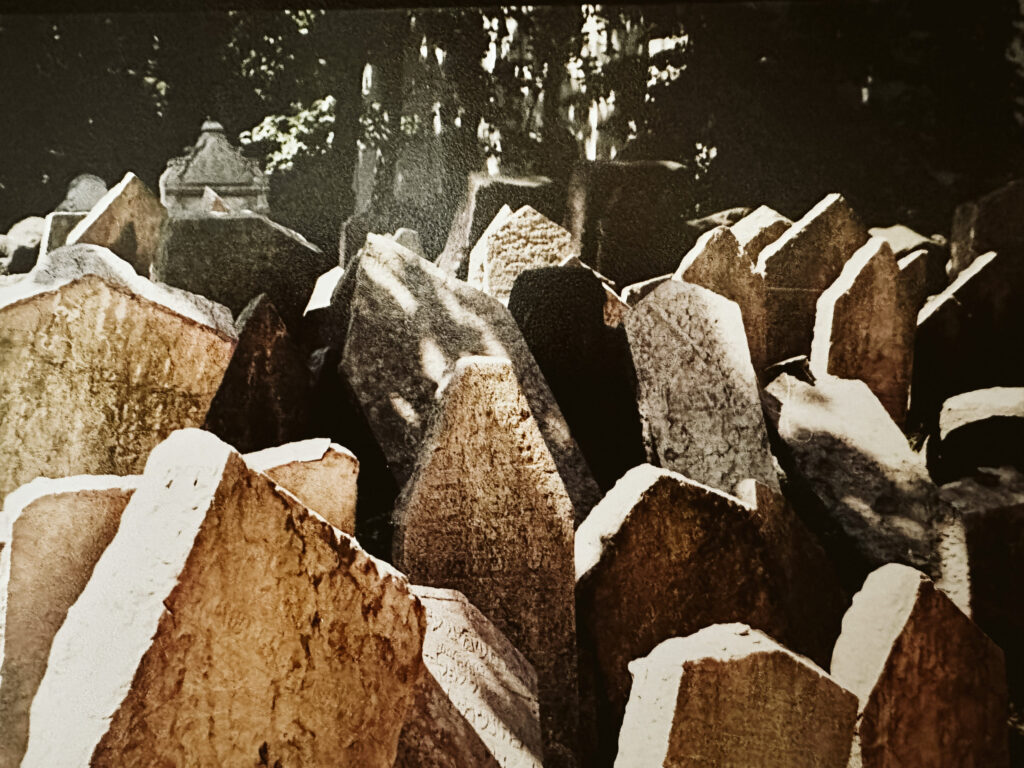 Estates and National Theater
We have enjoyed ballets and operas at Prague's two most famous theaters. Mozart's first showing of Don Giovanni was in Prague's Estates Theater in 1787 and is my husband's favorite theater! If you visit the National Theater, save time to enjoy a treat from Cafe Slavia. Performances at either of these theaters are best for older children who are able to remain quiet and seated during the show. 
This small museum  is dedicated to the work and art of Alphonse Mucha, the famous Czech Nouveau artist. (Mucha means a fly)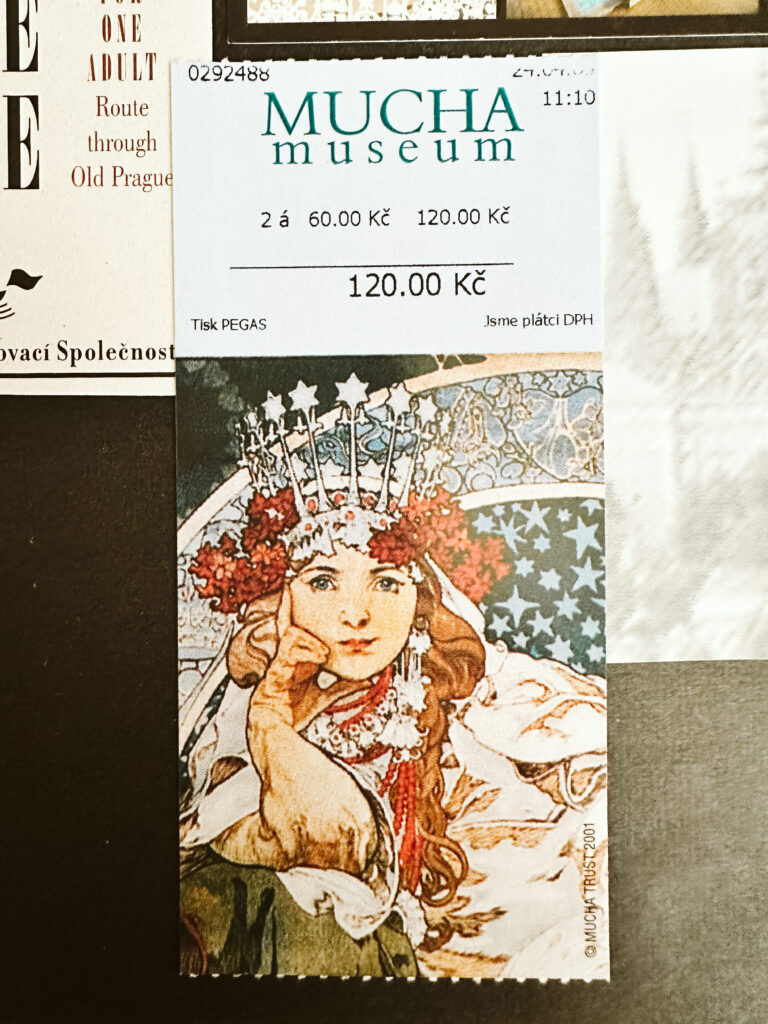 Czechs make a car called škoda – škoda means pity in Czech. I've always wanted to take a tour of Prague in an antique Czech Skoda. If you have time, I'd recommend it! 
We enjoy taking the funicular (or incline in Pittsburgh) from Malá Strana (the little side) to the top of Petrin. Upon arrival, it is fun to explore the hall of mirrors, climb the look out tower, inspired by the Eiffel tower, and enjoy fresh air at one of the cafes before walking to the Socha Panny Marie z Exilu (the statue of Maria in Exile). The location of the Sisters of Mercy statue features our favorite view of Prague. It is peaceful and located off the beaten path. Prague Castle and the library at Strahovsky Monastery are a short walk away. 
Prague Castle & Golden Lane
Prague Castle is the largest castle in Europe and seats the Czech  President. We enjoy walking on the Golden Lane, taking pictures with the guards and walking around St. Vitus Cathedral.
Prague's Strahov Library is often described as the most beautiful library in the world.
Located between Mala Strana and the Charles Bridge is a clearing, perfect for kids to skip stones in the Vltava, watch ducks and play at a playground.
Divoká Šárka - A Large Recreational Park
This is the perfect park for a family that enjoys hiking and being in the forest. Be sure to take your swimming suit, there is a swimming pool in the wilderness in the middle of the park. We all love swimming in Šárka!
Terrace U Prince  U Prince is located in a wonderful location. Enjoy a meal on a terrace above Old Town Square. It is a photographic location, great for people watching and provides the best view of the clock!
Restaurace Čertovka  This is another favorite spot because of it's wonderful location on the river with a view of the Charles Bridge. Our favorite spot is in the vinarna or wine room.
Baráčnická Rychta  My family eats here every time we are back in Prague. My husband and I started back in 2002 on the recommendation of friends. We love the good food, rustic atmosphere and reasonable prices. You'll see more locals than tourists. It's an authentic Czech restaurant. 
Vytopna Railway Restaurant  Vytopna is another family favorite. After you place an order with your waiter, an engine with a cargo train car travels to your table and stops long enough for you to collect your drinks. Your waiter will bring your food when it's prepared. Vytopna is on Wenceslas Square towards the top of the hill.
Zofin Restaurant This restaurant is located in a beautiful, historic building on an island in the center of Prague. The food is elegant and the staff is super friendly. 
Czech food is fantastic. It's delicious and heavy and rejuvenating for hungry travelers! I love trying new food, especially when I'm traveling. Years ago when my time living in Prague was coming to an end, I went on a mission to find the perfect Czech Cookbook, never expecting to be on the mission for years!! I can't imagine not eating Czech food at home in Pittsburgh! Today, I have several Czech cookbooks, but have only recently found the perfect recipes at www.czechcookbook.com. The recipes are created by a Czech woman living in the United States, she shares her delicious recipes along with videos explaining the steps. If you fall in love with Czech food, you too can continue to enjoy it even when you leave!
Svíčková – Beef sirloin in a creamy vegetable sauce and usually served with bread dumplings (houskové knedlíky)
Hovězí Guláš – Beef Goulash A meat stew with a red pepper sauce and dumplings.
Vepřo knedlo zelo – Roasted pork and sauerkraut with bread dumplings This is the national meal of the Ceach Republic.
Moravský Vrabec – Moravian Sparrow Pork served with cooked spinach and potato dumplings. (no sparrows!)
Smažený sýr + hranolky – Fried cheese + fries  Not a low fat meal, but fried food with mayonnaise can be a great Czech splurge!
Párek v rohlíku  A long, thin frankfurter, the Czech equivalent of an American hotdog, usually eaten in a hollowed out Czech roll.
Medovnik  a dense layered honey cake
Ovocne knedliky – Fruit Dumplings Imagine fruit wrapped in a sweet dumpling, covered in butter, a sweet creamy cheese and fresh cream.
Prague also has many rum flavored cakes, pastries and desserts in general. Look for a cukrana (a dessert cafe that focuses on sweets rather than coffee) to enjoy fantastic Czech desserts. 
Hand made pottery
Czech crystal
Czech porcelain
A stuffed Krtek, the popular Czech cartoon character
Marionettes
Amber and Garnet Jewelry
Wooden Toys
Karlovy Vary Spa Wafers (Karlovy Vary is a famous spa. The Last Holiday was filmed there.)
Becherovka, an herbal liquor made in Karlovy Vary
MAP KEY
Places of Interest – Blue 
Restaurants – Orange
Shops – Red