Itinerary: Spend two days visiting Edinburgh, the historical, cultural, and political capital of Scotland. At sunset on the second day drive to St. Andrews. Wake up to a morning walk on the beach, watch golf, and explore the ruins in St. Andrews. In the afternoon, drive toward Inverness, be sure to save time to visit castles, and maybe a whiskey distillery on the way. Spend day four in the Scottish Highlands and sleep in Oban. Spend day five on the Isle of Mull and Isle of Iona and sleep another night in Oban. Hike in Glencoe and tour Sterling Castle on day six. If you have additional time, consider spending it in Glasgow or visiting the rugged and beautiful Isle of Skye.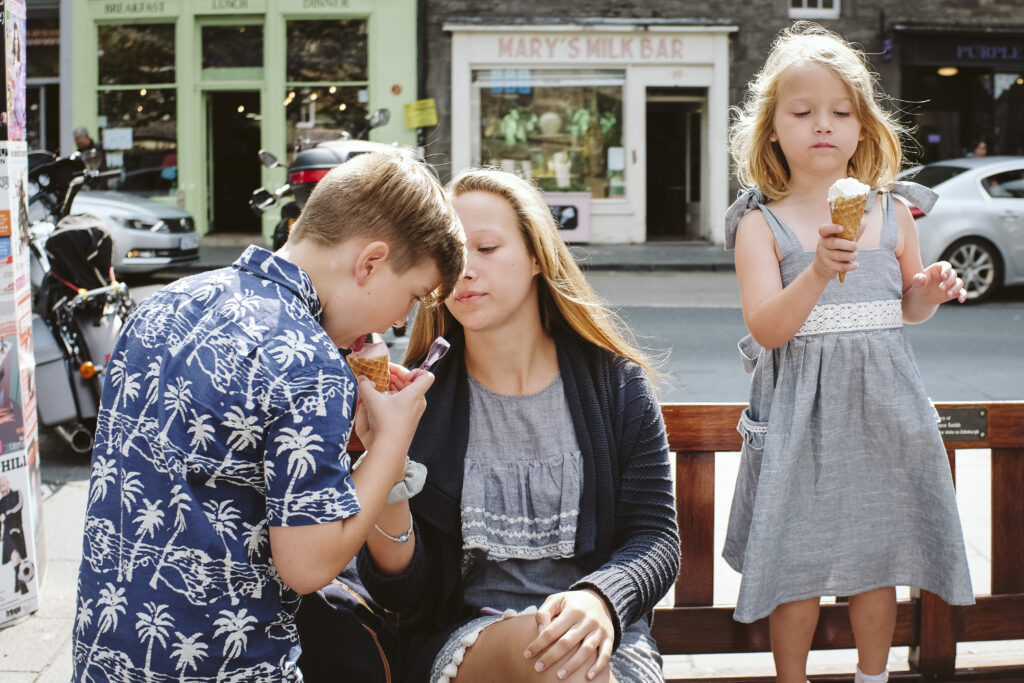 I opened my eyes early in the morning to see an original painting depicting a furry cow. I was still a little groggy. We had arrived in Scotland less than 12 hours earlier and had already rented a car, marveled at the greatest show on earth, the Royal Edinburgh Military Tattoo, and drove to a bed and breakfast in a beautiful home outside of Edinburgh. That morning I decided two things: I needed to pet a highland cow and have a proper Scottish tea, preferably on an island. Luckily, we were able to do both and so much more during our amazing stay in Scotland. 
Edinburgh's ancient 7th century castle sits on a high rocky seat. This castle was once the home to many kings and queens including Mary Queen of Scots, Robert the Bruce, and Charles Stuart. Princes Street Gardens lay in the hollow below the castle. We decided to visit Edinburgh in August in order to see the world famous Military Tattoo outside the castle. I can't recommend it enough, it was a fantastic musical show that I will never forget. 
This historic and walkable street connects the castle with the lower Palace of Holyroodhouse. The street is packed with hotels, restaurants and shops. The Fringe Fest also takes place during August, which adds extra excitement to the royal mile with street performers. We received countless, creative invitations for the indoor performances.
The Queen stayed here during her visits to Scotland. Today it's the King's official residence in Scotland. It's possible to take tours inside and through the gardens.
Scottish Parliament Building
Next to Holyroodhouse is the Scottish Parliament building. Scotland regained self government in 1999. 
Before our trip, I came across photographs of Edinburgh's Circus Lane by a great local photographer, Natalia Swiader. We were excited to meet her on this beautiful street before walking to Dean Village for part two of our photo shoot.
Additional must sees include the Royal Botanic Garden, Arthur's Seat, and the National Museum of Scotland.
We woke up to sunshine and a fresh breeze from the North Sea streaming into our bedroom window at our quaint bed and breakfast. We enjoyed a full Scottish breakfast in the sunroom, while listening to the waves crash against their 10 foot sea wall in their backyard. Soon we were off on our third day of exploring Scotland visiting St. Andrews, castles Dunnottar and Fraser, and even trying our first and only dish of haggis! If I didn't have my heart set on visiting Castle Fraser, we probably would have visited Balmoral Castle instead. Although we wanted to tour Edradour Distillery in Pitlochry, we ran out of time. We finished our day at another bed and breakfast near Inverness.
St. Andrews was the first golf course in the world. The Scots were playing golf already in the 1400s. It's a beautiful course on the coast. We were happy to learn that on Sundays the course is open for visitors to walk around.
St. Andrews University, cathedral ruins, and castle ruins
From the golf course, we walked through the old university campus to the ruins. St. Andrews is a beautiful place to visit.
The slogan "Once seen, never forgotten" couldn't be more true. The castle ruins sit on a peninsula cliff, where waves crash, heather grows, and seagulls glide.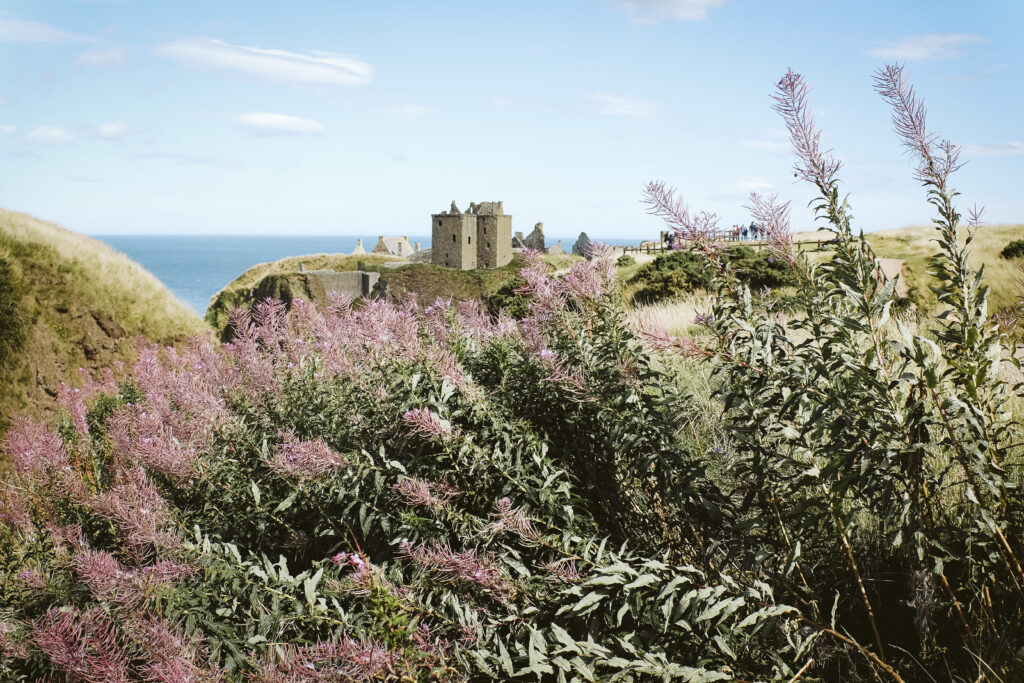 I grew up hearing stories about my Scottish ancestors and their adventures. I heard about the family plaid, a family member that became the Prime Minister of Australia, a family feud that led to the name change from Fraser to Frazer, and even a castle! I must have been eight when I decided I would visit the Castle Fraser in Scotland someday! Before we got married, I mentioned to my future husband that I am happy to travel anywhere, but I must go to Scotland to visit the Castle Fraser. Luckily he wanted the same. I didn't expect to wait 30 years, but I finally got there and it was a dream come true.
Castle Fraser was built in 1575 in a park like setting low in a glenn. It has a strong French chateau influence. Castle tours are available. I especially enjoyed seeing the grand piano in the Great Hall, the library and the view of the walled garden from the top.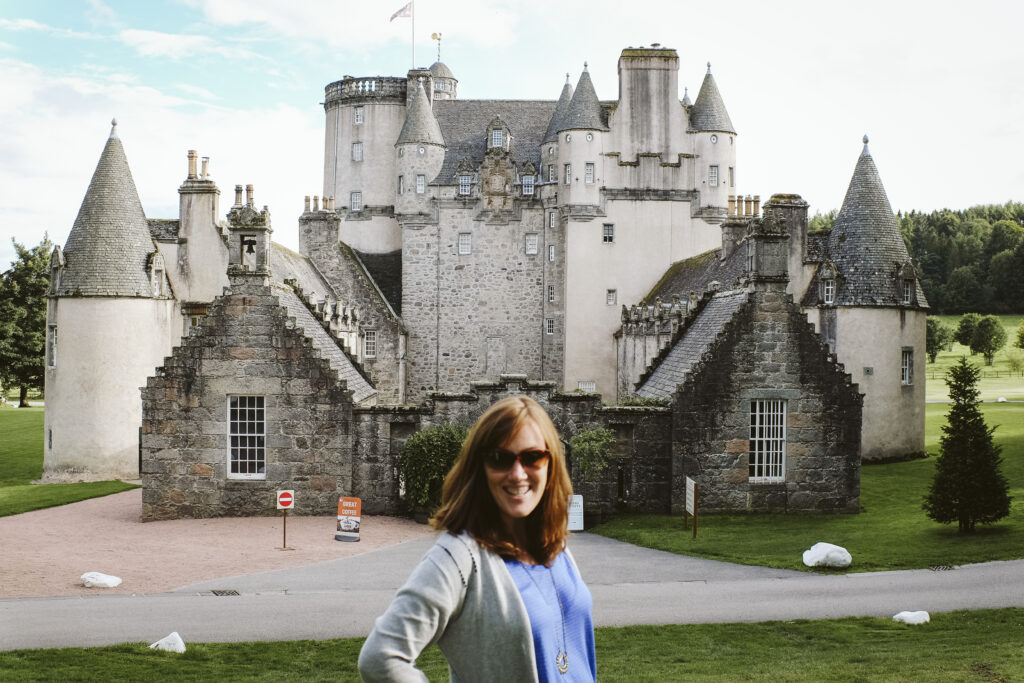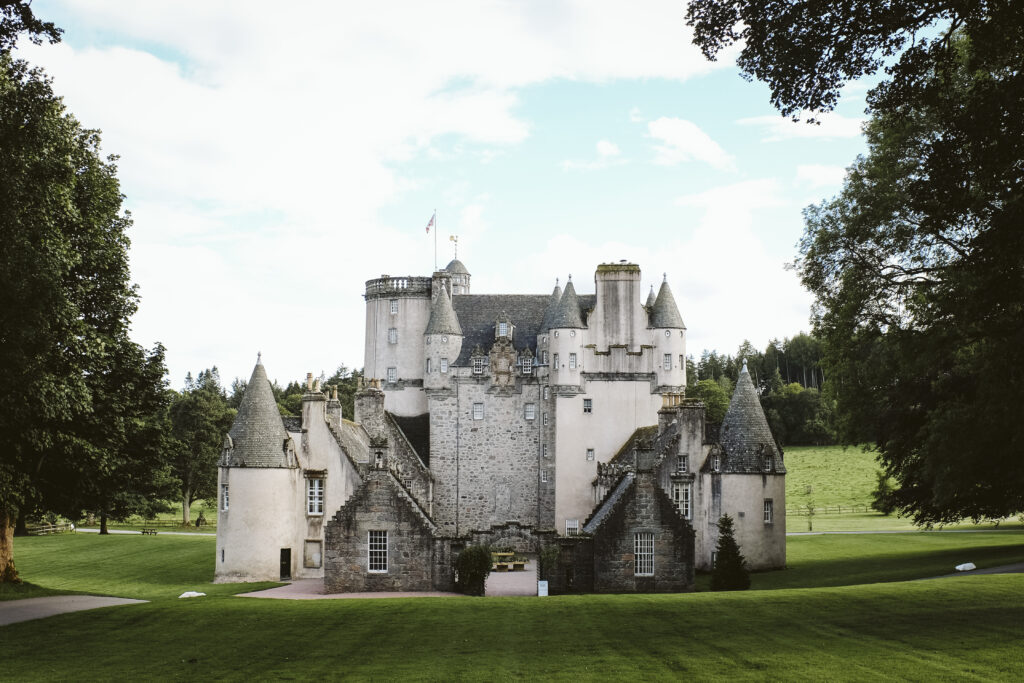 The highlands are packed with natural history and beauty! We began our day in the highlands with a history lesson from our bed and breakfast host, who is a ranger at Cairngorms National Park. Although the battlefield wasn't originally on our itinerary, he politely suggested we add it and we did. After, walking through Inverness we went on to explore Urquhart Castle at Loch Ness. Next we headed to Fort William for a view of Ben Nevis and hiked to the picturesque viaduct in Glennfinnan before finding our final bed and breakfast in Oban.
The last battle ever fought on British soil was the Battle of Culloden in 1746. The Scottish were decisively defeated by the English. Today, it is a peaceful field that merely echoes the past horrors recorded on the historical markers.
Inverness, the largest city in the highlands, is historic and walkable. My son bought a beret in a Scottish wool shop on High Street, a pedestrian shopping street in the center of town.
Loch Ness and Urquhart Castle
The highlight of my son's trip was exploring this castle ruin. During our visit we were able to look for Nessie, compete in a scavenger hunt, and win a Scottish flag. My husband and I were happy to try a sample of Edradour whiskey from the souvenir shop on site.
Fort William and Ben Nevis
Ben Nevis is the largest mountain in Britain. The cloudy view made it look mysterious. While in Fort William, we befriended a friendly black lab and played a great game of fetch.
Hiking the Scottish highlands proved more difficult wearing Birkenstocks. While hiking the mountain, I nearly fell down the side, but the kindest stranger stuck out her hand and caught me! I am so incredibly thankful to her, not only for catching me but also for letting me know that the famous steam train from the Harry Potter movie was scheduled to pass us in seven minutes! While we waited, we were able to not only capture the train but also feel the vibrations from the train whistle passing through the glenn.
Our time on these two islands was my favorite day of the trip. We boarded our car on a ferry from Oban to Isle of Mull, drove across Mull, where we caught another ferry to Iona, a small, remote, pedestrian only island.
We had an amazing time on the Isle of Mull. We enjoyed shopping at a tiny grocery store in an ancient building by the sea. Across from the store we set up a picnic lunch and soaked in the moody view. For me, the most shocking part of driving in Scotland, was traveling on two lane roads on Mull that would only be the width of a one lane road in the USA! This is were we also came across a herd of highland cows. Try to imagine sharing the narrow two lane road with a herd of shaggy cows! The cows seemed to enjoy their freedom by wandering along the road down to the seaside. Since meeting these highland cows, I have dreamed of becoming a highland cow framer one day.
The Isle of Iona is one the quaintest places I've ever visited. The Book of Kells was written here in the 9th century. We enjoyed a Scottish tea at Argyll Hotel. It was a delicious and peaceful time! While hiking on Iona, my daughter mentioned that it would be an inspirational place to live and write one day.
Glencoe & Stirling Castle
Our final day was a peaceful day in the highlands with a focus on hiking.
Glencoe is a breathtakingly beautiful scenic valley full of natural wonder and tragic history. This is exactly how I envisioned the Scottish Highlands when I hear my brother sing Loch Lomond, "You take the high road and I take the low road, and I'll get to Scotland before you." The glen is also the setting of many famous movies, including Braveheart, Sky Fall, Monty Python and Made of Honor. At the welcome center we learned the nickname for Glencoe is "The Weeping Glen" due to the massacre in 1692 when the Campbells slayed members of the MacDonald clan of Glencoe.
Stirling is conveniently located between Edinburgh and Glasgow and is also where the Highlands meet the Lowlands. Just outside of the town of Stirling is the William Wallace Monument, better known as Braveheart to many Americans. You can climb to the top of the tower for a beautiful view of Stirling, Stirling Castle and the River Forth.
I love exploring new things when traveling, and this is especially true of food! A couple of highlights from what we tried includes: haggis – a mixture of sheep, oatmeal, and spices, a full Scottish breakfast – a fried tomato, black pudding, a square Lorne sausage, a fried egg, streaky bacon, tatties, and toast. IRN-BRU is Scotland's most popular soft drink with a citrus/ginger flavor. A popular candy in Scotland is Mrs. Tilly's Tablet, which is similar to fudge. We also enjoyed mince meat pies for a couple of meals. 
Map Key
Edinburgh – Purple
St. Andrews + castles – Red
Highlands – Aqua
Islands – Blue
Glencoe + Stirling Castle – Orange