15 Things to do with your Family in New York City
Looking for a weekend get away with your family? With so much to offer, the Big Apple is a great place for a family to bond, experience new things, and create memories that'll last a lifetime! Labor day weekend, my family traveled to NYC to celebrate my 40th Birthday. Our weekend was filled with laughter and fun even though I wish we could have spent a little time there. Below I've included 15 of our favorite activities that our family enjoyed.
If you are planning a trip to NYC, consider weather when scheduling your itinerary. If one day is extremely hot, cold or rainy try to spend more time inside, at shows, restaurants, museums, shopping, etc. And when the weather is amazing, plan your outdoor activities, Brooklyn Bridge, Central Park, etc. Since New York City has so much to offer you'll never lack options!
1. Explore the Metropolitan Museum of Art
The MET was a family favorite. We loved seeing the works of Monet, Van Gogh, and Gauguin. They had seventeen pieces of Van Gough…all of which I loved! We could have spent the entire day exploring the museum and viewing the beautiful masterpieces. It was such a great experience to see so many of the famous art pieces that we all have learned about in school. Did you know the Met has a residential Dutch floral artist? The pieces can reach up to 12 feet tall!
2. Ride a Taxi
Did you know that New York has a little over 13,000 yellow taxis? Or that the first taxis in the U.S. were painted red and green? Anyways, my family had a blast on our first taxi ride together as we traveled from the Met to Rockefeller Center!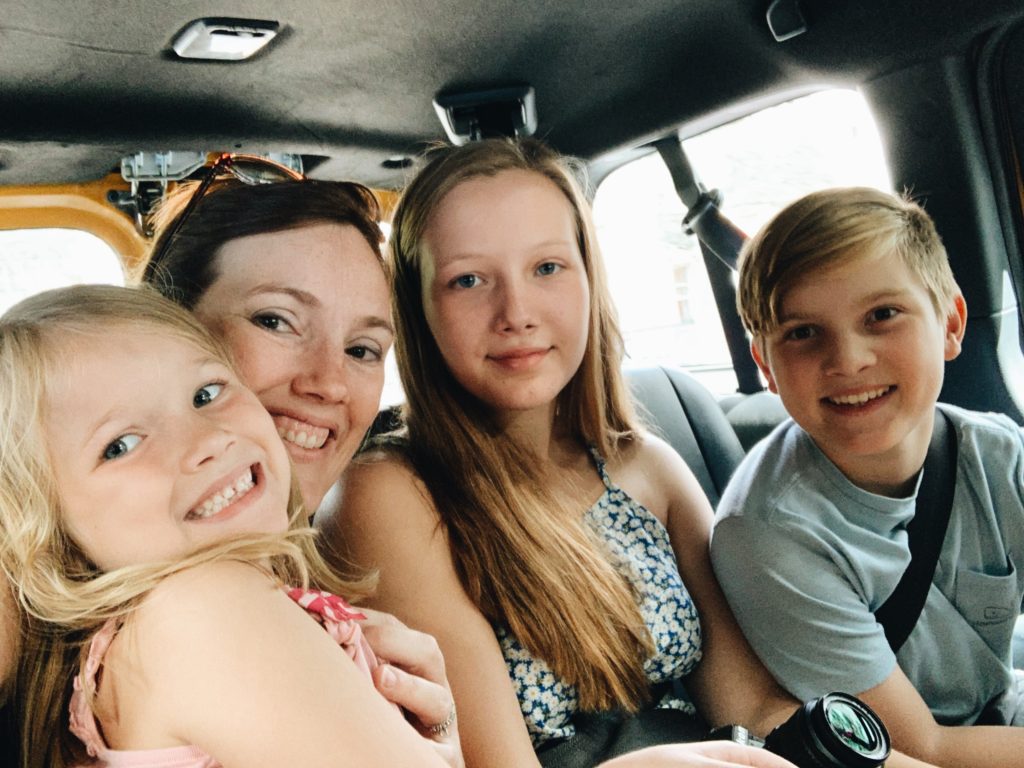 3. Rockefeller Center and Top of the Rock
The Top of the Rock has an unforgettable view of the Empire State Building, Manhattan and Central Park. Be sure to set aside an hour or two if you are anything like our family and love experiencing each location to its fullest! Although it's a little pricey, I definitely recommend it for any family looking for a great view while exploring midtown Manhattan.
4. Radio City Music Hall
It was unforgettable to see the location where so many dreams have been made, and lives of the audience impacted. It is another great place to snap some cool shots with your family. Did you know that when first opened, it was the largest auditorium in the world?
5. Have a Tea at American Girl Doll Store
This location was chosen by my youngest, Ella. She was stunned when she walked into the magical store for the first time. She ran from exhibit to exhibit to see all of the historical dolls and their outfits. This store is the perfect place if you have a little girl (or boy) who wants a fun store to visit while in the city. It's a great place for the whole family to enjoy, especially if you choose to visit the cafe to enjoy a delicious tea or meal. They have such a pretty restaurant along with chairs and utensils for the doll.
6. Charging Bull
The Charging Bull is is another iconic spot of New York that you should take the time to visit. One thing I was surprised by was a long line in front…and behind of the Bull. So be sure to allot time for a line in order to snap pictures of your children or family.
7. Enjoy Greek Treats at GFG Bakery Cafe
This cafe was near the Charging Bull and is the perfect spot for a little coffee break in the morning. The kids shared a Parisian rum treat, and my husband and I sipped on a delicious latte.
8. New York Stock Exchange
The New York Stock Exchange is another iconic spot in New York City that is a can't-miss location. We think it's important to stop buy crucial places in the American story and share it with our children.
9. Try New York Pizza at Rosella's Pizzeria
Rosella's Pizzeria had the best pizza my family has ever tried! If you are hoping to try some delicious New-York-style pizza while in the area, Rosella's would definitely be my recommendation. We ordered a margarita grandma style pizza and loved every bite!
10. Walk across the Brooklyn Bridge
The Brooklyn Bridge was definitely one of our family's highlights. The bridge offers such an iconic view of Manhattan's skyline! I was really surprised at all of the tourists however, it was an extremely busy place, so that's one thing to keep in mind. But it is definitely worth it because the walk along the bridge had such pretty views, and I got some priceless pictures of my children. Did you know the bridge was eventually finished by Roebling's wife, Emily, who is recognized as a pioneering female engineer.
11. View Manhattan Bridge from Dumbo (Down Under the Manhattan Bridge Overpass)
The intersection of Washington and Water Street has become quite viral on instagram, so make sure you don't forget to stop by! It was really interesting for our family to see all the different people who came from around the world to see this pretty spot. It was another gorgeous industrial view of the city that is perfect for pictures.
12. Pay your respects at World Trade Center – 9/11 Memorial
The World Trade Center is a location you should definitely visit. Just to be a loyal American, it's important to take some time in memoriam of the lives lost. It is an important place to take your children so they can experience the memorial.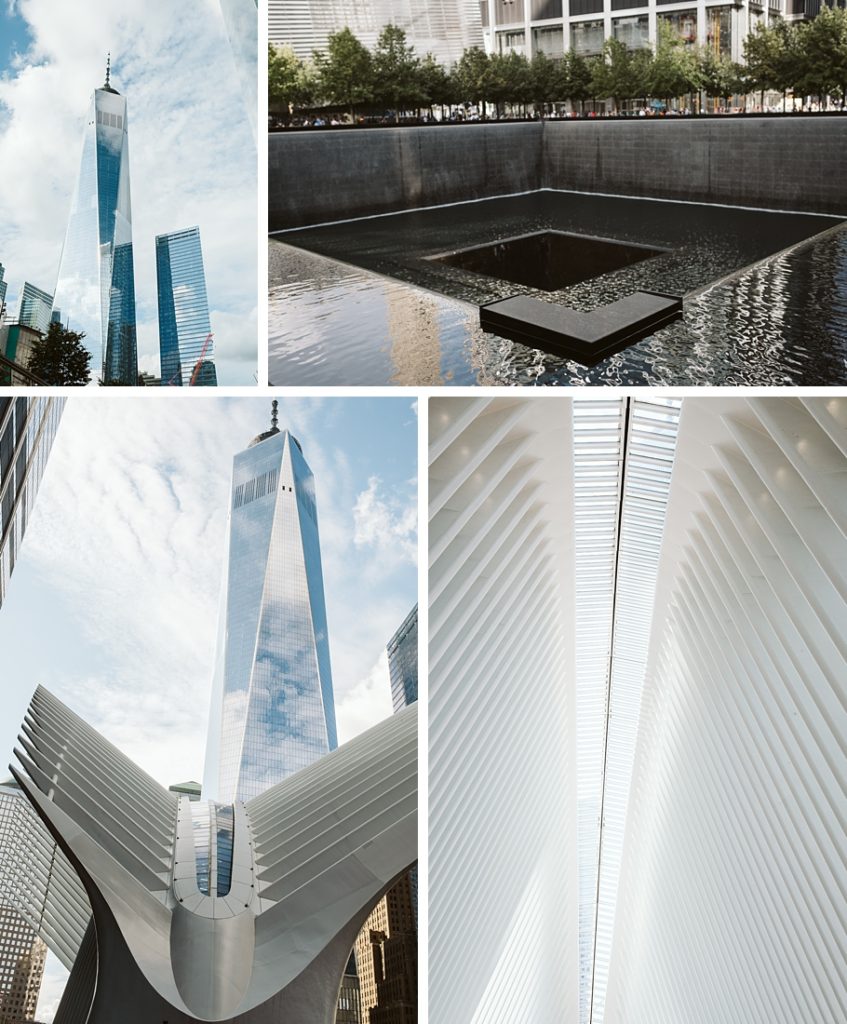 13. Try Food from a Food Truck
The food trucks in New York City are surprisingly amazing! When trying to find the one to try, I would recommend some Halal food made fresh for you from the locals! Did you know Halal is Arabic for permissible? It means that it adheres to Islamic law!
14. Ride the Staten Island Ferry
We took the Staten Island Ferry every morning to the city, and it was the perfect choice. The Staten Island Ferry is free, and it showcases beautiful views along the bay and offers great locations for family photos. Be wary of scammers who try to sell tickets!
15. Enjoy Delicious Traditional Meals from the Nonna's of the World at Enoteca Maria
Funny story, I first heard of this restaurant in an In-flight magazine in Norwegian-Air in August 2018! Ever since I heard of this little place where grandmas of the world cook their ethnic dishes, I've been dying to visit. So you could say a dream did come true in New York! I would definitely recommend stoping in Staten Island for this one-of-a-kind family restaurant! The best part, it's in walking distance from the the Ferry!
In conclusion, this list, in my opinion, is a great cumulation of activities for you and your family to complete together! I hope your children will recall New York City fondly like mine!
Here's a map highlighting our favorite spots from our trip to help you plan your own family adventure in New York City, NY!