Photographers are always looking for the next "perfect photo" opportunity. I am always looking at the direction of light, people's expressions and connections and/or wondering what would be the best angle to photograph someone or something. Our family vacations are no different. This past summer we took photographs of the train traveling through the Glenfinnan Viaduct and the Military Tattoo in Edinburgh. I also took photographs of my children dancing in front of Castle Fraser and looking for the Loch Ness Monster near Urquhart Castle.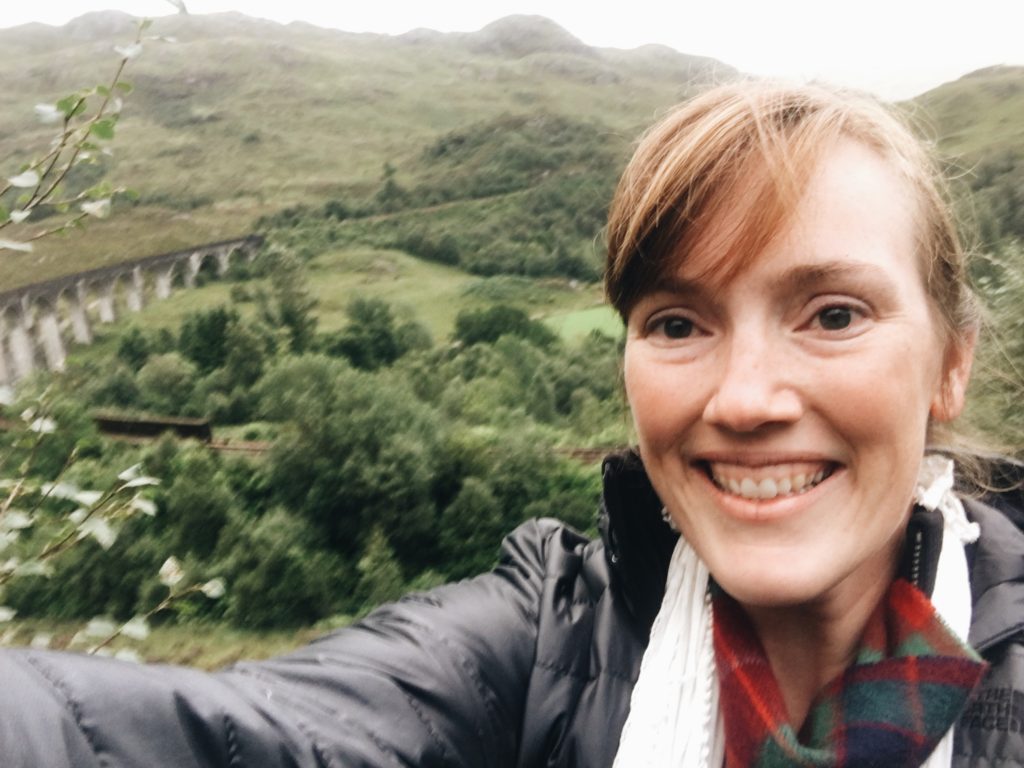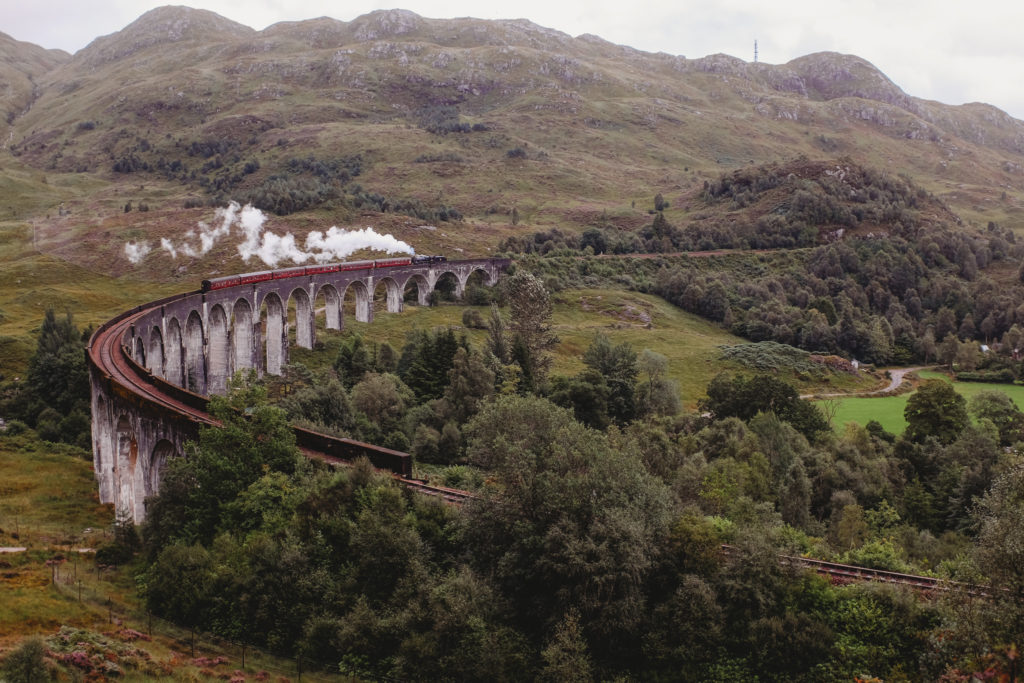 We even hired a professional photographer, Natalia Swiader to take photos of our family exploring Circus Lane and Dean Village in Edinburgh.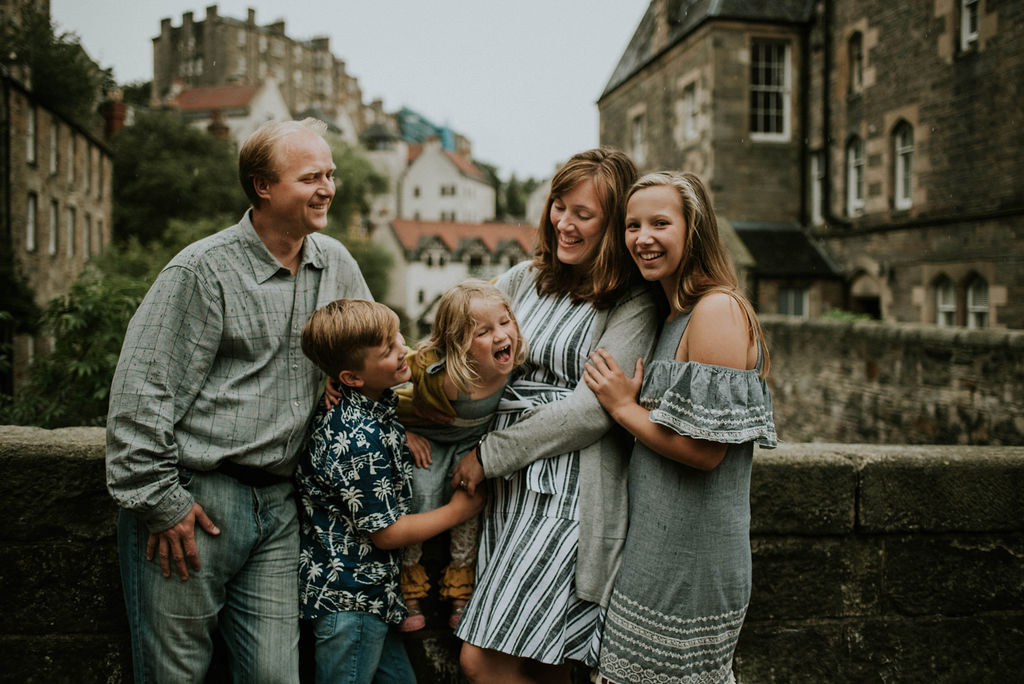 All the while I kept my eyes open for the beautiful Scottish Highlander cows. They are stunning with their shaggy bangs hanging over their eyes and very impressive horns. Although we saw many highlander cows as we were driving through the countryside, they were always in fenced in areas which wouldn't let us to get up close and personal. Try as I might, I just couldn't get that "perfect photo" I was dreaming of capturing. But as we were driving on the Isle of Mull on our way to catch a ferry to the Isle of Iona I couldn't believe my eyes! There on the side of the road, we found an entire herd of free range Highlander cows!!! Honestly, it was a dream come true.
I got right to work, reasoning that cows around Pittsburgh are not aggressive animals. (I sure hoped that highlander cows were friendly too!) I got a few amazing pictures. It was beyond thrilling!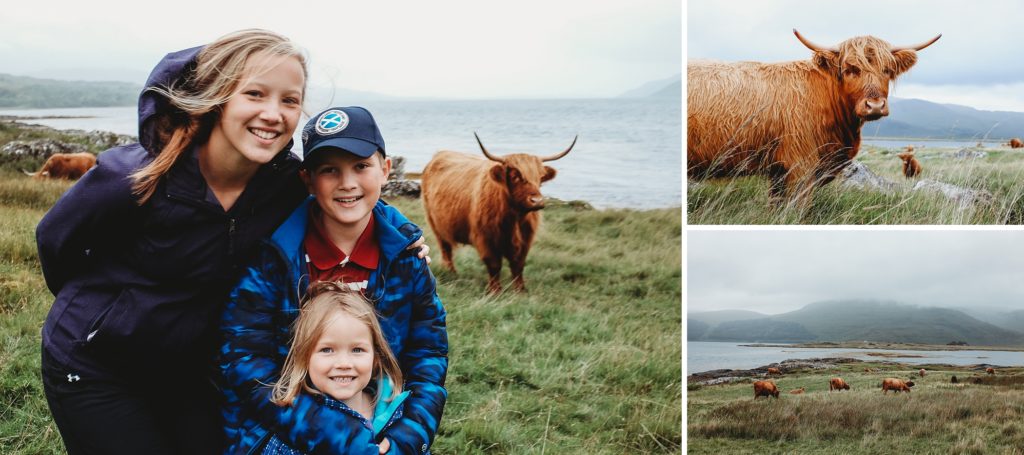 I kept wanting to get closer and closer. Soon I focused in on one huge, beautiful auburn colored cow. He seemed like a family friendly cow so my children entered the field and got a few pictures and videos too. (My husband, who isn't an animal person, stayed safely on the side of the road!)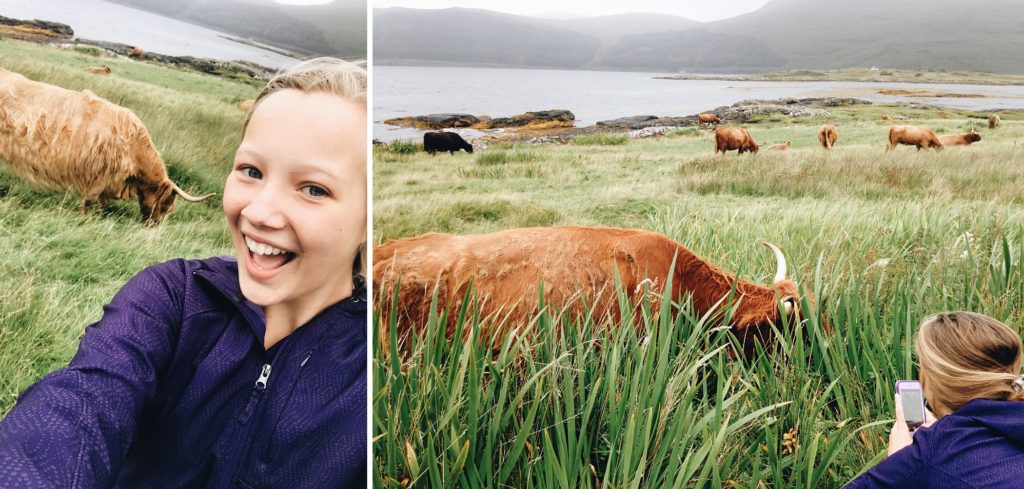 We ended up capturing a few great shots that I will always treasure from our family vacation in Scotland! I can't believe we happened upon a field of highlander cows in their beautiful, natural habitat! I didn't realize how close we were until I printed a huge black and white print and I saw the pores on his skin! That's also when I noticed just how long his horns are. After I shared a couple of portraits on Instagram, several people contacted me wanting to buy a copy. It was at this point that my children and I decided that he needed a name, so we named this guy, Argyle!
I was surprised to see a picture that my husband took, it almost looks like several cows walked around us, almost as if kind of circled around us. (Or maybe they were just watching Argyle's back, in case we got aggressive!!) Most likely, they were just curious, but luckily it was time to leave for our next adventure!
Check out our family's favorite Scottish recipes, here.