Three things make me incredibly happy… spending time with my friends and family, capturing amazing photographs, and traveling to new places. In the fall of 2019 I was able to experience all three in Iceland. On my 39th birthday my friend turned to me and said "Let's celebrate our birthdays next year by going on a girls trip. I'll go anywhere. You pick the destination."
That's literally how our plans got started for our epic Icelandic girls trip. We didn't know before we left but we quickly decided that exploring Iceland together was exactly what was missing in our lives. Our girls trip gave us a chance to relax, refresh and recharge. We were free to be "us" again. All of our daily responsibilities and roles were striped away. We were also able to reconnect and reminisce of our childhood days. All this while reveling in each new experience. At one point we were taking in the view standing near a lighthouse on top of a cliff and she turned to me and said, "just think, in a week this will all be like a dream." Due to our months of planning, preparing and researching, we were able to have stress free days allowing us to simply enjoy the experience. I should mention that the weather in Iceland can be pretty extreme. Some of our plans couldn't come to fruition, because of circumstances beyond our control. We quickly realized that it was best to keep our schedule as a guide and if one option wasn't open to us, we'd move on to plan B. 🙂
1. Savor the Charm of Reykjavik
The seaside capital city is walkable, colorful and full of charm. We visited Reykjavik on a rainy day. Therefore we spent the majority of our time eating and shopping! We loved our experience at the Rex Hotel's Restaurant. The fish tacos were perfect and we loved the relaxed atmosphere and well designed space. We also enjoyed our time at Reykjavik Roasters, Harpa (the modern concert hall), shopping for knitted souvenirs on Laugavegur Street and visiting Hallgrímskirkja.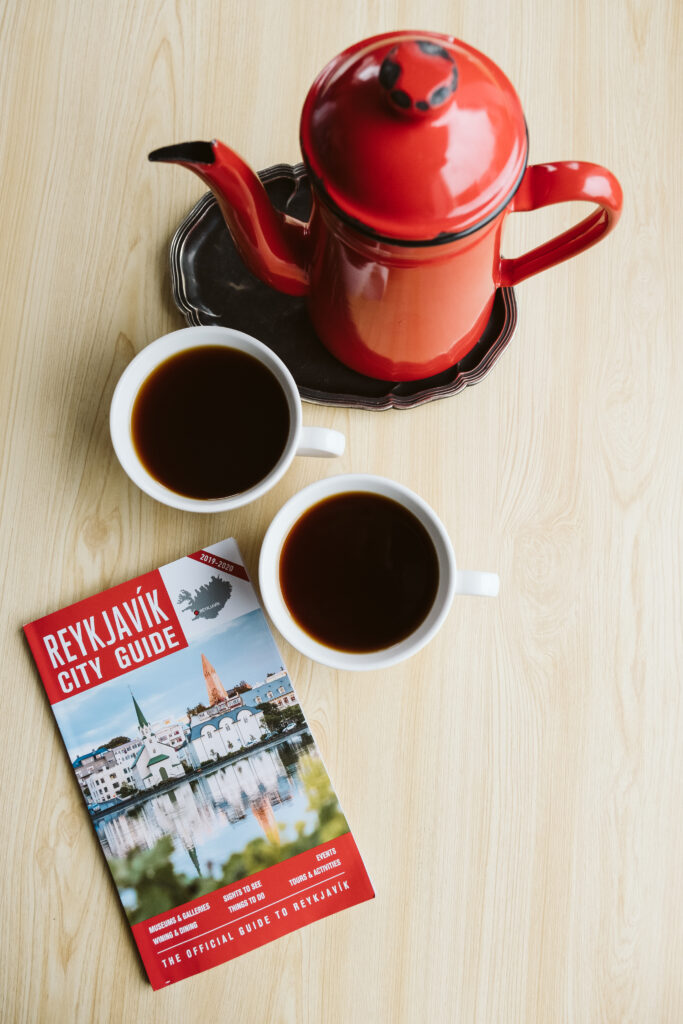 2. Shop for Icelandic Souvenirs
I bought a wool blanket for my living room, wool socks, and a Christmas decoration while my friend bought a beautiful Icelandic sweater.
3. Check out Hallgrímskirkja Lutheran Church
Hallgrímskirkja is the tallest building in Reykjavik and I heard that the design was inspired by volcanoes. While visiting you can view the sanctuary, ask to see the stained glass window on the second floor behind the organ, and ride the elevator to the observation tower. Outside you will see a statue of Leif Erikson, a present from the United States in 1930.
4. Schedule a Photo Shoot
After researching and contacting a couple of Icelandic photographers, we booked with a talented lifestyle photographer. Unfortunately the day of our shoot the weather didn't permit us to have an outdoor session so it was cancelled.
5. Rejuvenate at the Blue Lagoon
The Blue Lagoon created a "pinch me, is this real" type of experience. The famous spa is other worldly. The lagoon water is beautiful shade of green/cyan and is surrounded by black lava rock. The water is roughly 100°F. It was a peaceful and engaging experience which I'll never forget.

6. Enjoy the Local Seafood
I don't usually enjoy seafood, but I realized it's only because I hadn't been to Iceland yet! The fish was delicious and I LOVED the traditional fish stew, which consists of cod, potatoes, pepper, curry and onion.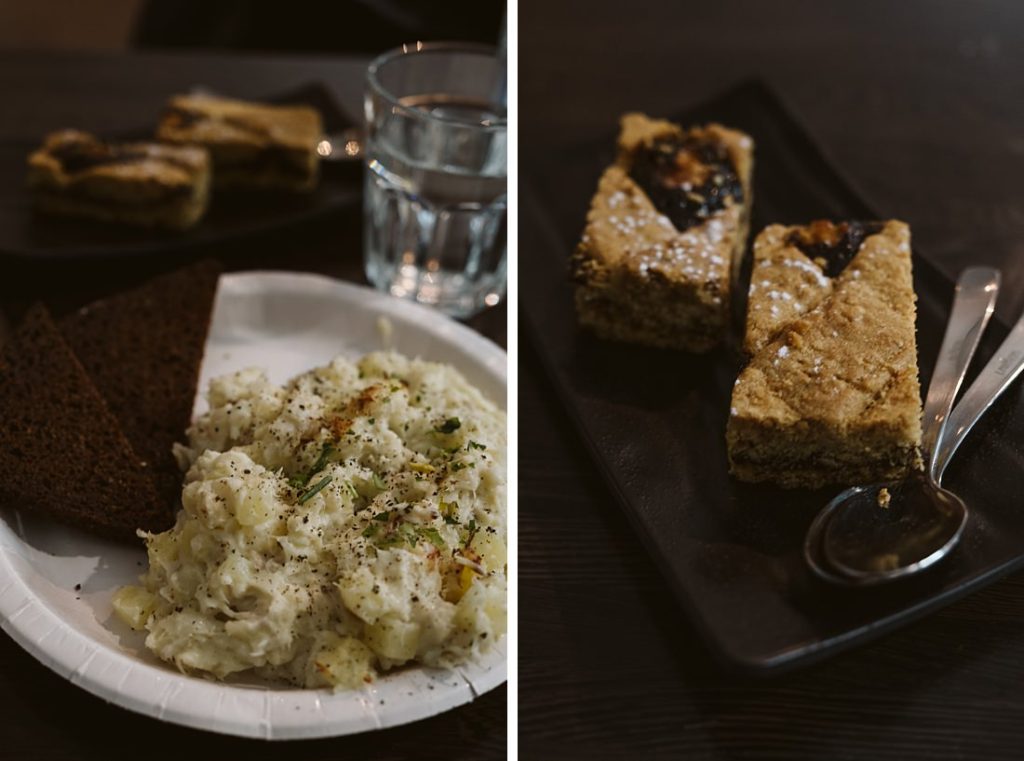 7. Taste Icelandic Staples
Icelandic hot dogs are so good! We heard that they're made from sheep meat and have fresh and fried onions, ketchup, mayonnaise, and mustard. We stopped at a Krónan grocery store to buy Skyr (icelandic yogurt), Ömmusnúðar (cinnamon buns) hamburger sauce and some items to make sandwiches for some of our lunches. I loved the Icelandic hot dog so much, that I purchased the ingredients in the states and recreated the meal for my family. The tap water here is icelandic glacier water! I attempted to bring some home in a water bottle for my children, but sadly airport security crushed my plans.
8. Search for Rainbows
The weather changed frequently during our time in Iceland this past September. We were often in flat areas where the sky filled our view. The frequent weather changes combined with the huge skies makes for the most picturesque rainbows!

9. Drive the Golden Circle
The Golden Circle is full of unique sites to explore! We visited the crater, Kerid, Thingvellir National Park, Fontana Geothermal Baths, Gullfoss waterfall, and Geysir Geothermal area.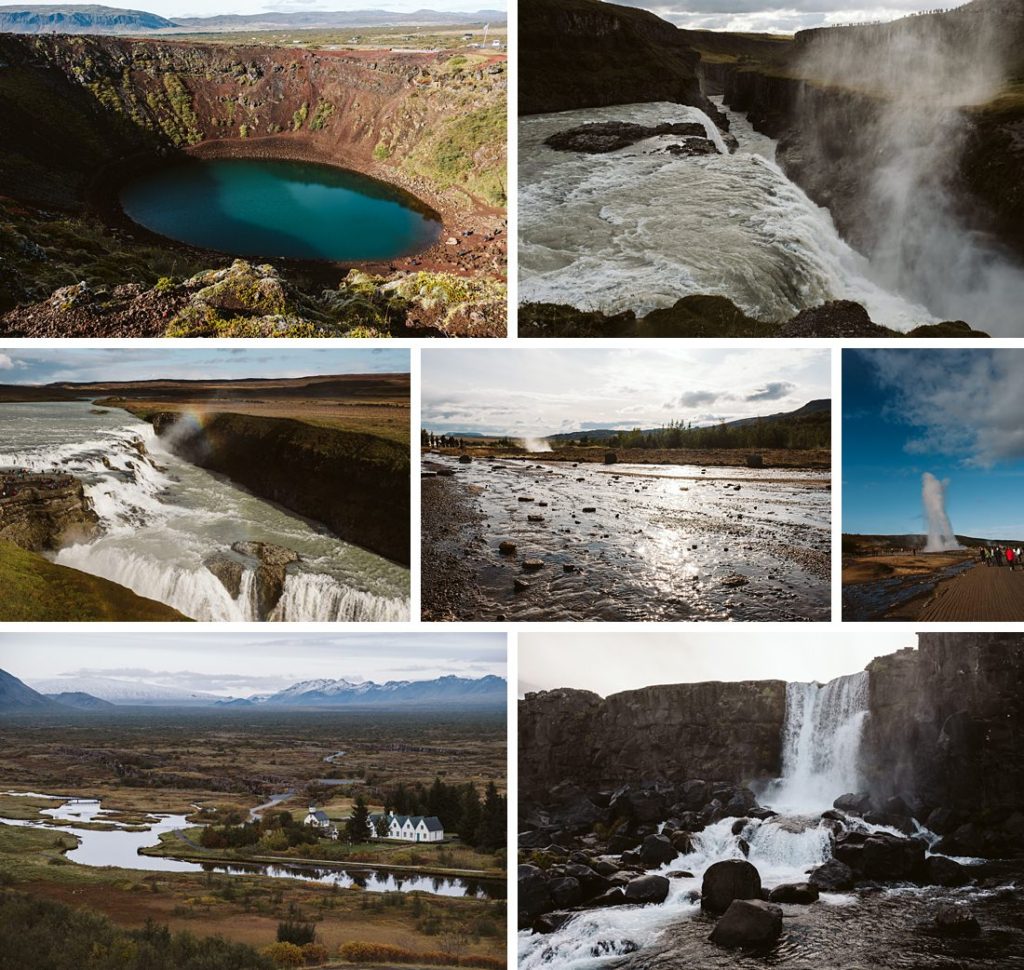 Fridheimar is fabulous restaurant in a greenhouse filled with tomatoes. We tried tomato soup, a bloody mary, and a green-tomato and apple pie. It was a unique and delicous stop!
10. Touch the Tectonic Plates
Typically if you'd like to touch tectonic plates, you'd need to go underwater, but in Thingvellir National Park you can see and touch the North American and Eurasian tectonic plates.
11. Talk to the Locals
I love to striking up conversations with locals when I'm traveling. I discussed the weather with one kind Icelandic stranger and he informed me that although it's possible to get used to the temperature and rain, he will never be ok with the wind… because it always does a number to his hair! This was a common theme with those that we met, we enjoyed friendly banter and hearing silly jokes.
12. Taste the Traditional Rúgbrauð
Fontana Geothermal Baths is located on the Golden Circle. We had the opportunity to visit and enjoy the traditional dark rye bread. Rather than baked in an oven, rúgbrauð is buried near a hot spring for 24 hours. It is moist, sweet and served with butter. Hands down it's the best bread I've ever had!
13. Ride an Icelandic Horse
How could you see one of these beautiful Icelandic horses and not want to at least pet them? I spent a good hour photographing these majestic beauties. I was captivated.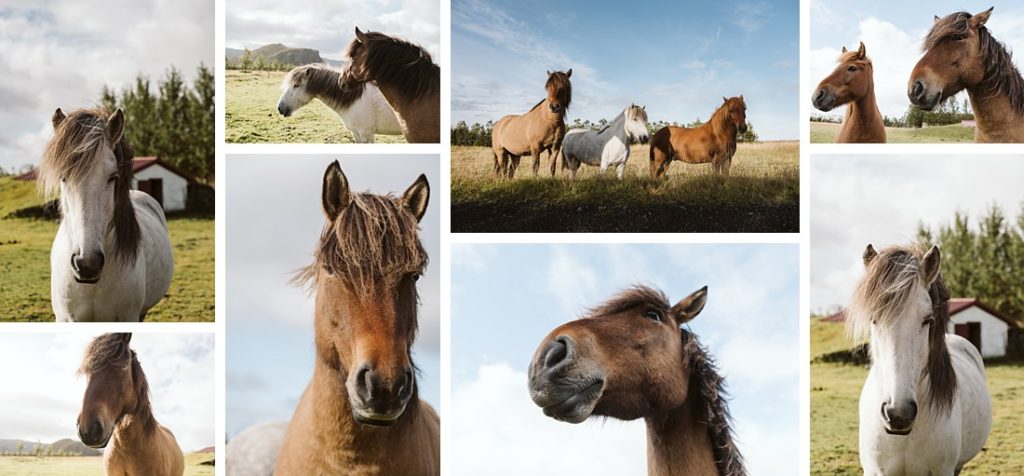 14. Search for Sheep
Icelanders are outnumbered by sheep by more than 2 to 1. Our favorite past time while driving from location to location was spotting the numerous sheep on the rugged countryside. We often made comments like, "Awww, look at those sheep dots!" Sheep are free to scatter the countryside, then in September farmers round them up for the winter months.
15. Soak in the Mist from the Breathtaking Waterfalls
We visited Seljalandsfoss, Skógafoss, Gullfoss, Öxarárfoss, and the waterfall at Fjaðrárgljúfur. We had wanted to visit even more, we just needed more hours in our days!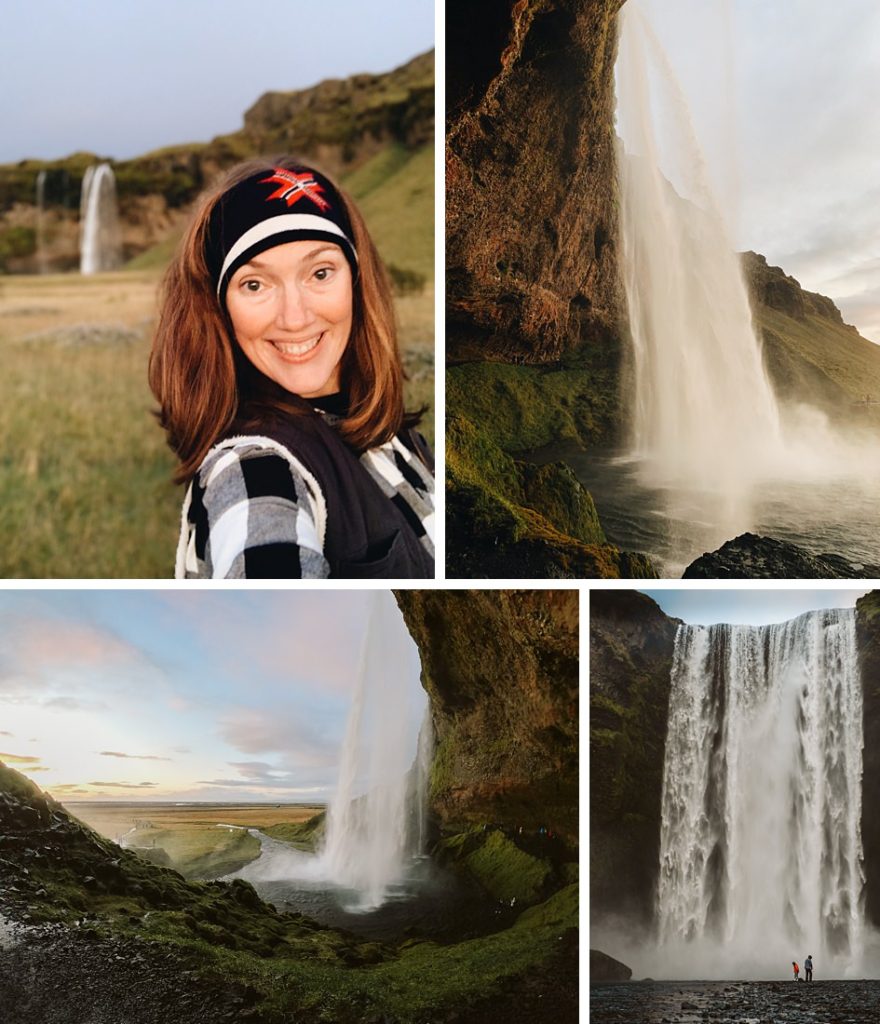 16. Get off the Beaten Path
As an avid Rick Steves reader, I live by his suggestion to get off the beaten path. We stayed several nights in this AirBnB cottage on a private farm. Iceland is safe and we never were scared for our safety.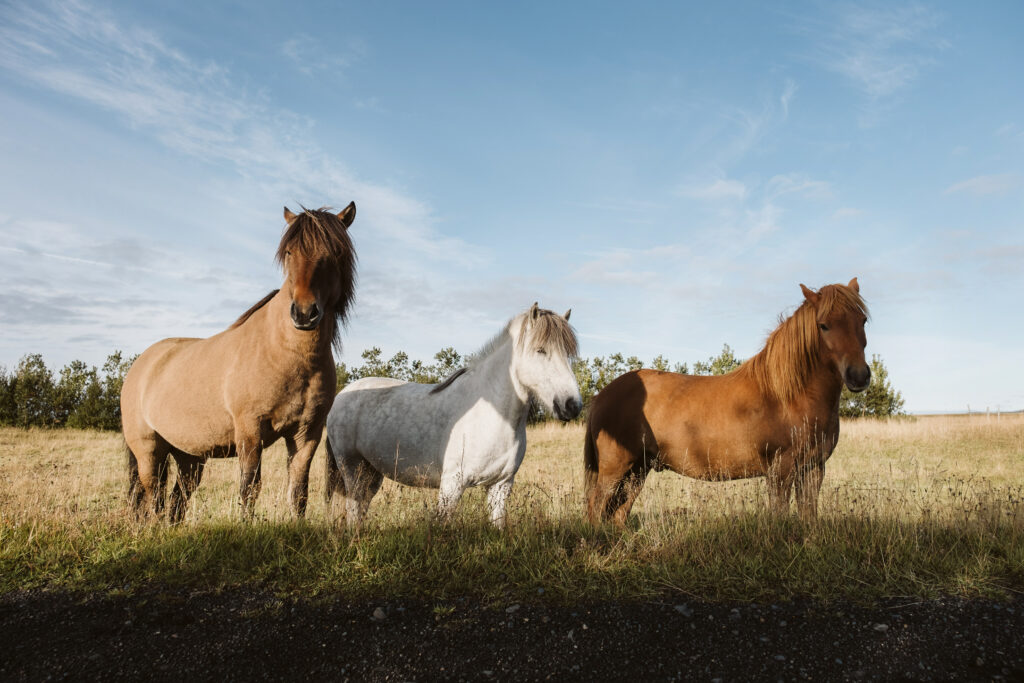 17. Explore the Southern Coast
I loved the South Coast! It looks like a painting from the romantic era and unlike anything I have ever seen before. However, life inside the canvas is less appealing. The winds were incredible so close to the sea. The South Coast is filled with adventure for explorers! I throughly enjoyed our time on the South Coast While in Vik, we visited Vik i Myrdal Church and had a fabulous dinner at Restaurant Sudur Vik. Nearby we walked on the black sand beaches of Reynisfjara in hiking boots. The weather was intense and the wind was strong! I am still pulling black sand out of my pockets from my winter coat. Another stop was at the Dyrhólaey cliffs and lighthouse. Someone we ended up on a 4×4 road in our Ford Focus. It was an adventure that I'll always remember! The DC plane wreck has been on my bucket list. It was a blast to climb it. Next stop was to see the glacier, Sólheimajökull. Our final stops were also amazing Skógafoss and Seljalandsfoss.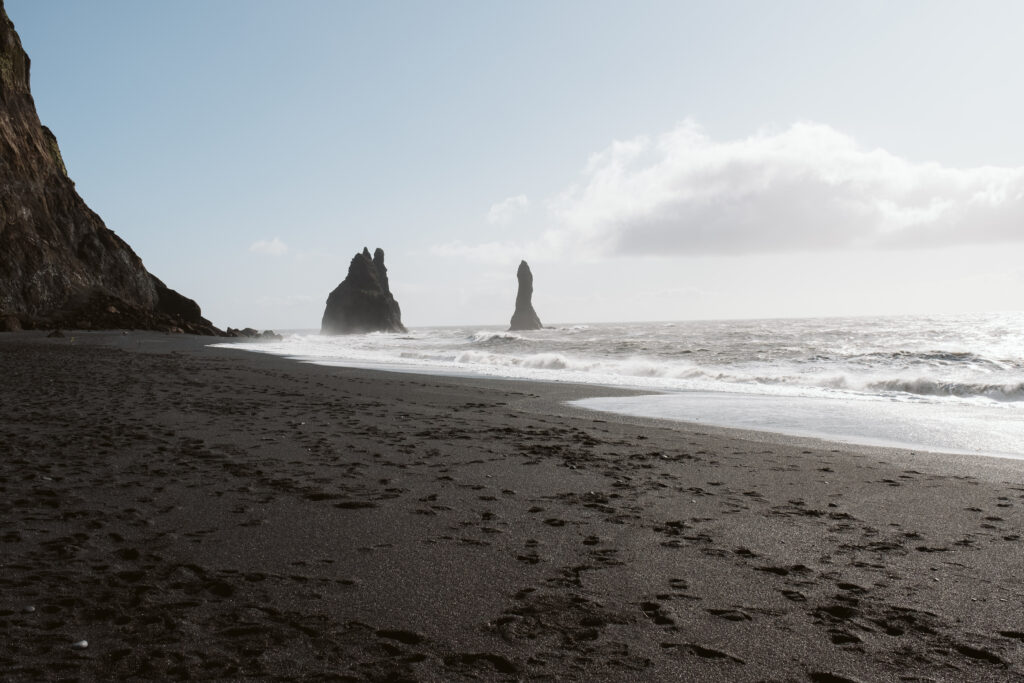 18. Experience the Fire and Ice
Since Iceland is nicknamed the land of fire and ice, it only makes sense to visit glaciers and volcanoes!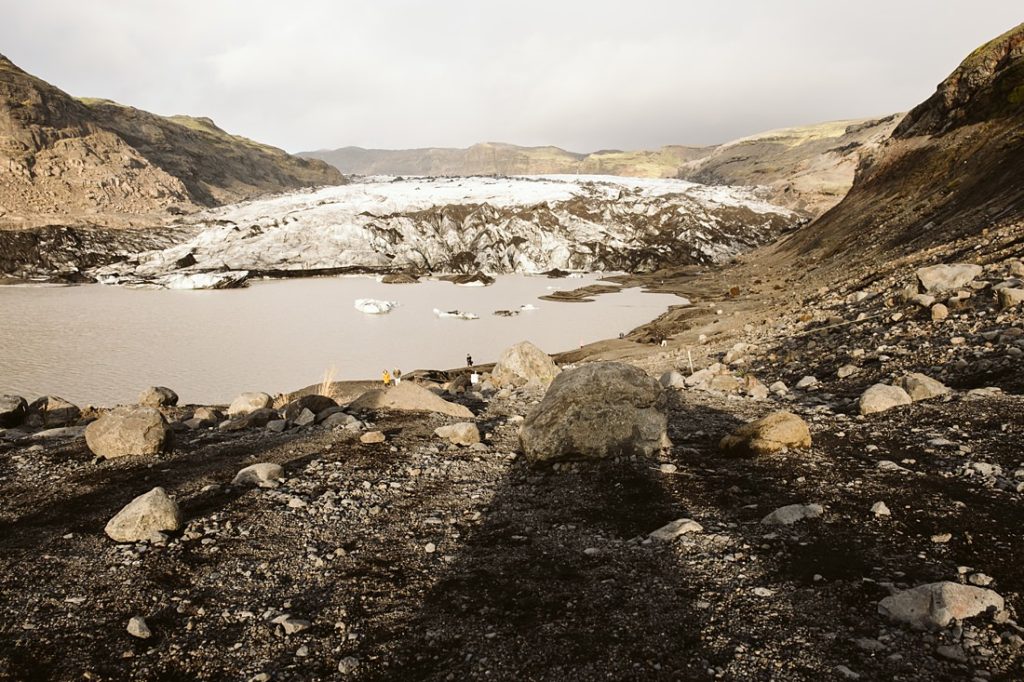 19. Search for Black
We found a black chapel (on Reykjanes Peninsula), black cliffs, black sand beaches, black rock formations.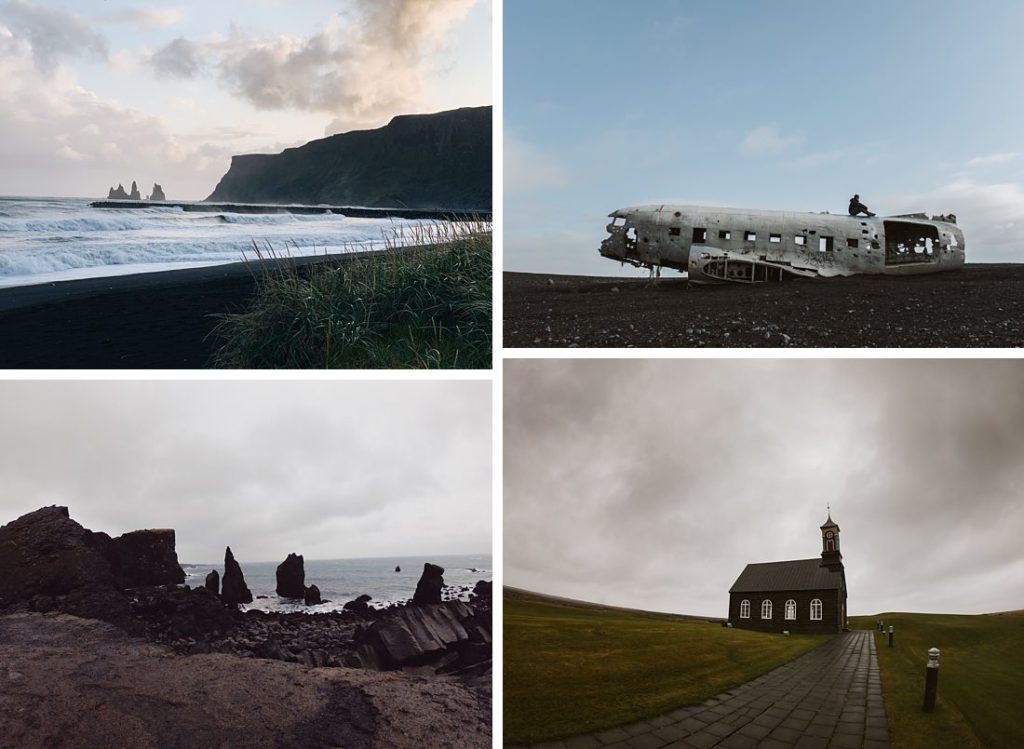 20. Climb the DC Wreakage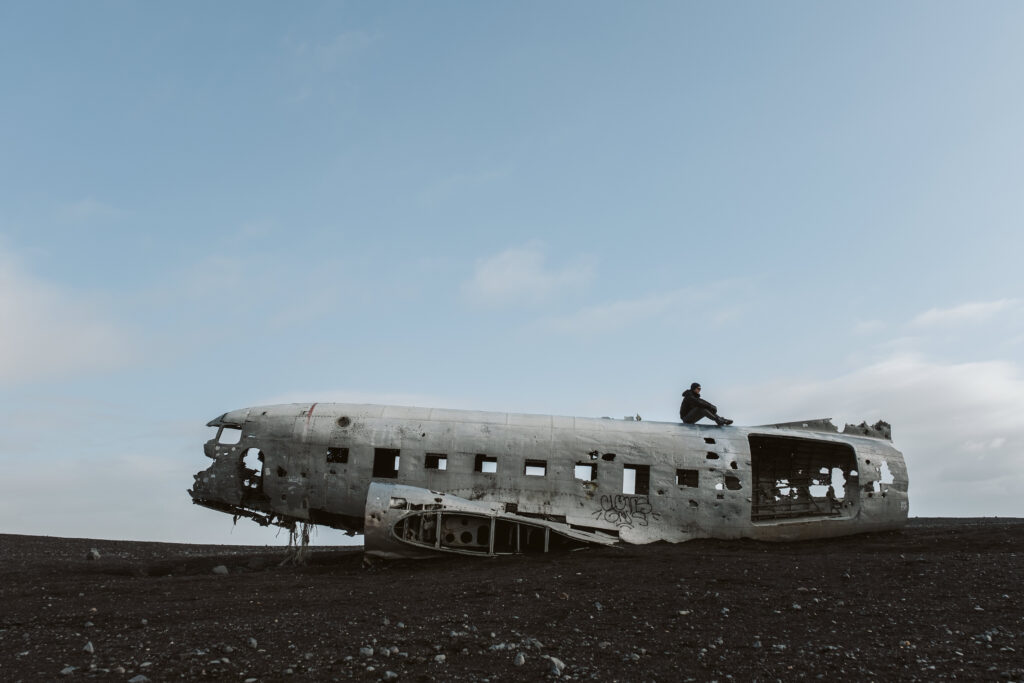 21. Hike Fjaðrárgljúfur
Fjaðrárgljúfur canyon is breathtaking. I can't recommend it enough.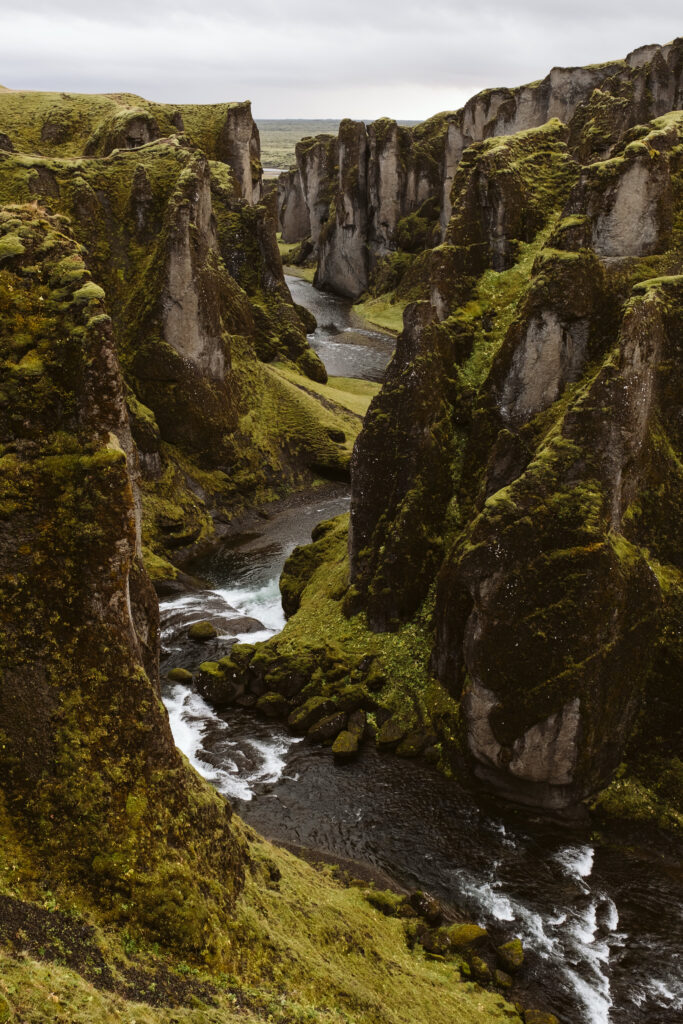 22. Go Whale Watching
Early in our planning we had decided we'd love to book a trip to go whale watching. As it turns out the ideal whale watching weather is clear skies and calm water. Since the weather didn't cooperate we weren't able to go whale watching.
23. Try New Ways to Enjoy Black Licorice
Iceland offers many new ways to enjoy licorice! We tried licorice flavored gum, chocolate covered licorice, candy bars with licorice pieces, and licorice ice cream. For some reason, the many varieties of licorice in Iceland reminds me for Forrest Gump's friend Bubba and his love of shrimp!
24. Research the Northern Lights
We chose to visit Iceland in September to have better odds to see the Northern Lights without having to harsh weather conditions. To view the northern lights it is necessary to have clear dark skies. We checked our Aurora forecast app every night. It takes effort and the right weather conditions to get the opportunity to see the northern lights.
25. Sail to the Westman Islands
The Westman Islands are filled with beautiful nature and a rich history plus a volcano and a large puffin colony,
Here's a map highlighting our favorite spots from our trip to help you plan your own adventure in Iceland!