There's no reason why choosing outfits for your senior session needs to be stressful!
I'm here to change that stereotype and ensure it's an easy, fun and painless experience. Choosing your outfit doesn't have to be a crazy stressful, day-of nightmare, or a source of stress for weeks ahead of time.
In fact, it should be a fun way to spend time with shopping buddies as you sculpt a series of outfits that highlight your authentic self.
While considering what outfit to buy or use from your closet, here's a few tips that I would abide by.

Wear earthy tones
This is my number one tip: wear earthy tones. These colors blend in well with nature and architecture and don't detract from your natural beauty. Using sage green, sky blue, rose pink and mustard yellow ensures that your beautiful self is highlighted, not overshadowed. Replace all neon and bright colors with shades that show up normally in nature.
Stick to your style
While it's tempting to go out shopping and buy a whole new wardrobe based off of what's trending with your friends or influencers, that won't reflect you authentically in years to come. I recommend sticking entirely to your closet, choosing at least one central piece that you already own, or maintaining your personal style while shopping for new clothes. Keep in mind–confidence photographs better than any strappy dress or low rise jeans that may be trending now! Wear an outfit that compliments your body type, is in line with your authentic style and makes you feel comfortable and confident.
Bring one fun outfit
I think it's always a good idea to bring one classic outfit that's more formal, and then also a more fun, adventurous one. This can be done through "highlight" elements of your outfit that are a bit more funky or creative. Think zebra striped converse or a blue beret!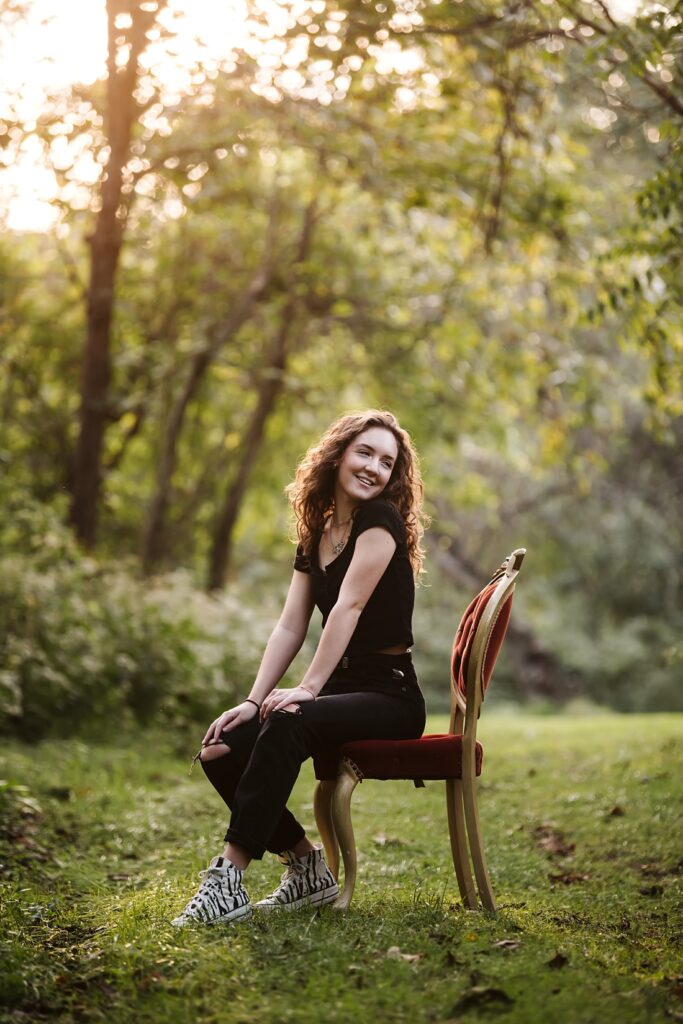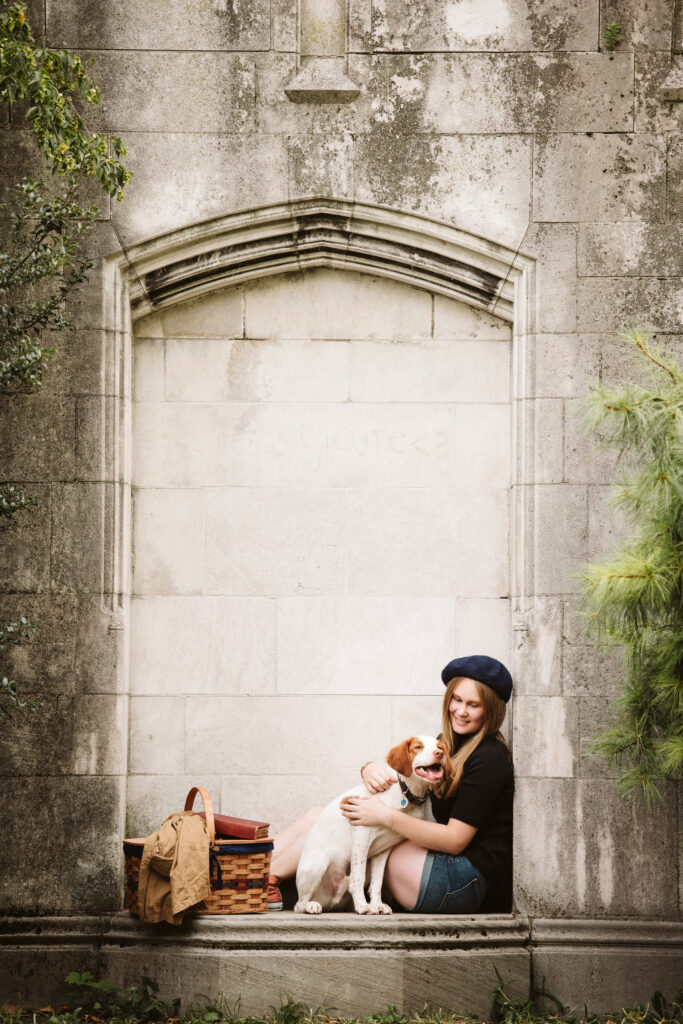 Layers
Layers, layers, layers! This is yet another hidden secret that elevates your senior portraits. I love kimonos, sweaters, or dresses with t-shirts underneath. It allows for easy outfit "changes" that give your images unique looks. In addition, my go-to is adding a cropped or full length jean jacket to photos. It's great for later in the shoot when things get chilly, and also to just change the vibe of your photographs. Layered necklaces are another super cute trend, and I recommend shopping at Madewell, Free people, or Urban Outfitters.
Accessorize
Accessorizing is an often overlooked step while preparing for your senior session. But, a simple hair scarf, hat, or collection of jewelry can elevate the shoot. Try flea markets for vintage finds that personalize the look. It's usually easy to find cool earrings, scarves, jackets and chunky necklaces. Lastly, consider bringing along a skateboard, book, picnic basket, funky truck or pet as an "accessory." These props once again add a unique layer to your portraits.
Keep it simple
If you look over my senior portrait portfolio, you'll find confident seniors who kept it simple! They didn't go over the top with outfit changes, and stuck to what made them feel comfortable. I believe that is truly the most important part for senior portraits–keep it simple and don't stress!
I hope these 6 tips that I cultivated after years as a Pittsburgh Senior Photographer help you create the best outfit possible as you head to your senior photo session!
GET IN TOUCH
Senior Portrait Session