As we were starting to part at the end of our photo session, I turned to wish this sweet mom a happy birthday because I knew our session was her birthday present. Her husband laughed a little and mentioned that he began thinking of what to get his wife this year for her birthday back in May but kept coming up short. Finally he mentioned it to Nicole who immediately thought of the perfect present – updated family portraits! It's always the biggest blessing to be included in making someone's birthday extra special. I hope you'll join me in wishing Nicole a very happy belated birthday! 🙂 
How did you and your spouse meet?
Dustin and I met in college at Duquesne University. He was actually my older brother's roommate their freshman year. We met when I started school there the following year.
What do you enjoy about living in the Pittsburgh area?
We love the access to the city and also to the outdoors. My husband will say his favorite part is the Pittsburgh Penguins!
Write 3 adjectives that describe your family.
Our family is fun loving, close-knit and adventurous.
Describe your children.
Both Max and Sadie are kind, thoughtful and loving kids with a great sense of humor!
What are your family's favorite things to do in and around Pittsburgh?
We love doing things outdoors. Lots of fishing and exploring especially at camp in Cook Forest.
Share a funny family memory.
We all remember a time when we got ice cream at our favorite shop in Cook Forest and a squirrel ran across the parking lot with something in its mouth. My husband is always looking out for animals to point to us and he started to run after the squirrel to show us. The squirrel scurried up a tree and just as my husband was looking up something fell right in front of him. The squirrel had "thrown" – (more than likely just dropped it tho) the end of an ice cream cone with ice cream still in it right at him! We laughed and laughed and to this day every time we stop at the ice cream shop we bring up the time the squirrel threw the ice cream cone at Daddy.
What is your family's favorite restaurant?
We love trying new things, but a good go to restaurant is Pasta Too.
What is your family's favorite meal to cook at home?
Burgers on the grill by Dustin! Dustin is a fabulous cook and keeps us very well fed 🙂
How did you decide to schedule a family session with Laura Mares Photography?
I searched for a good photographer online and came across Laura. I really liked her style and felt that she would be the perfect photographer to capture my family in our current stage of life.
How did you prepare for your family photo session?
Oh, boy, it took a lot of thought and consideration to pull together some coordinating outfits! I admittedly probably overthought this part the most. I checked out the galleries on Laura's website, and scrolled through Pinterest and Instagram to get some ideas for outfits and style. The actual pictures were a breeze! We have done several family sessions throughout the years, so the kids knew what to expect. Pictures definitely aren't their favorite thing to do, but they knew I wanted this as a birthday present, so they played along. Everything came out perfectly!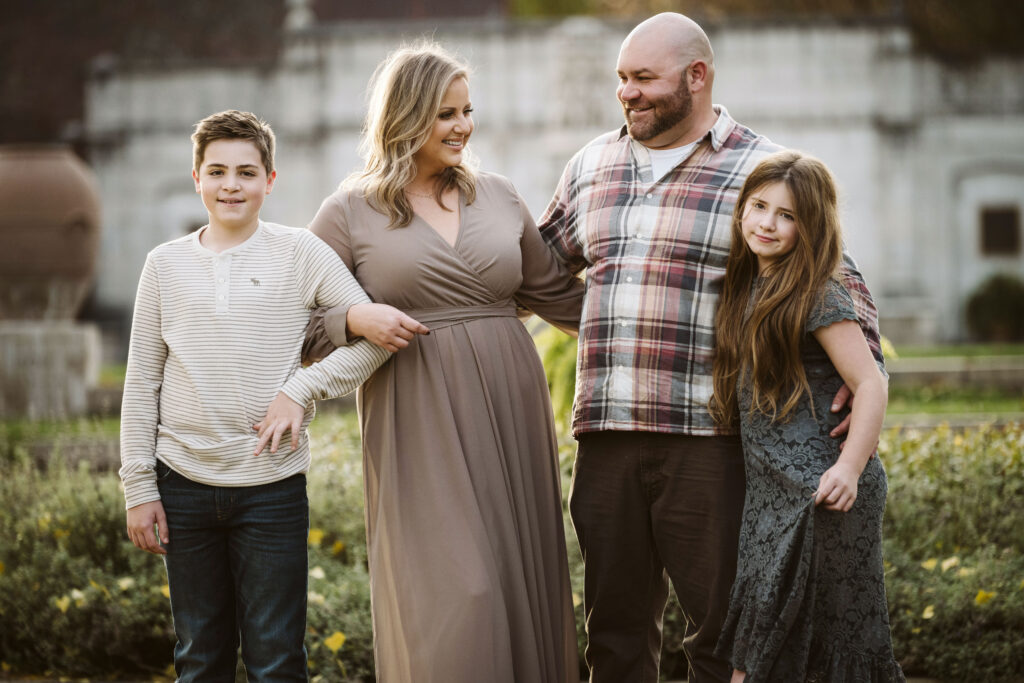 What is your favorite portrait from your family session?
This is a hard question! It was very difficult to narrow down the photos. But, I guess that is a good problem to have. I would have to say my favorite family photo has a beautiful fall tree in the background and everyone looks very relaxed and happy. No one is stiff or forcing a smile. You can look at all of our faces and see that we love each other very much.
Ready to document your story?
Let's work together to create beautiful images that you can treasure for a lifetime!