I love surprises. I always have! As a child, I always asked for surprises for Christmas. Now, as a photographer, surprises get my creative juices flowing! It's one of the many reasons that I love lifestyle sessions. Lifestyle sessions begin with greeting the family and touring their home. During the tour, I look at the lighting/windows and the location furniture.
I was thrilled when a fantastic past client contacted me to capture her family preparing their home for Christmas. She mentioned that they'd like me to capture her family decorating the tree and baking cookies. She had everything organized perfectly and the session ran smoothly.
How did you and your husband meet?
We met working at the newspaper at Carnegie Mellon, where I was an undergrad and he was a grad student. I spearheaded a redesign of the paper and he did the hard work of coming up with designs and tweaking them based on feedback.

Describe your family.
We're generally homebodies, but we love going to cultural events and museums. We include our dog (and first baby) in everything we can, and while our house isn't always tidy, we do try to keep things relatively put together. We enjoy cooking and try to eat dinner together every evening, and when we're all home, we sit together for all meals.
What do you enjoy about living in the Pittsburgh area?
We love living close to family and friends, as well as the city itself. It's amazing to have so many places to go and things to do, most of them affordable, right within about fifteen minutes from home. We also love how friendly most people in the area are.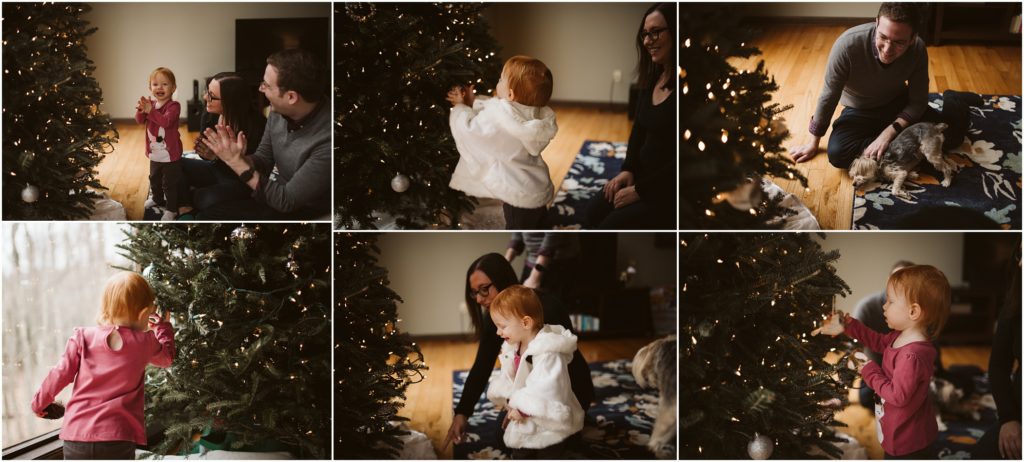 What are your family's favorite things to do in and around Pittsburgh?
We absolutely love going to Phipps at any time of year and go fairly frequently. We also enjoy the Pittsburgh Zoo, Carnegie museums, and walking at Hartwood Acres. We love going to brunch at the Square Café in Regent Square and we also like going to story times at local libraries.
Tell us about your home.
We moved into our house earlier this year and absolutely love it! It has the most amazing windows that overlook the woods, giving our house so much natural light, and several skylights upstairs and downstairs. It has a ton of space (and more than we really need), but we know we'll grow into it over time. Since the first day we moved in, this house has truly felt like home for us.

In your opinion, what are the best shops around Pittsburgh to buy decor for your home?
We buy most of our decor at Target, Pier 1, and Home Goods.
Describe a typical day in your life.
During the week, Aaron is at work during the day, and Nora and I are at home. I usually wake up around 8:15, get in my morning workout, and wait for Nora to wake up, which can happen any time between 8:00 and 11:30, depending on how she's feeling. In the mornings, we have breakfast (usually yogurt and fruit for Nora and cereal for me) and either play or go to story time, or occasionally grocery shopping, before her nap. I usually try to give her lunch before her nap, and she naps for about two hours. After her nap, we'll sometimes meet with friends or family, but usually it's more of us hanging out at home, reading books or playing with her toys. Lately she's very into Play Do and coloring as well as knocking over towers of blocks. When the weather isn't bad, we'll go to the park or on an outing to a museum, Phipps, or the zoo. Aaron gets home around 6, and we have dinner by around 7:30. Usually Nora goes to sleep at around 8:30, and we hang out reading, watching TV, and playing games until bedtime.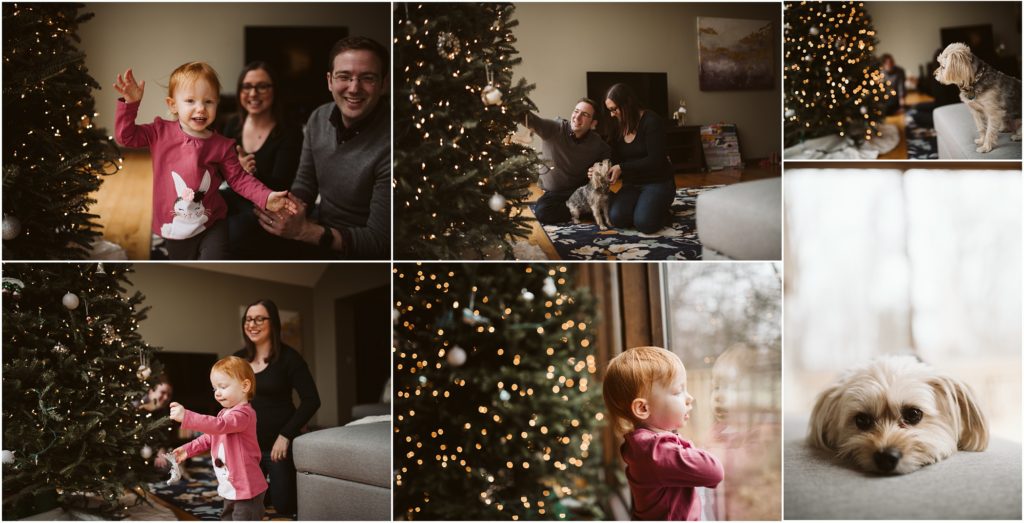 What is your family's favorite meal to cook at home?
One of our favorite meals is kale "caesar" salad with chicken. It's a mock Caesar dressing that omits anchovies since we aren't fish fans. We usually use Tuscan kale and just grill or broil the chicken breast.
Could you share the recipe?
https://www.foodnetwork.com/recipes/damaris-phillips/kale-caesar-salad-2754195
How did you prepare for your lifestyle session?
We did a TON of tidying up, and tried to decorate a bit. We wanted to decorate the tree for pictures, but knew that getting a toddler to cooperate would be tough, so we decorated it in advance and removed a few ornaments to put back up for our session. We also wanted to bake and decorate gingerbread, but since the dough has to chill and our time was limited, we prepped those in three stages. I made the dough early and kept half of it to use in the session. Then I baked the other half, keeping half of those cookies plain to decorate. The rest we decorated early to have some finished cookies for our photos. We also got matching pajamas and pulled out some of our favorite Christmas books to read together.

How did you decide what activities to do together during your in home lifestyle session?
We knew we wanted to make use of our matching pajamas and we also wanted to have a holiday prep theme. It's so hard to get pictures of the whole family doing activities, and I wanted to capture those memories. I knew Nora would love decorating/eating cookies, and she also loves books and the Christmas tree, so it all worked out perfectly.
What is your favorite portrait from your lifestyle session?
Our absolute favorite is a photo with us in bed in our matching pajamas. Nora is upside down and giggling, and we're both looking at her. It captures her personality so perfectly and is so much fun. Everyone we've shown the photos to agrees that it's the best one!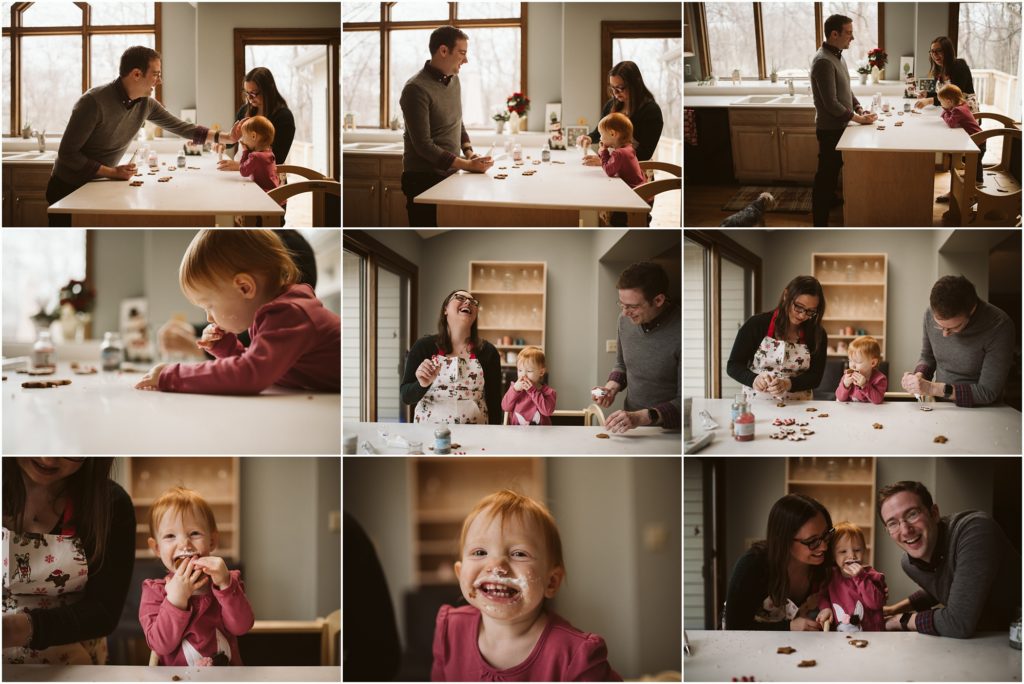 How did you decide to schedule a lifestyle session with Laura Mares Photography?
Laura took photos for Nora's first birthday earlier this year and we were so happy with the way they turned out and loved working with her. I always knew we would do some sort of holiday photos, and when I saw the description of lifestyle sessions, I knew we had to do one for the holidays. I've had it in mind for months after seeing how well the birthday photos went.
Tell us about your adorable dog, Finn.
Our dog Finn has been a part of our family for seven years and we are absolutely those people who call our dog child and human child brother and sister. Nora loves all animals, and especially cats and dogs, and we love seeing her face light up when she meets a new furry friend. We were so happy to get some great pictures of Finn from our session!