Meet Delilah! She recently graduated from Pitt and is an aspiring writer! I love that she reached out to me about a college grad session, because I feel that too often we forget about the importance of documenting college graduation. I absolutely loved working with Delilah as she has such a fun, bubbly personality and a contagious zest for life! Below you can find my interview with her. 
What do you enjoy about living in the Pittsburgh area?
I love the variety that the city brings. If I want to have a night out in the city or just lose myself in nature, I can do both with no problem.
In your opinion, where is the best place to eat in Pittsburgh and what do you order there?
My favorite place to eat in Pittsburgh by far is the Shady Grove. My partner and I go there all the time to order their Chicken Pesto Pizza.
What are you looking forward to most after graduation?
I'm excited to finally work in my industry full-time and not worry about a mountain of homework anymore.
If you could chose one word to describe your senior year, what would you chose? 
Blossoming. This year was probably one of the most difficult, but I feel as though I grew so much from everything that wa thrown at me.
How would your friends describe you?
I always feel so odd asking my friends this haha! But they would say I'm very passionate and hardworking when it comes to my job. Otherwise, they say I'm one of a kind. Like whenever I ask them, they say, "Well, you're Delilah y'know?"
What is your favorite song? Who is your favorite band?
My favorite song is "She's a Rainbow" by The Rolling Stones or "Loser" by Beck. But my favorite band by far is Misterwives.
What is your favorite outdoor activity?
I love exploring and hiking. I just want to feel like I'm a fairy on a grand adventure.
What are your plans after your senior year of college?
Well I got hired pretty quickly out of college so mainly work! But in June, my partner and I will be going to Colorado Springs for a bit, and we plan on traveling some more.
If you could travel anywhere in the world after you graduate, where would you go?
Ireland. It's been my dream to go there since I was a child, and we fully intend on going in the next few years.
How did you decide what to wear for your senior pictures?
I wanted something that really showed who I was and you can almost always find me in a floral dress. Due to the pandemic, I gained some weight and with my body issues in the past, it really messed with me. But I wanted to wear something flowy and showed my new, beautiful body.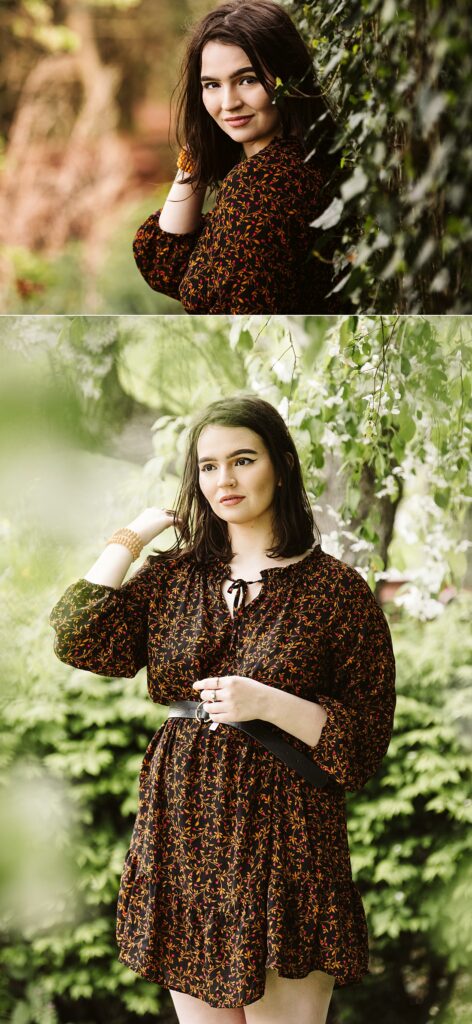 What advice would you give next year's seniors?
Oh my goodness so much advice to be honest haha. But honestly, apply to 5 jobs every day. It may seem like a lot, but you know you're putting in your all and you'd be surprised who gets back to you.
How did you chose Laura Mares Photography?
I fell in love with Laura's photos. I loved the variety of city and nature, and it truly made me feel like I was showing off my home. I just knew in my gut that it was the right choice.
What was the best part of your senior portrait session?
The entire vibe of the session was lovely. I felt so relaxed and happy the entire time.
What is your favorite photo from your senior portrait session?
My favorite photos were probably of me under the tree. I felt like a fairy princess in those photos and I already have them as my profile pictures on everything!