Senior Location Series: Lawrenceville
This location is a new spot that I've fallen in love with! Lawrenceville is full of artistic spaces that are both unique and beautiful. It's great for those who love the urban feel but are looking for a location that makes you stand out from the crowd. Another plus of this location is that there is so much variation within such a short distance. As you take on the task of determining which location is best for your Senior session, I hope this series helps you! Feel free to check out other blog posts that detail locations that my clients love. (link links)
Now I'll go into a little more detail about all of the unique spots that you can choose within the Lawrenceville area!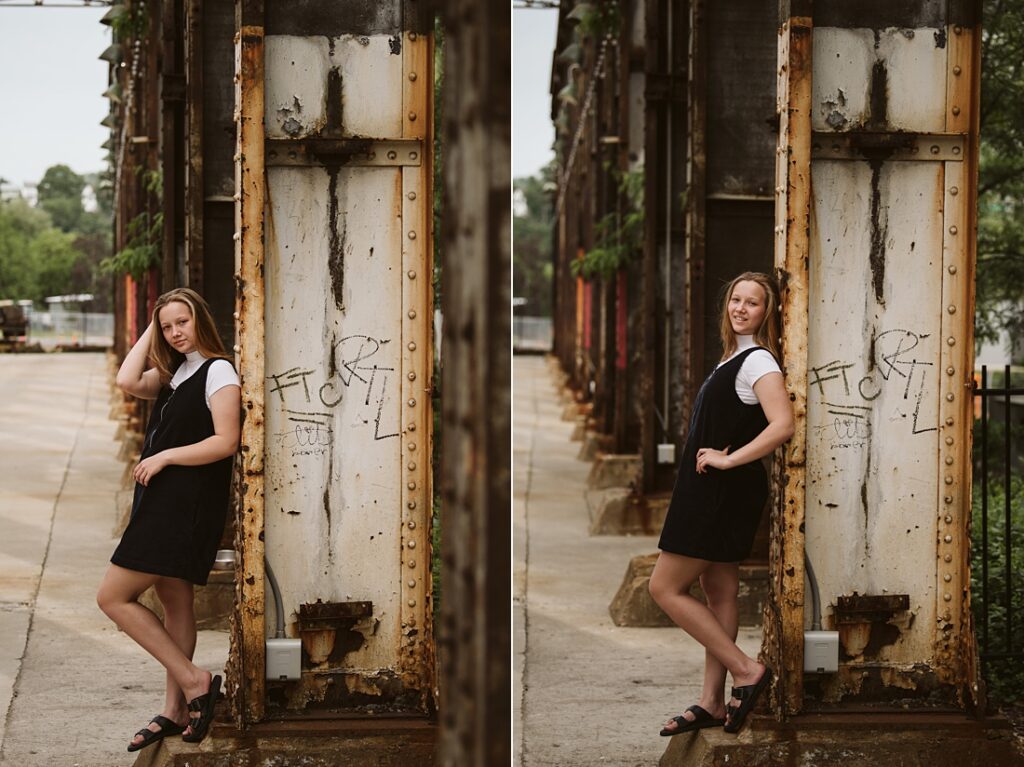 The Foundry
Alex Simakas is the founder of the Foundry on 41st Street. Where the street once met a dead-end near the factory, there is now a serene walking path that leads to the river. The Foundry has succeeded in transforming unused riverfront land into a unique public space, perfect for senior portraits! Since it's the frame and steel structure of an old foundry, it is an amazing location. It has no roof, so sunlight floods the space which allows for beautiful lighting in an industrial space. This spot is perfect for spins, twirls, and moody stances. Think of the Foundry as your stage.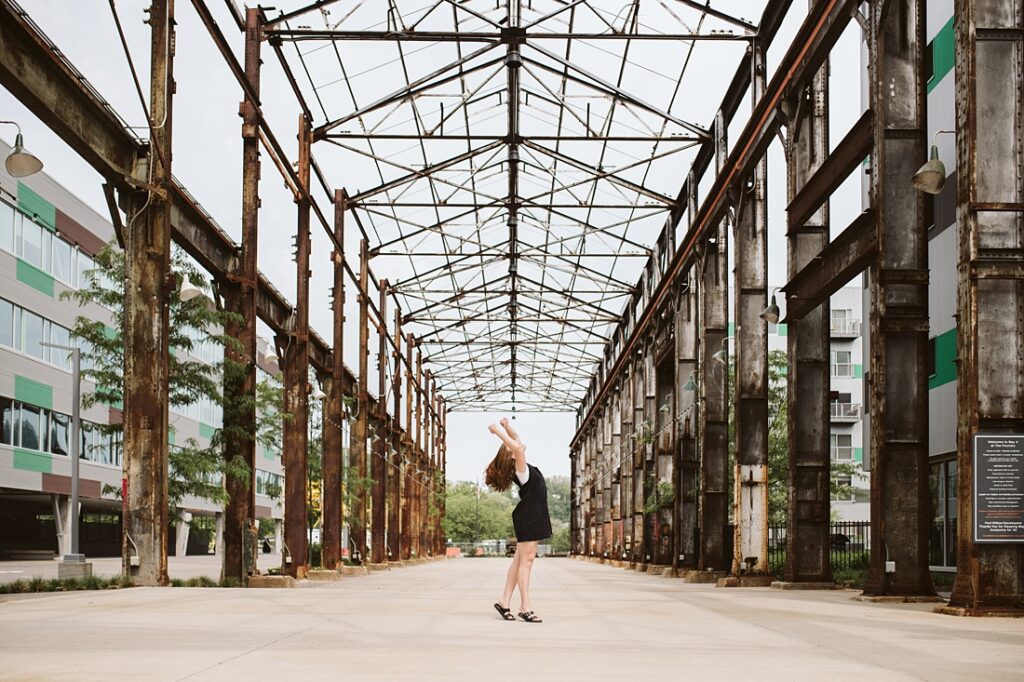 Steel Beams
These decades old classic Pittsburgh steel beams provide a moody backdrop for your senior pictures. With some green foliage peeking over the steel, it gives off vibes of an abandoned steel factory. This spot is best for close ups where you want a dark background with character.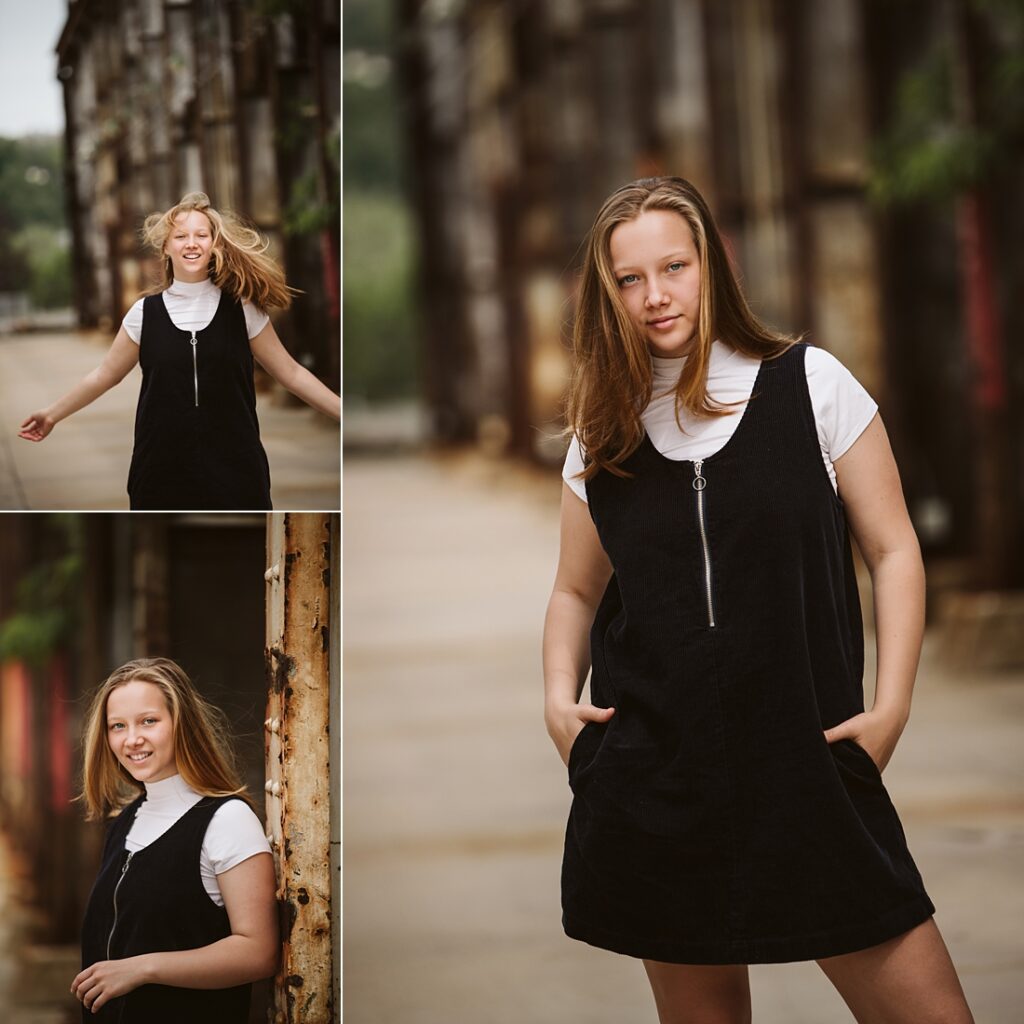 Steel Stairway
This giant stairway is the perfect spot to strike a pose! The interesting angles are both urban and industrial, making my clients feel like total girl bosses! This space is perfect for moody struts and poses along the banister edge. I love the lighting in this spot as well, and it's different from most standard senior photo locations.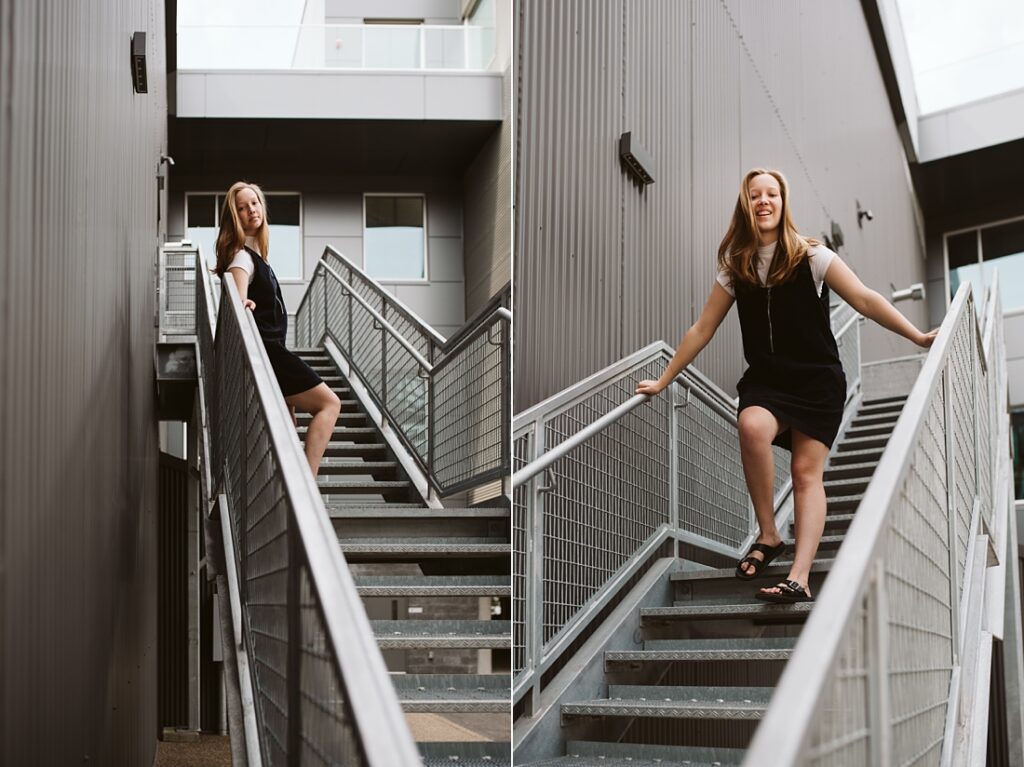 Parking Garage View
The parking garage view in Lawrenceville is one of my favorite skyline spots in Pittsburgh! I love the concentration of blues and grays and the big sky that makes the photos stunning. Twirling in the wind up near the skyline is a recipe for jaw-drop-gorgeous portraits(my new favorite word!) Fun story, when I came to scout the location with my daughter, she thought it would be fun to sit on the wall. Sure enough, the pictures turned out great! She then made a joke about how she almost fell over and I ran to the edge and nearly threw up my lunch when I saw how high up we were! Safe to say, I'm making all my future seniors keep both feet on the ground!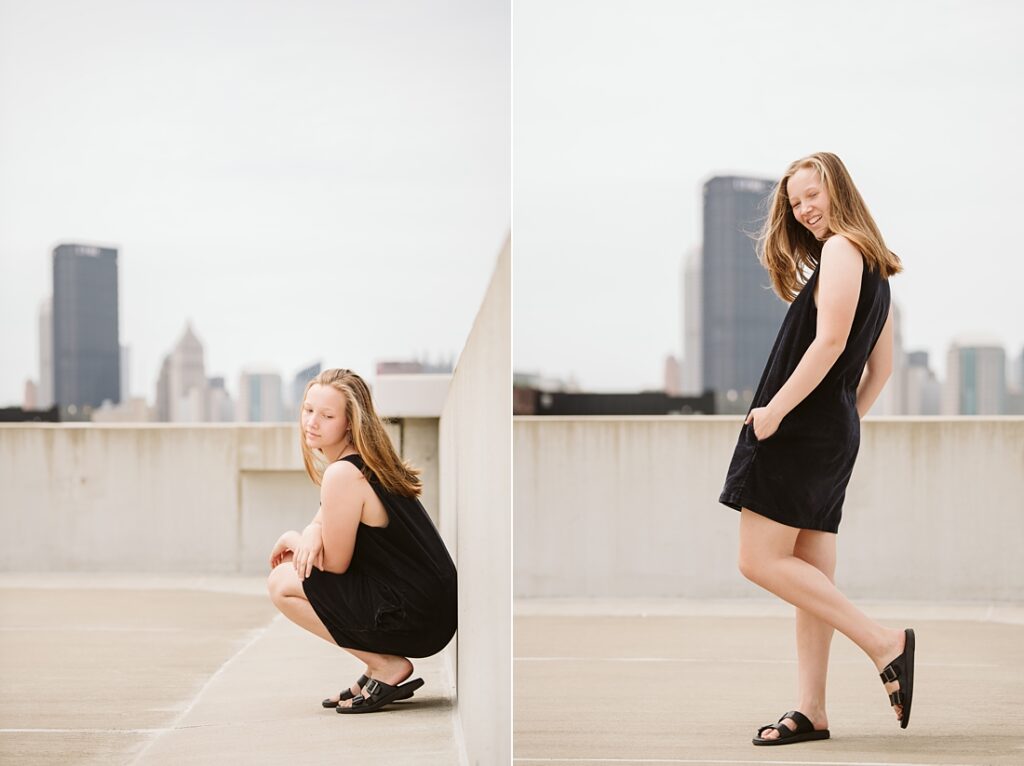 Cute shops and town
Lastly, the adorable shops and restaurants around Lawrenceville and adorable spots for some photos that capture your love of artistic spots in Pittsburgh! For example, Mosaic Leaf, a Matcha Tea Lounge, is a cute spot not only for pictures, but for a refreshing drink after the shoot! Some pictures strolling along the historical streets and checking out the funky murals are sure to be great!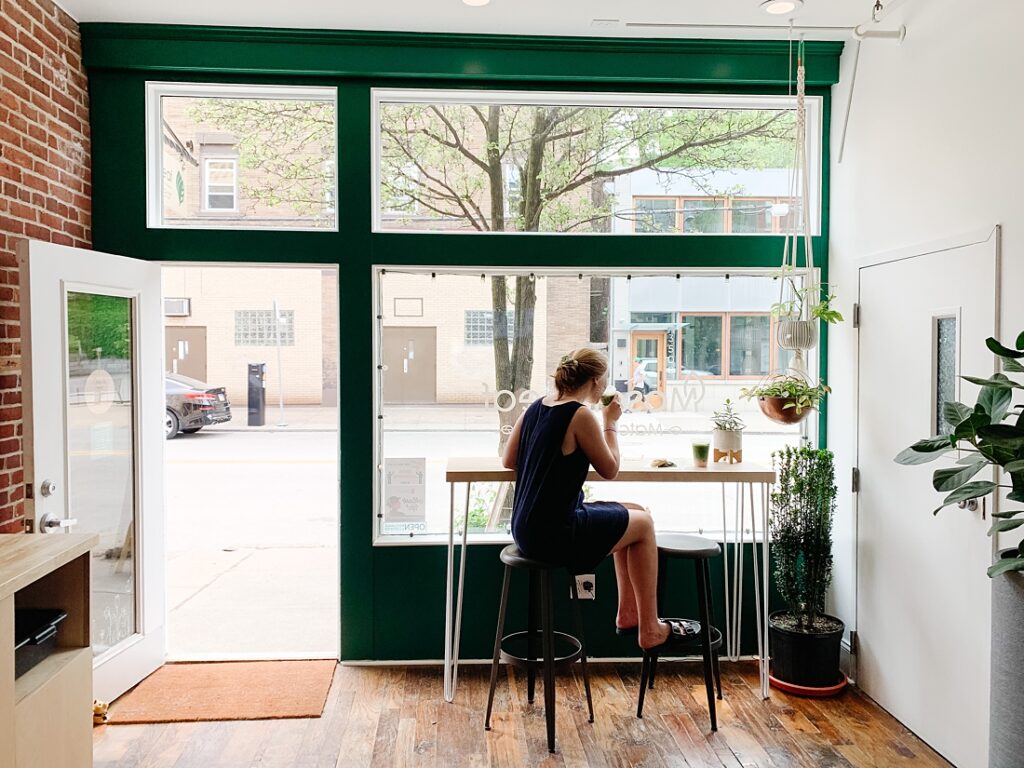 Lawrenceville is a great spot for those looking for an Urban Pittsburgh feel with an artistic twist. I hope you enjoy planning your Senior Portrait Session location in Pittsburgh. Best of luck finding the one best for you!
Here I've linked some other blogs to help you make your Senior Session decisions!
Looking for more tips on planning your senior photo session? Be sure to check out these blog posts!
Not Your Mother's Senior Photos 
Who to Invite to Your Senior Photo Session 
10 Fashion Trends to Incorporate in Your Next Photo Shoot 
Top 10 Tips to Prepare for Your Senior Photo Session