What to expect and how to prepare for your senior session
with Laura Mares Photography!
What to Expect at your Senior Photo Session
Below you will find five tips on how to best prepare and what to expect during your personalized photo session. I have discovered that these types of blog posts help to create a strong spring board towards your creative ideas and plans! Hopefully this post can alleviate any stress before your senior portrait session. I have attempted to cover all your questions about your senior lifestyle session, but if you find yourself still scratching your head in need of more answers, please do not hesitate to comment below and I will make sure to get back to you soon!
1. A Relaxed and Fun Environment
I love senior sessions especially because of how it fosters confidence in those I photograph. This is such a pivotal and stressful time in high school seniors lives, and I in no way want to contribute to that stress! I am often sought out for my laid back approach and natural results. I search for natural, beautiful settings for high school senior shoots because the location sets the atmosphere that the creates the "most-like-you" portraits to be crafted. Now I encourage you that the number one item needed as you arrive at your session location is a smile, and confident attitude.
2. Beautiful Images that Capture Your Personality
I strive to gift you and your family beautiful keepsakes that are yours to cherish in the following years after your graduation. By providing a peaceful atmosphere during your senior session, the pictures feature natural and authentic smiles and personality that reflect your everyday self.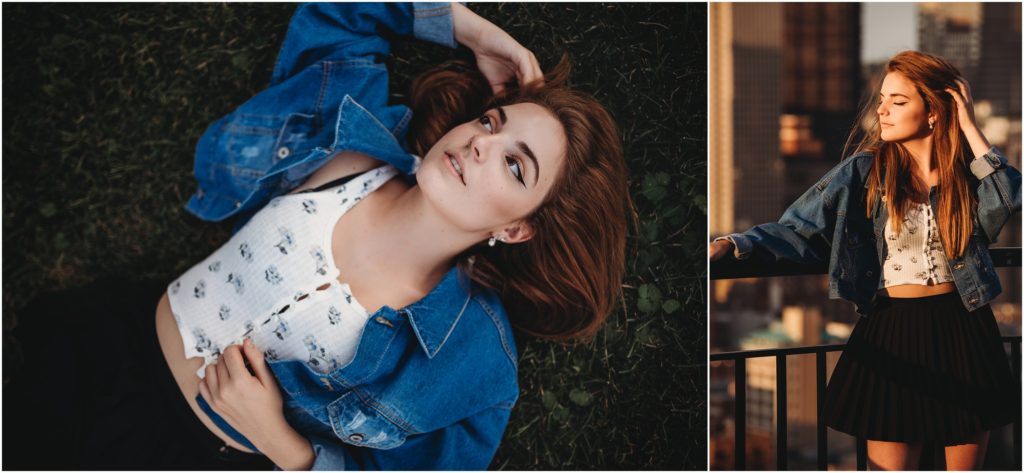 How to Prepare for your Senior Pictures
3. Wear Something that Reflects the Real You

My number one suggestion for everyone's what to wear questions would be to never lose sight of your distinct style and taste. The last thing we all want is for you to look back in five years at your senior portraits and wonder in distaste what and why you were wearing that particular outfit. I personally suggest to those struggling with what to wear to stick with outfits you already own and love. There is no need to go shopping for outfits searching for that "perfect look!" I suggest to wear something that has a story or sentimental value to you.
4. Your Outfit Should Reflect Your Chosen Location
For example, an in studio session outfit should be classic, simple, and classy. A string of pearls never hurts, and can add such a beautiful edge to your portraits, especially when layered on a simple black top. When it comes to jewelry, I would refer to the kiss rule when in studio…Keep. It. Simple. Silly! A simple pair of studs or elegant but thin dangles would most likely be the best for your earring choice. Consider wearing a solid colored top in order to keep the focus on you and your beautiful face!
Now if your session is going to feature downtown Pittsburgh or any other urban setting, I advise for a slightly edgier persona. Now don't get me wrong, I'm not referring to black leather or a black gown with stilettos to match! The simple rule still applies for this location, but layering can add a whole new level to your pictures. A cropped denim jacket or army jacket can nicely compliment any outfit. I would still shy away from any extreme statement jewelry so as not to distract from you.
For shoe choice, I would try to stick with something comfortable, because we will most likely be walking around for a while in order to find different backdrops for your portraits.
I suggest choosing one piece of clothing to base the rest of your outfit upon. Whether that refers to your favorite flowy pin-striped pants, your jean overalls, or vintage romper, don't shy away from your favorite fashion pieces!
Lastly, if you chose to have your senior portrait session at a park, or garden, I would advise for a more relaxed outfit. For ladies, a dress or flowy skirt would blend in nicely with these natural surroundings.
5. Hair, Makeup, Nails, oh my!
When it comes to the finer details, sometimes they make all the difference. I would suggest lightly curling your hair or adding some spray to texture your hair. Now when styling your hair you can keep it simple and just leave it down or add a simple silk scarf to tie it back for some photos. Now as for makeup, I would use as much or as little as you feel comfortable with. I recommend applying no more than you would on a regular basis in order to highlight YOUR natural beauty. Now some seniors chose to have their nails done before a shoot and I applaud them! Now it is completely up to the individual, but I say, go the extra mile. 🙂
In conclusion, I hope you can all now take a deep breath and begin to plan for the session that will leave you feeling confident and with beautiful keepsakes that will last for a lifetime. I said this before, but would love to reinforce that the number one items needed for the senior session is confidence, and your sunny smile! I personally hope you all have benefited from these tips and have found inspiration in them. Farewell for now, and I can't wait to meet you at your fabulous senior session!
You may also enjoy 10 suggestions on what to wear at your Pittsburgh photo shoot.