This family is everything you hope for as a family portrait photographer. They are kind, natural and adventurous! We met during golden hour on a beautiful evening, in a beautiful park near Sewickley. Evan recommended the park and I'm so glad he did. It has a convenient parking lot and varied options for natural/wooded backdrops. The light has stunning light during golden hour. In addition to the beautiful light, weather and location, it was also a special treat to celebrate Raphael's first birthday with the family during our portrait session! I hope you enjoy "meeting" this family through their interview and portraits below.
How did you and your spouse meet?
We met at work, which was at Nordstrom (Ross Park Mall) back in 2008 and started dating in 2009. We married in 2014 and welcomed Raphael in 2019.
What do you enjoy about living in the Pittsburgh area?
The distinctive Pittsburgh neighborhoods are truly special. Experiencing the four seasons, for all the good and bad, is also something we enjoy and take advantage of.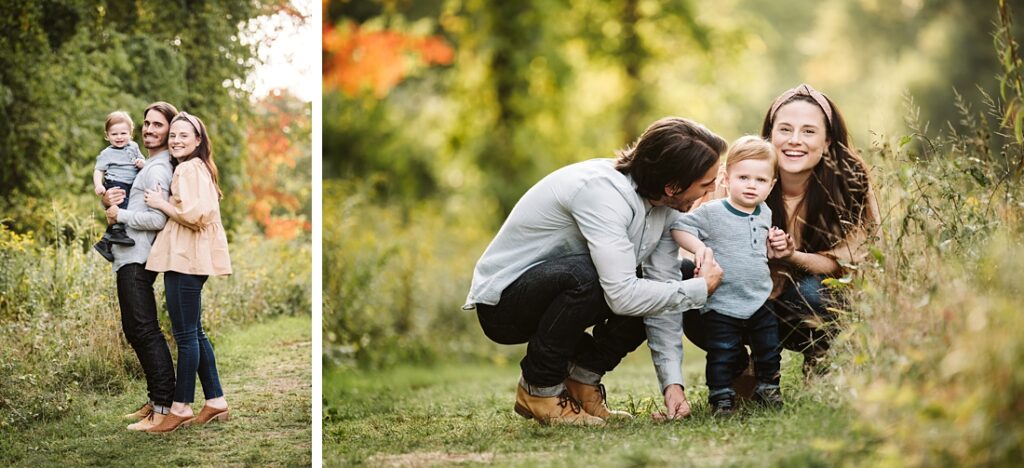 Write 3 adjectives that describe your family.
Our family is caring, adventurous and hospitable.
Describe your child.
Raphael is move active than we thought possible. He is either 100% on the go or sound asleep. Even before birth, he just never stopped moving. And when he is stopped, you can tell he's thinking about his next move. He's also very gentle and absolutely loves animals of any kind, sometimes too much (ask our cat).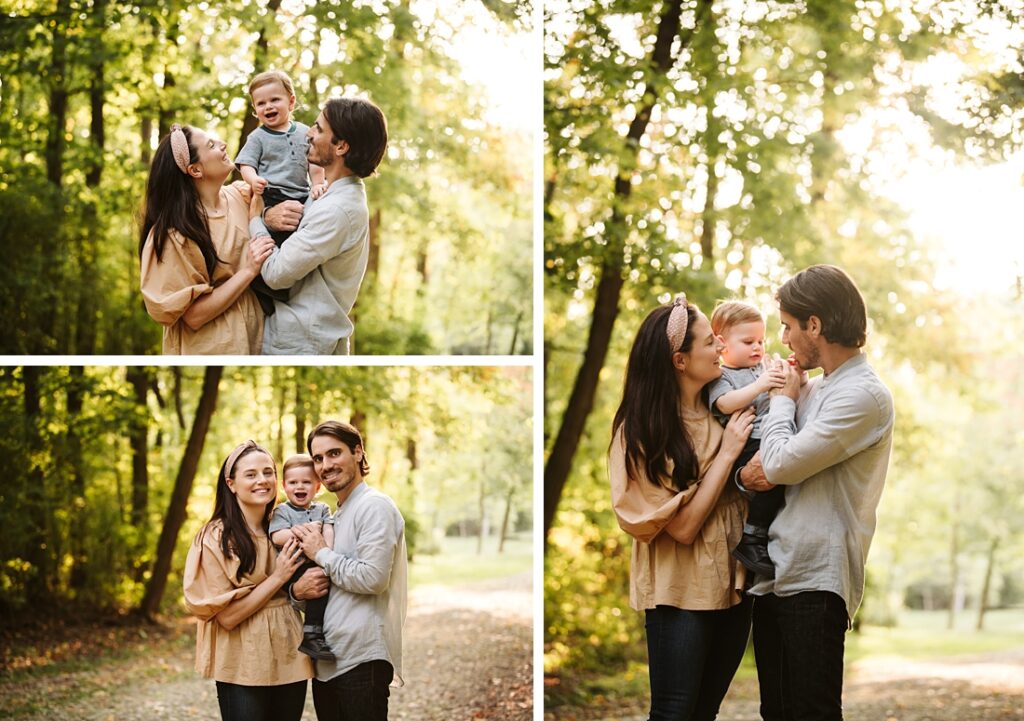 What are your family's favorite things to do in and around Pittsburgh?
COVID has limited many opportunities for us to enjoy the city, but we enjoy getting out into the woods and going for hikes. Raphael can't get enough of nature and being in our hiking backpack, even if it's just for a walk around Sewickley. Visiting the museums, especially the Carnegie Museum of Art/History is something we intend to do more often as it gets colder. Raphael is living up to his name and absolutely loves artwork.
What are your family's favorite restaurants around Pittsburgh?
We enjoy Morcilla, DiAnoia's, Gaucho, Mediterra, Vivo and Nicky's Thai Kitchen.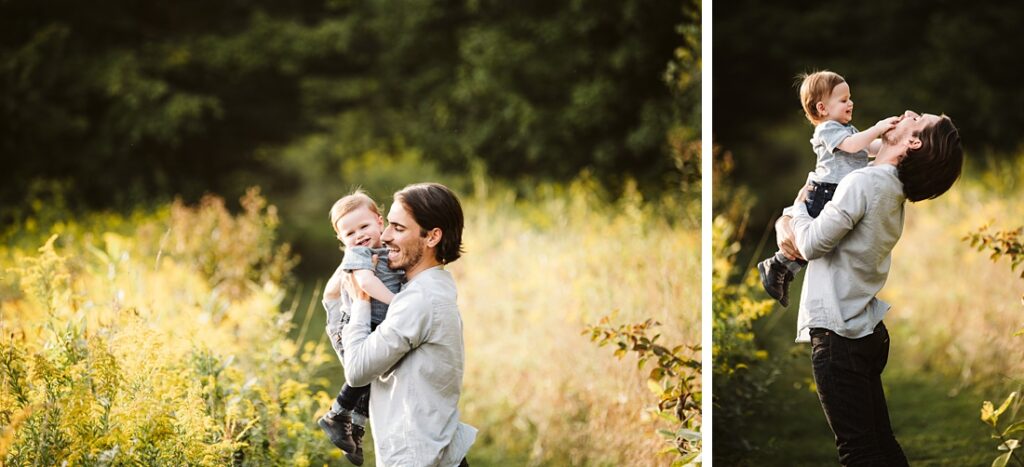 What is your family's favorite meal to cook at home?
We both come from Italian families, so Italian cooking is something that is important to us. Lasagna Or Pasta/Meatballs are the Sunday go-to meals. For our meatballs, we have a little secret of 1/4 cup Pine Nuts, 1/4 cup Golden Raisins, and 1/4 cup chopped Pecorino Romano (per 2lbs of ground beef). It adds just enough sweetness, saltiness, and texture to make them interesting and different.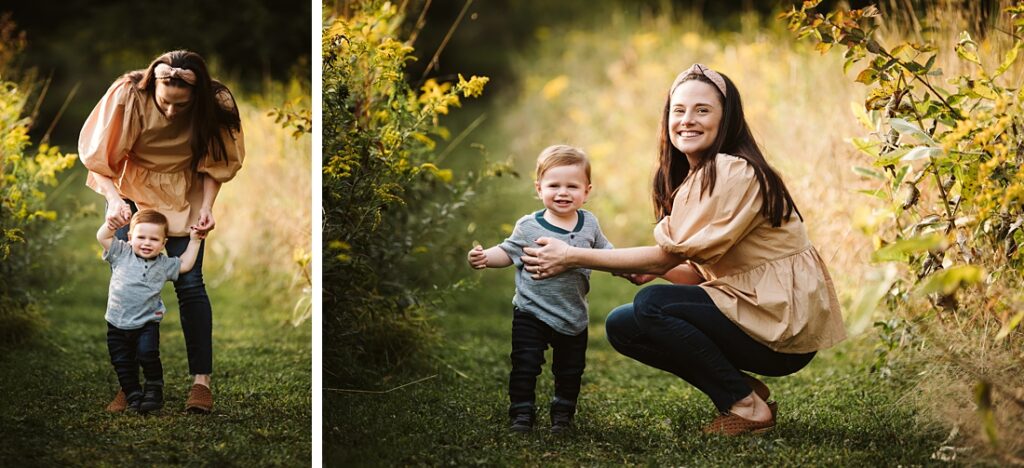 How did you decide to schedule a family session with Laura Mares Photography?
To start, it all was based on aesthetic. But there are plenty of photographers that take great portraits out there. After doing a lot of searching, we spoke with a few of photographers and got a feel for each out them, how they approach photography, and just a general idea of personalities and connection.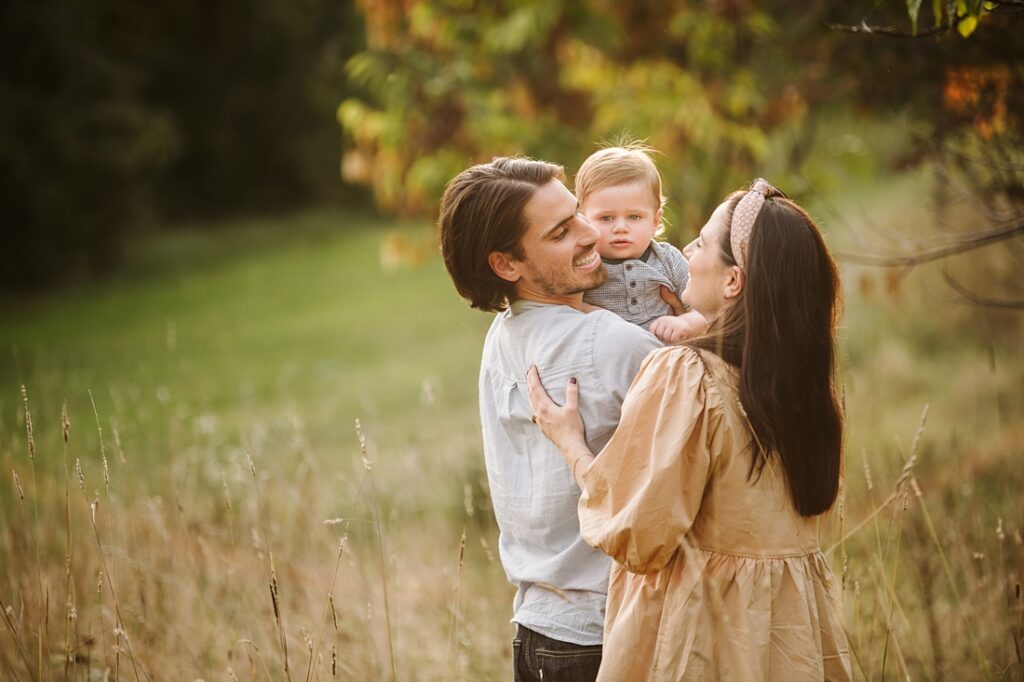 How did you prepare for your family photo session?
We had a general idea of the location, but drove around and scouted out a few before we landed on the final one. Outfits sort of happened organically without a ton of thought. We wanted it to be natural and reflective of the clothes we generally wear as we're going to be looking back on these photos for years.
What is your favorite portrait from your family session?
The one of the three of us walking up the path is by far our favorite. The excitement you can see in Raf's face is quintessential him. It's the perfect capture. Capturing emotion and personality was the biggest thing to us in these photos and that photo represents it perfectly.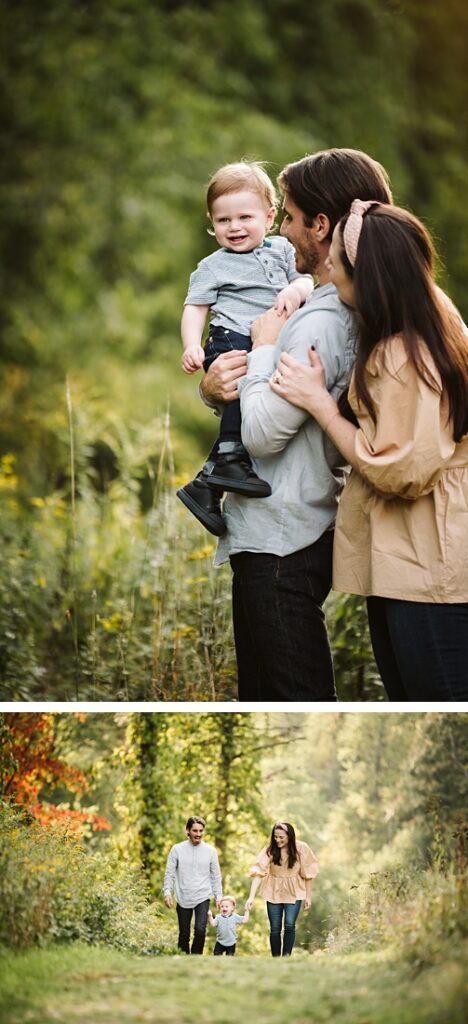 Looking for natural portraits of your family? Book a session today!