Today, I'm excited to share highlights from a recent family portrait session in Mellon Park. I had a blast spending time with this photogenic family! Sadly, when I get behind the camera I get so focused on creating portraits that I occasionally forget names or use the wrong ones. I can't actually claim to be good with names in the first place, but when my interest is capturing portraits, it only goes downhill. (I'm curious if other photographers have the same trouble.) So today, I'm going to introduce you Mike and his family… But only I call him that, the rest of the world knows him as Brain!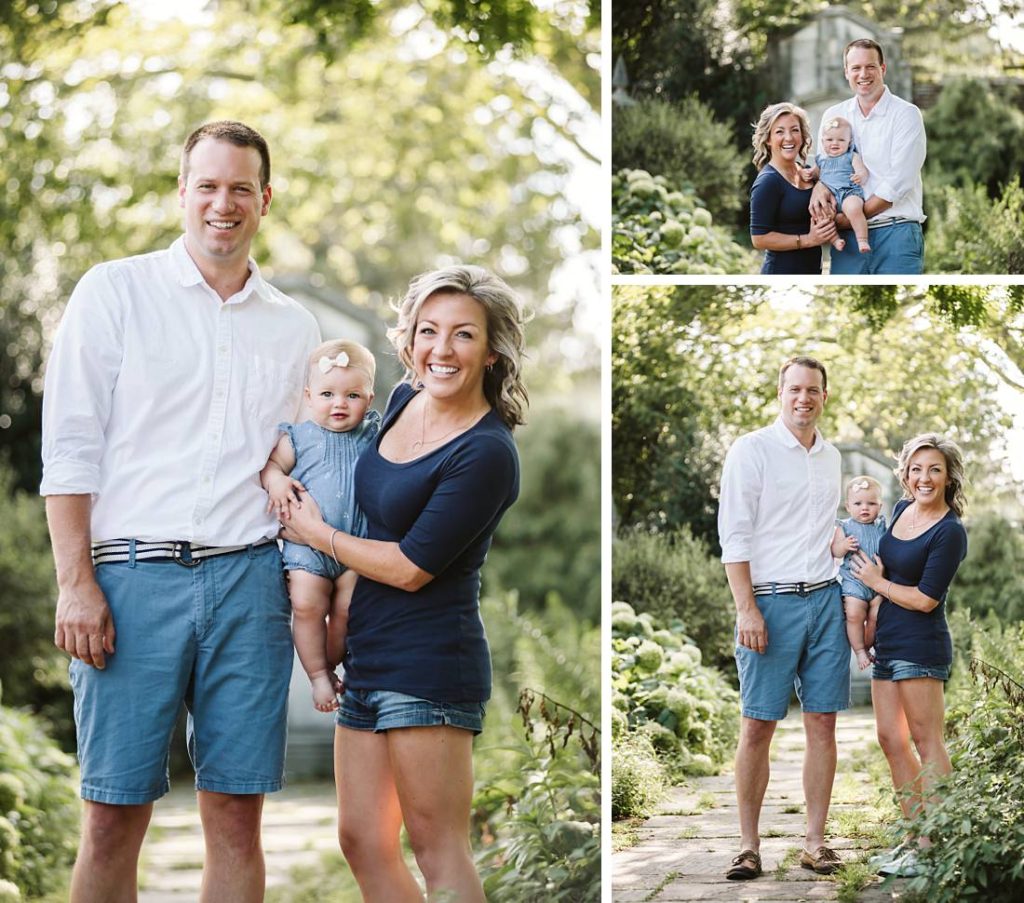 How did you and your spouse meet?
Brian and I met Senior year at Penn State. I showed up at a bar on campus with one of my girlfriends, and Brian was sitting at the bar with his buddy Mike, who was also a friend of mine from Freshman year. I asked Mike if he wanted to dance, and he declined (said he needed more liquid courage before he hit the dance floor!) so I turned to the big guy next to him and asked if he wanted to dance with me instead and he said yes! We actually realized (after the fact) that our paths had crossed many times through several mutual friends, but we didn't truly meet until that night when he agreed to a dance. We dated for 3 years after that before we got engaged, and we were married in 2014 in Pittsburgh!
What do you enjoy about living in the Pittsburgh area?
Everything! My immediate and extended family are all in the surrounding suburbs, which is my favorite if I could only pick one thing. But I grew up in Pittsburgh and it's always had my heart – I lived in Baltimore for 4 years after graduation and while it was fun to explore a new city, I always ALWAYS wanted to return to the 'burgh. There is so much distinct character in each of Pittsburgh's neighborhoods, which I absolutely love. The pulse of the city is so alive – the people, the sports teams, the food, the art, the music, the architecture… everything about it feels like home to me. Pittsburghers have so much character, grit, passion, and pride for their city. It's impossible to not feel that when you're here.

Write 3 adjectives that describe your family.
Our family is loving, adventurous, and outgoing.
Describe your child.
Cassidy is the happiest, most content, amicable, pleasant, beautiful little girl. She is brave and smart and kind and daring and funny. She is a flirt and a ham – she doesn't know shyness! She is fearless… she will climb, crawl, and tumble her way into anything she possibly can. She is curious and loves to learn. She LOVES to be included and be "in the mix" — she loves other people and she is always curious what everyone around her is up to and wants to be a part of it too. She never cries unless she needs something, and is truly one of the happiest, easiest babies I've ever been around.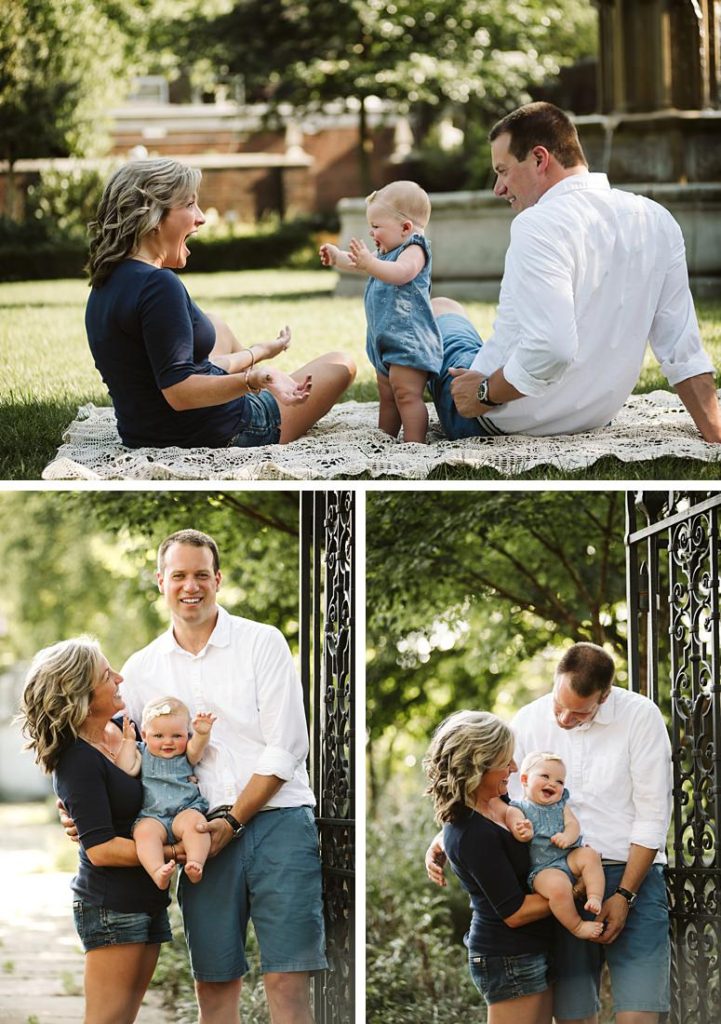 What are your family's favorite things to do in and around Pittsburgh?
We love to be active and we love to be outside – hiking with our Bernese Mountain Dog at Frick or Schenley; tailgating & going to Pirates games, walking along the Riverfront Trail in the South Side, riding bikes, attending local events (Picklesburgh, Three Rivers Arts Fest, Open Streets), participating in races around the city (Pittsburgh Marathon, The Great Race, Run Around the Square, Race for the Cure, etc.), hitting up our favorite bars or restaurants with outdoor patios… We love attending shows & concerts, going to the zoo, taking Cassidy to Pens games, etc.
Share a funny family memory.
Hmmm… I'm having a hard time thinking of a specific memory! Cassidy makes us laugh all day with her goofy antics and curious little mind!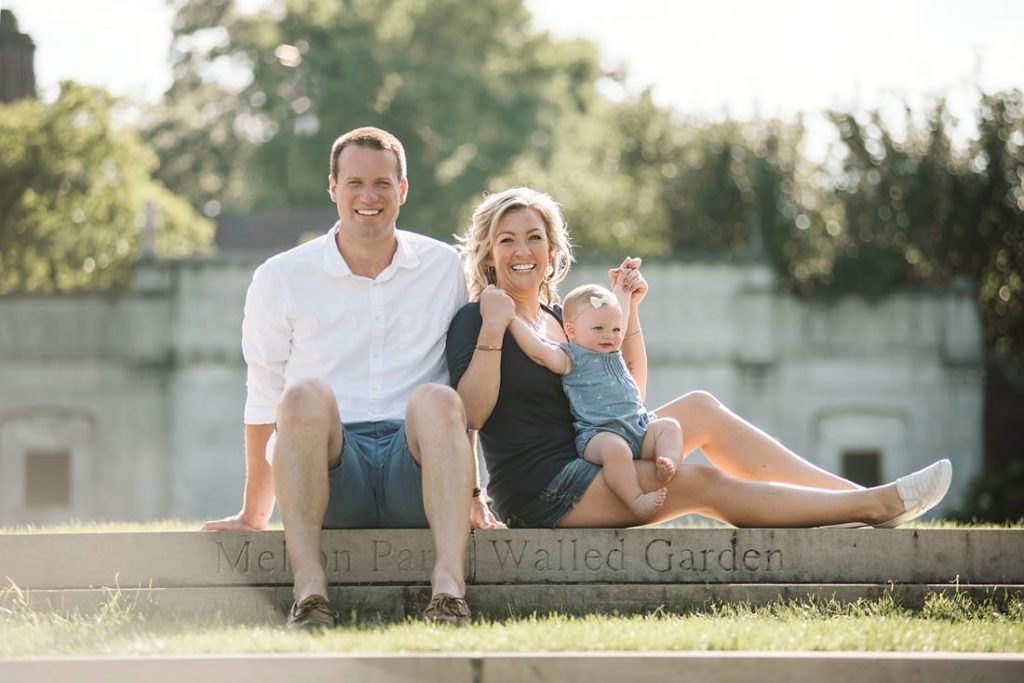 What are your family's favorite restaurants?
We love love love trying new places, but a few of our favorites that we always return to are: Gaucho Parrilla, Noodlehead, Mad Mex, Tako, Meat & Potatoes, Carson Street Deli, Round Corner Cantina, Federal Galley, Muddy Waters…
What are your family's favorite meals to cook at home?
In the summer, we love to grill as much as possible! Burgers & dogs, chicken, steak, pork, veggies, shish kabobs.. you name it! Another family favorite is Summer Skillet Gnocchi, which is a recipe by Jessica Merchant of How Sweet Eats – a local Pittsburgh food blogger who I've followed for many years! Recipe here: https://www.delallo.com/recipes/summer-skillet-gnocchi-howsweeteats/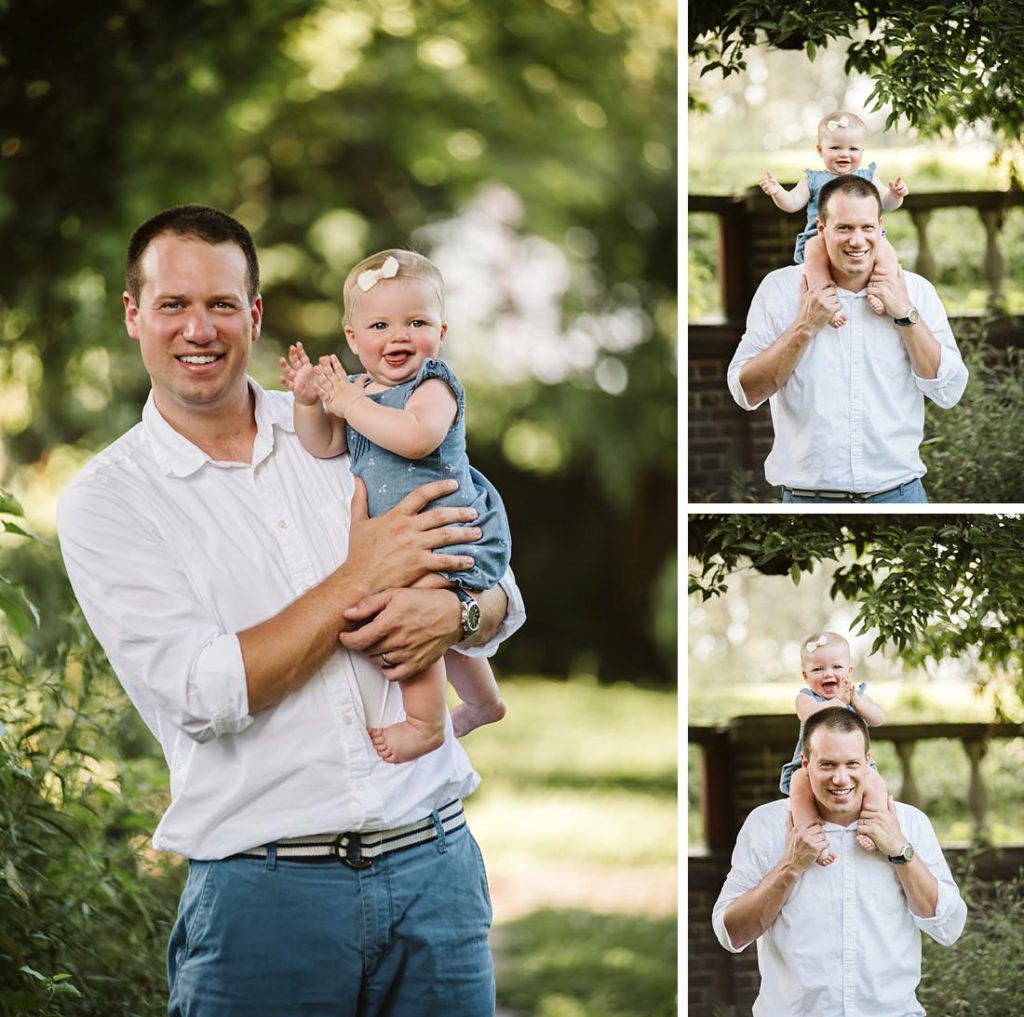 How did you decide to schedule a family session with Laura Mares Photography?
We had professional newborn photos taken shortly after Cassidy was born, and while I was pleased with the results overall, the photographer definitely had a different style than my own and ultimately I wish I had gone with someone else.
When we decided we really wanted to have professional photos taken of our family now that Cassidy is a bit older, I really took that lesson to heart and did a ton of Googling to find someone whose photographs I truly loved. I wanted to find someone who could execute beautiful lifestyle photography in a simple, clean, organic, natural way that would capture everything I love about my little family just as it is right now. And Laura had that! 🙂
How did you prepare for your family photo session?
Mostly just picked out outfits for the three of us that would coordinate and hopefully photograph well that weren't too matchy-matchy!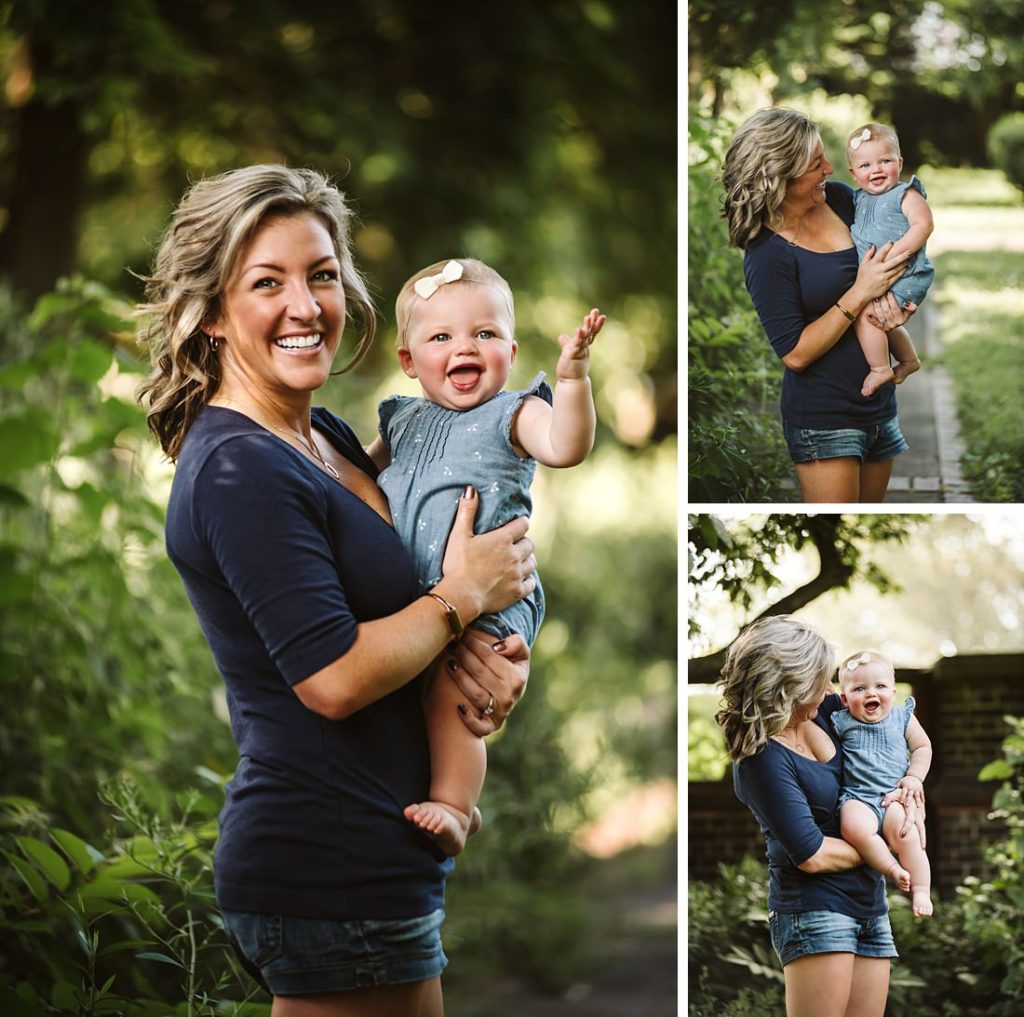 What is your favorite portrait from your family session? Explain why it's your favorite.
Impossible question – I love them all so much! I had the HARDEST time narrowing down which photos I wanted (which is why we paid an extra $100 for 5 additional photos… and even then I had a terrible time deciding which photos to cut!)
But, if I absolutely had to pick, it would be one of photos of the three of us standing together on the path up near the fountain. The lighting is beautiful, everyone's faces are bright and clear and happy, and most importantly it captures exactly what I wanted this photo shoot to capture: exactly how our family is right now, so very very happy with our precious little girl.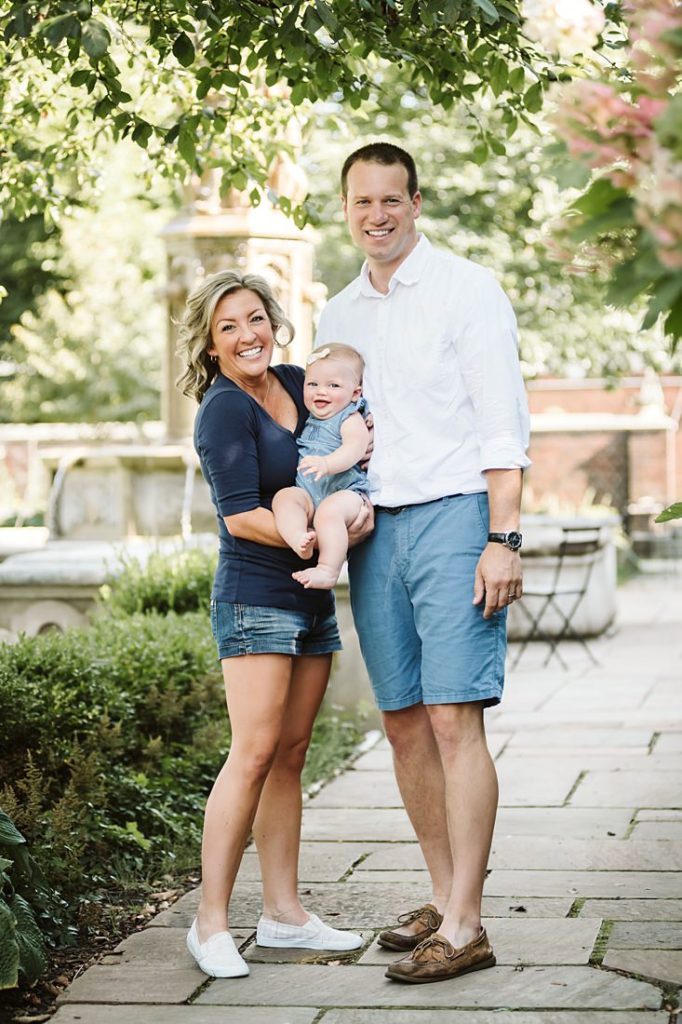 Is there something interesting you'd like to add? 🙂
Thank you! We love the photos so much and Brian and I have already said many times that we will 100% be using you again in the future! 🙂